Crack & Chip Repair in Raleigh & Charlotte NC | Renov8
When you have cracks in your bathroom or kitchen surfaces, it can greatly diminish the aesthetics and value of your home. Many people believe that if you have a cracked or chipped bathtub, tile, sink, or floor; that they would need to replaced the damaged surface. However, this is not the case. Renov8 provides crack and chip repair for bathtubs, countertops, cabinets, showers, tile and almost any other surface you that may need to be repaired. Don't spend $1000's on replacement when our professionals provide surface crack & chip repair in Raleigh & Charlotte at a fraction of the cost! Get a free estimate today.
Renov8: Save Money With Bathroom & Kitchen Surface Crack & Chip Repairs in Charlotte, NC
At Renov8 we work with residential and commercial clients to repair cracked and chipped showers, toilets, bathtubs, cupboards, countertops, cabinets and any other surfaces you may have in your home that are in need of repair work. We get rid of problems caused by ugly & chipped surfaces by restoring the beauty of your porcelain, fiberglass, Formica, tile, wood, metal or other hard surface materials that have been damaged over time. We also have the ability to restore these surfaces if they have been stained, have burns, holes, or scratches. We can refinish, restore, resurface, reglaze and recolor most surfaces in your home. Our repair services cost far less than replacement and is often done in a fraction of the time.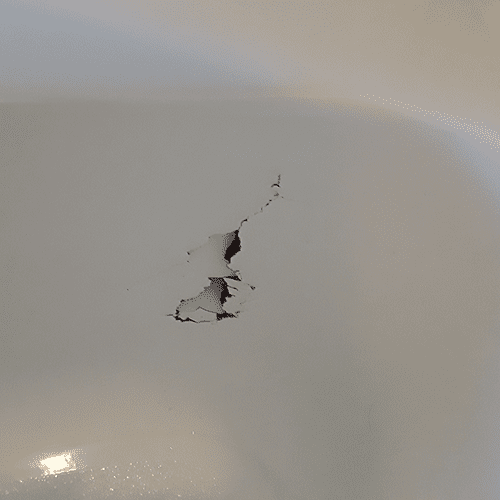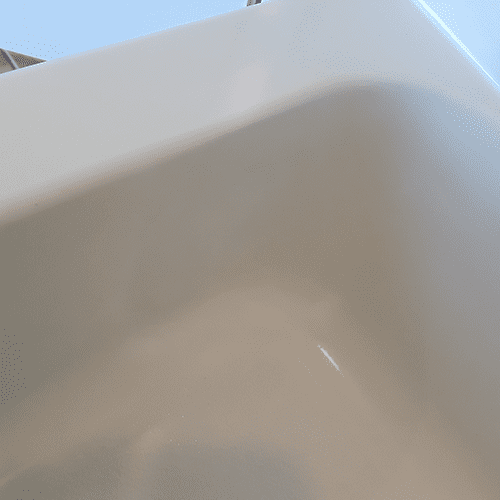 Why Choose Renov8 For Chip, Crack, Hole & Other Surface Repairs?
If you have ever cracked or chipped your bathtub, kitchen counters, fiberglass shower, or your cabinets, you know that repairs aren't always easy. Of course, chips and cracks aren't the only types of damage that may require repairs. Discoloration, stains, burns, etc, can all leave your kitchen or bathroom surfaces looking drab or outdated. The damages also isn't only aesthetic! A hole in your bathtub can lead to water leaks, cracks and chips in your floor tiles can lead to minor injuries. No matter what the damage is, they make your home or business a less hospitable place for your visitors. At Renov8 we will assess the severity and location of the damage or discoloration on your surfaces and create a plan that will get your home back to looking like new as quickly as possible.
Commercial & Residential Tile Repair in Raleigh & Charlotte NC
If you have cracks or chips in your tile, we can get rid of them quickly and affordably. We can eliminate any problems caused by ugly cracked and chipped surfaces, restoring the beauty of porcelain, fiberglass, Formica, tile, wood, metal, and other materials. It doesn't matter if you are an individual or a commercial property with a lot of chips and cracks that need to be repaired, Renov8 can renew and revitalize your home or business with our refinishing services. Contact our Charlotte office today at 704-807-9764 or call us in Raleigh at 919-780-7143 and we will give you a free estimate on the necessary tile repairs in Raleigh or Charlotte.
Contact Renov8 For Chip & Crack Repair in Raleigh & Charlotte NC
If you have cracked or chipped surfaces in your property it can ruin the aesthetics of your home or business. Chips and cracks can also lead to injury or loss of functionality of certain items (like your bathtub, countertops, or shower). Renov8 can resurface & repair cracks or chips in most materials in your kitchen or bathroom that are made from laminate, marble, tile, porcelain, Formica, and more! Our chip & crack repairs are far more affordable than replacing these items and can be done in a fraction of the time. We provide many different resurfacing and refinishing services for vanity tops, floor or wall tiles, shower tiles, countertops, cabinets, fiberglass showers, bathtubs, sinks, and we also offer grout cleaning. We offer these services throughout our service area, which includes Raleigh, Charlotte, Knightdale, Smithfield, Cary, Fuquay Varina, Apex, Holly Springs, Durham, Garner, Clayton, Chapel Hill, Wake Forest, and the surrounding areas of the Triangle & Charlotte Metropolitan Area. For a free estimate on chip or crack repair in Charlotte or Raleigh, give us a call at 919-780-7143 or 704-807-9764, or contact us online.