Vanity Top Resurfacing in Charlotte NC
Vanity top refinishing in Charlotte NC from Renov8 will save money and time and even allows you to change the color, texture and pattern of your vanity. Traditional remodel methods and vanity top replacement is expensive and requires a great deal of time finding a new vanity that will fit, removing your old vanity, providing demolition services and finally installing it. Vanity top resurfacing uses your existing vanity, stripping it of its existing coat and varnish, removing scratches and repairing chips and cracks and then resealing it. Renov8 can even provide reglazing for your vanity that allows you to customize it to match the rest of your bathroom.
Vanity Top Refinishing & Reglazing Vs Replacement in Charlotte NC
Vanity top reglazing, vanity top resurfacing and vanity top refinishing in Charlotte NC is the superior method for updating your vanity in most instances. Take a look at some of the advantages of vanity top refinishing services in Charlotte:
Vanity Top Refinishing Is Completed More Quickly: Replacing your vanity can take a week or longer. Vanity top refinishing in Charlotte NC is completed in just a few days allowing you to resume normal use of your bathroom much more quickly.
Vanity Top Resurfacing Saves Money: Vanity resurfacing costs 50-70% less than vanity replacement and requires no additional costs from plumbing or electrical technicians. Vanity resurfacing in Charlotte NC saves money..
Vanity Top Reglazing Can Update Colors & Patterns: Vanity top reglazing in Charlotte NC allows the same freedom to choose new colors, patterns or textures as vanity top replacement.
Vanity Top Refinishing Services Reduce Waste:  Vanity refinishing services make use of your existing vanity, creating less waste that ends up in a landfill.
Vanity Top Refinishing Projects By Renov8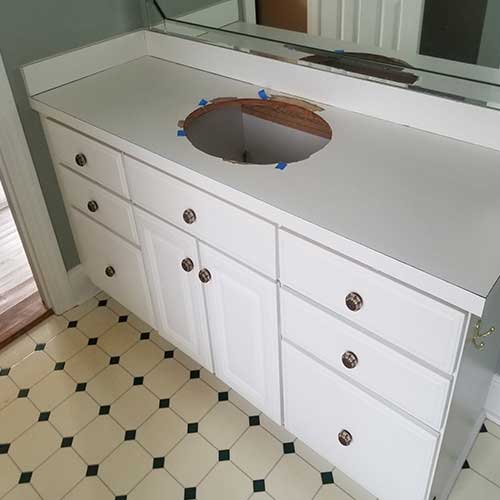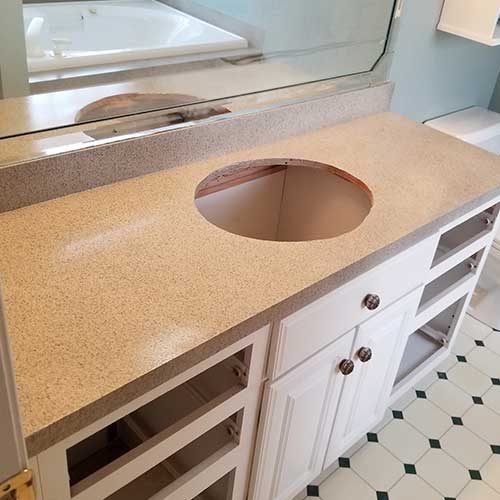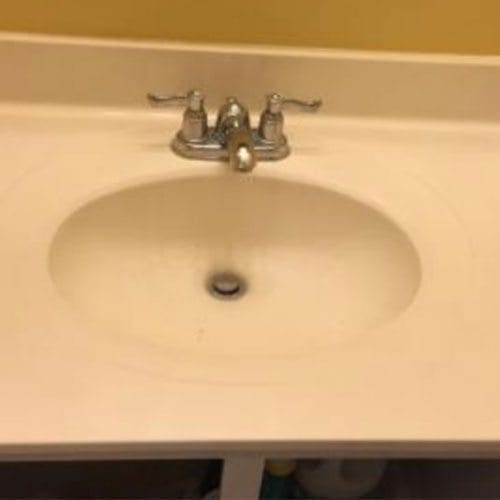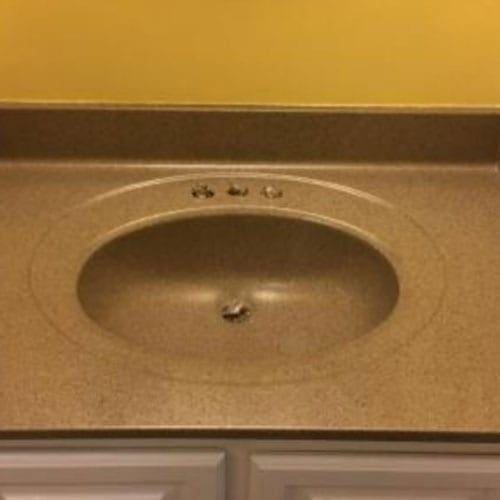 Contact Renov8 Refinishing Charlotte NC For Vanity Top Refinishing In Charlotte
If your vanity is in need of repair or updating, vanity replacement is not your only option. Call Renov8 at 704-807-9764 or contact us online for vanity top refinishing in Charlotte NC. Vanity top resurfacing saves time and money and our vanity top reglazing services allow you to customize your color scheme and pattern choice. Renov8 can assist with both commercial and residential vanity top refinishing services, as well as other reglazing, resurfacing and refinishing projects including Shower Refinishing, Crack & Chip Repairs, Cabinet Refinishing, Sink Refinishing, Counter Refinishing, Bathroom Remodeling, Vanity Top Refinishing, Bathtub Refinishing, Tile Refinishing, and Grout Cleaning