Renov8 Provides Sink Resurfacing in Charlotte NC
Renov8 can assist with all of your kitchen refinishing and bathroom refinishing services in Charlotte including sink resurfacing. Sink refinishing in Charlotte NC costs about half the price of sink replacement while still providing the same restorative look. Sink refinishing services also allow you to resume use of your sink more quickly, eliminating the need for demolition, installation and plumbing services. Renov8 can even change the color and look of your sink and surrounding counters, vanity, and cabinets with custom reglazing services. No matter the sink resurfacing and refinishing services you need in Charlotte, contact Renov8 for a free consultation.
Commercial & Residential Sink Refinishing Services in Charlotte
Renov8 can handle sink refinishing in Charlotte NC no matter the size of the job. From sinks in individual home kitchens and bathrooms to commercial sinks in restaurants, bars, hotels and other businesses, Renov8 is your source for professional sink resurfacing and sink refinishing services. Our team can handle sink resurfacing and refinishing services for surrounding areas of various materials including:
Plastic Sink Refinishing
Metal Sink Refinishing
Ceramic Sink Refinishing
Porcelain Sink Resurfacing
Fiberglass Sink Refinishing
Tile Vanity Resurfacing
Wood Vanity Reglazing
Marble Vanity Resurfacing
Cultured Marble Vanity Refinishing
And More!
Bathroom Sink Refinishing Charlotte
Over time, extended use, cleaning agents, and other materials will scratch your bathroom sink and cause it to loose its shine. Renov8 provides bathroom sink refinishing in Charlotte NC that will restore your sink to like new. When you contact us for bathroom sink resurfacing Charlotte NC, our team will provide a free consultation and quote for refinishing services for your sink, vanity, countertops, cabinets and surrounding tile.
Kitchen Sink Resurfacing Charlotte
Your kitchen sink is probably one of the most used areas of your home, but that makes it all the more susceptible to damage. renov8 can help with kitchen sink refinishing in Charlotte NC. Sink refinishing Charlotte NC from Renov8 will remove scratches and other damage while restoring the shine and clean look of your sink. We can even update color and patterns for your sink and surrounding areas with sink reglazing services. Contact Renov8 today for a free consultation on sink refinishing services in Charlotte and beyond.
Sink Refinishing Projects By Renov8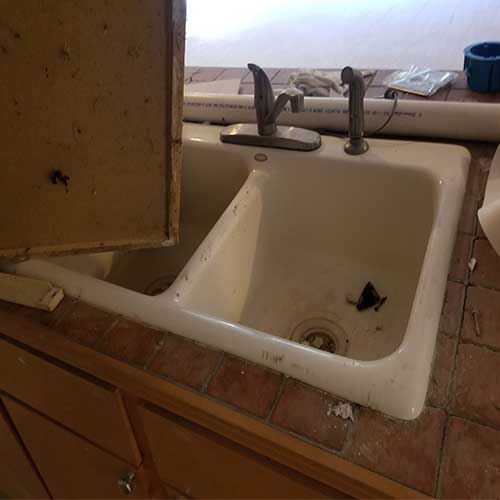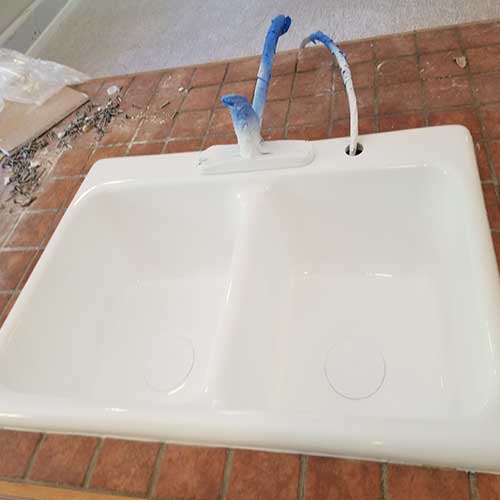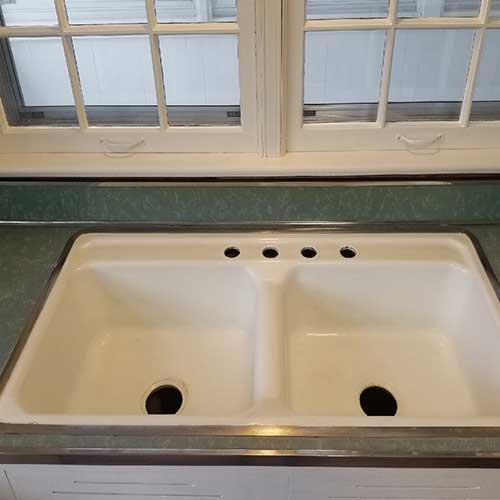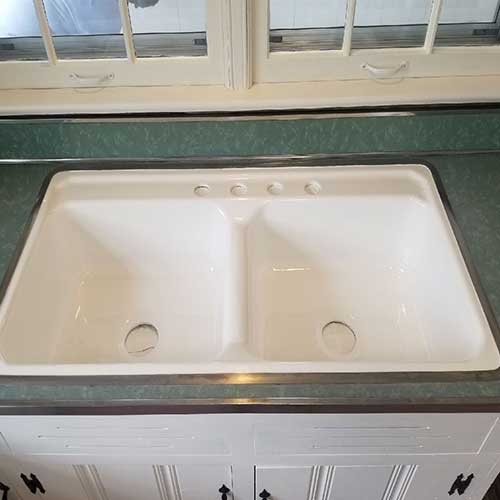 Contact Renov8 Refinishing Charlotte NC For Sink Refinishing In Charlotte
At Renov8 in Charlotte, we provide kitchen & bathroom sink refinishing & repair services that all can save you money over the cost of replacing your sink. These services can be stand alone or they can be as a part of your larger renovation or remodeling project. If you want the best Shower Refinishing, Bathtub Refinishing, Bathroom Remodeling, Sink Refinishing, Vanity Top Refinishing, Cabinet Refinishing, Grout Cleaning, Crack & Chip Repairs, Tile Refinishing, and Counter Refinishing, get a free estimate by calling Renov8 Charlotte today!