Floor Refinishing in Raleigh & Charlotte
You may have heard of refinishing hardwood floors, but did you know that it's also possible to refinish different types of flooring as well? At Renov8 we can help you resurface flooring made of vinyl, stone, granite, and tile and many other types of floor surfaces. Because each floor surface is different, they all require different materials and a material specific procedure. Despite different the different procedures, the overall process of Raleigh floor refinishing is similar in general. Before we start refinishing your floors in Raleigh or Charlotte, we clean all of the dirt & grime from the floor. Next we repair any scratches or cracks in the floor or tile. Finally we will apply our bonding agent and a protective clear finish to your floors so they are ready to be used within the next 24-48 hours.
Wall Tile Refinishing In Raleigh & Charlotte
Tile Floors aren't the only place that you can find tiles in need of refinishing in your home or business. Often times, there  are tiles in the walls of your bathroom or kitchen as well. Tiles on your walls have the same types of issues that you can find with floor tiles: They become chipped, cracked & stained over time and can start to look dingy and dirty. While wall tiles may not wear as quickly as flooring & floor tile does, because it is more in your line of sight, the can have a greater impact on the look of your kitchen or bathroom. Renov8 provides high quality, affordable wall tile refinishing & wall tile repair in Raleigh & Charlotte. Contact us online or give us a call for a free estimate today.
Replacing VS. Refinishing Tiles & Resurfacing Floors in Raleigh & Charlotte
It doesn't matter if you are refinishing your flooring in Raleigh or your wall tiles in Charlotte, there are major benefits that you get when you choose refinishing or resurfacing as opposed to replacing your old floor & tiles. Below are a just a few of these benefits:
Like New Appearance – When you refinish your floors or resurface the tiles in your home, we get rid of the scratches, chips and cracks. We can even change the overall look & color of your tiles & flooring.
Better For The Environment – Because we are refinishing or resurfacing your existing tiles or flooring, there isn't a lot of mess or waste that ends up in the trash. When you replace tile or flooring, that tile or floor usually winds up in landfills, which makes resurfacing your floors in Raleigh & Charlotte a better option for the environment.
Cost Effective – Replacing your tiles or flooring can cost a lot of money, however refinishing your tiles in Raleigh or Charlotte can save you 50% over the cost of replacement.
Fast Results – When you refinish your tiles or resurface your floors in Raleigh or Charlotte, we can often complete the project in 2 or 3 days. Replacement can take a lot longer, not including the time it takes for the cleanup process to be finished. You can use your new floors much faster when you refinish them.
Tile Refinishing Projects By Renov8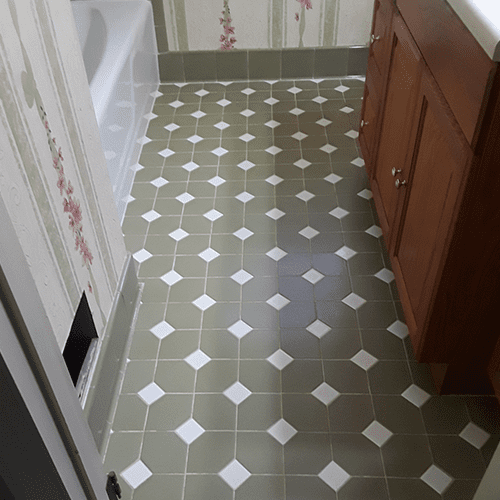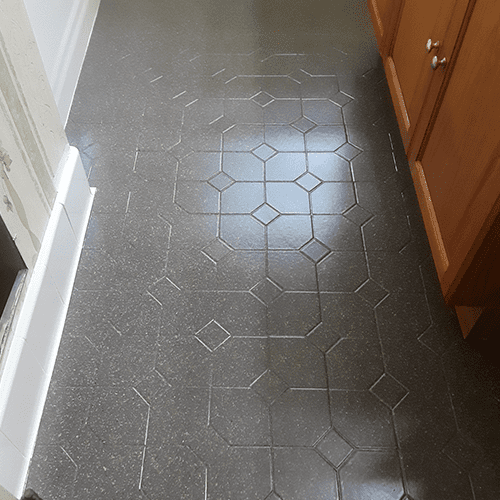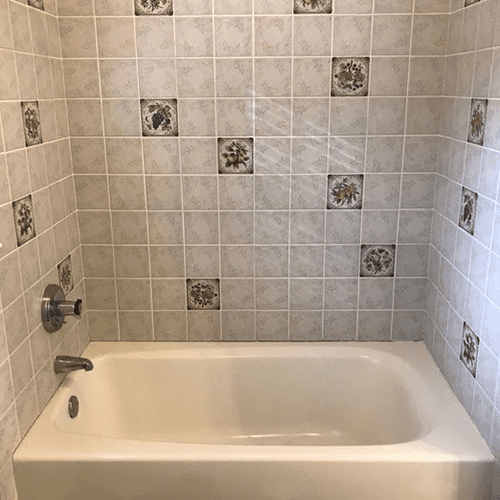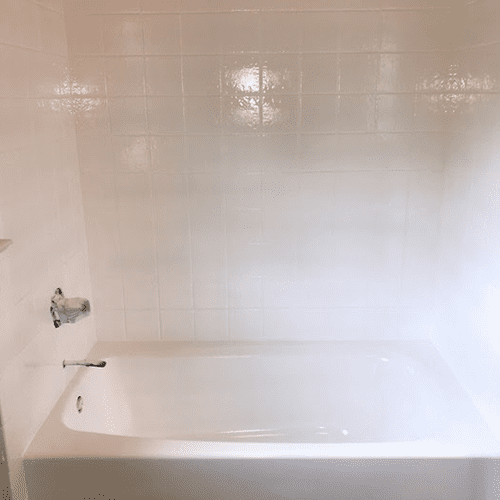 Contact Renov8 Refinishing for Tile Refinishing
When your walls & floors start to look dirty or have cracks & chips in the tiles, it can ruin the look of your kitchen or bathroom. When there are cracks or chips in your floor tile, it can even cause injuries if not addressed. At Renov8, we want you to know that you have options when it comes to renovating the floors in your bathroom or kitchen in Raleigh & Charlotte. You don't need to replace your flooring or broken tiles, we can refinishing floors & tiles at a fraction of the cost! At Renov8 we are surface refinishing experts and we refinish more than just floors and tiles. We also offer: Bathtub Refinishing, Cabinet Refinishing, Counter Refinishing, Crack & Chip Repairs, Grout Cleaning, Shower Refinishing, Sink Refinishing, Tile Refinishing, and Vanity Top Refinishing.
We work on a number of surface materials, including ceramic, porcelain, marble, Formica, laminates, wood, metal and the majority of other materials that can be found in bathrooms and kitchens. To get a free estimate on any of our services, including floor resurfacing in Raleigh & Charlotte, give us a call at919-780-7143 and we will work quickly to get you an estimate. You can also contact us online to schedule an appointment or get a free estimate.