Bathroom & Kitchen Cabinet Refinishing Service in Raleigh NC
Have you recently looked at your kitchen cabinets and thought that it might be time to do something about them? Over time, wear and tear can start leaving your cabinets looking old. Other times the cabinets may be in good condition, but they are completely out of style and don't fit with the rest of the aesthetics of your home. Replacing your old cabinets may be cost-prohibitive, but it also takes a lot of time and can leave you without the use of your kitchen for a while. When we reface your cabinets in Raleigh, we can give your old cabinets a new look and feel. If you already know how you want the cabinets to look, we can turn your vision into a reality. If you haven't thought about the design, we can work with you to figure out what designs would match your style and taste. Either way, when you choose Renov8 for kitchen cabinet refinishing Raleigh NC based service, we will get your cabinets looking great quickly and at a fraction of the cost of cabinet replacement. Contact us online for a free estimate on cabinet refacing Raleigh NC based service, or give us a call at 919-780-7143 in Raleigh or 704-807-9764 in Charlotte.
Benefits Of Cabinet Refacing Raleigh NC
Cabinet Refacing, Cabinet Refinishing, Cabinet Reglazing, or Cabinet Resurfacing; it doesn't matter what you call it, there are a number of benefits to getting your cabinets redone. Here are some good reasons to consider Raleigh cabinet refinishing instead of replacement:
Better For The Environment: When you replace your old cabinets, every part of them will likely get thrown in a landfill, although you can donate cabinets that are in good condition to local charities for re-use. When you refinish your cabinets, nothing gets thrown away which means there is much less waste.
Less Hassle & Much Quicker: When we refinish & paint your current cabinet set up, it is done in a matter of days. This is because there isn't any demolition or renovations that need to be done, so there is far less mess to worry about and you can get back to using your kitchen or bathroom much faster.
Choose Your Perfect Look: You have a lot of different options available to you when you are refacing your cabinets, we can help you choose a design or make your design come to life. Either way, you have tons of options to choose from.
Less Expensive: In general, cabinet refinishing costs 40%-50% less than replacing your existing cabinets, which means that you have more money left in your pocket, without having to sacrifice the perfect look and feel of your cabinets.
Commercial & Residential Cabinet Refacing Raleigh NC
We work with customers of all sizes when it comes to refacing your cabinets in Raleigh NC. It doesn't matter if we are working on home bathroom & kitchen cabinets, or if you manage an apartment complex or hotel, we can give your cabinets a brand new look and feel quickly. We have been working in Charlotte & Raleigh providing cabinet resurfacing for over a decade, which means you can trust us to get the job done right the first time. Get in touch with us today and we will give you a free estimate on cabinet refacing Raleigh NC based service to show you how much you can save by refacing your cabinets instead of replacing them.
Cabinet Refinishing Projects By Renov8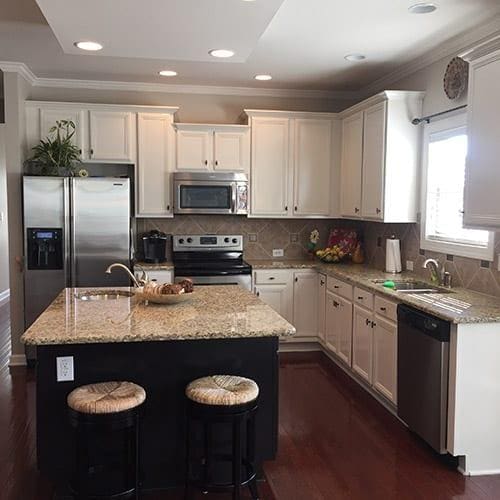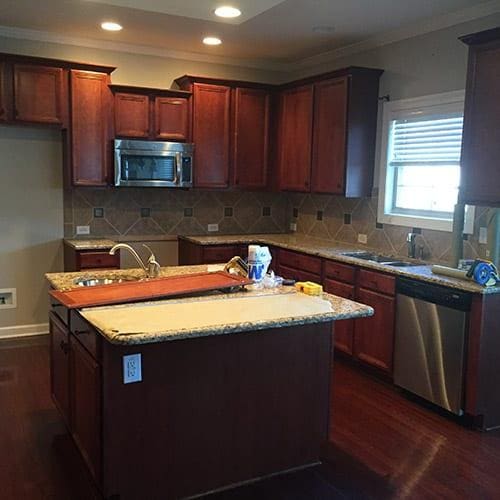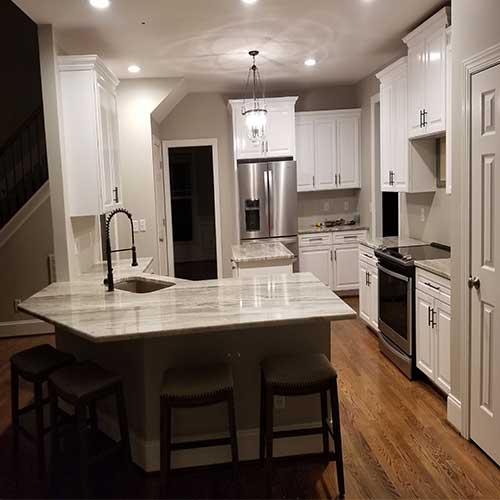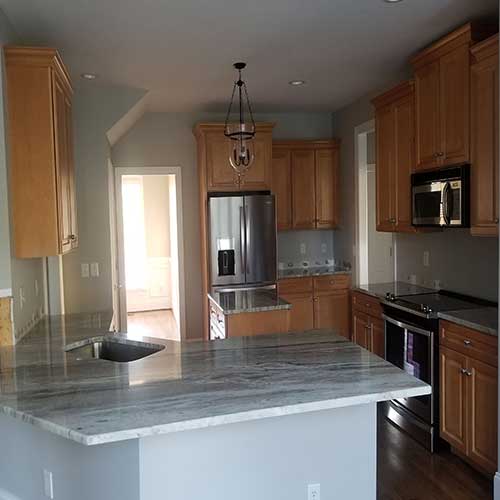 Contact Renov8 Refinishing for Cabinet Refinishing
If you want to transform the look of your bathroom or kitchen, we can help with our cabinet refinishing Raleigh NC based service. When you contact our cabinet refacing Raleigh NC based team, we are here to answer any questions you may have about cabinet refacing, we can also give you a free estimate over the phone. We don't only provide cabinet resurfacing, but a variety of other resurfacing & refinishing services like: Bathtub Refinishing, Cabinet Refinishing, Counter Refinishing, Crack & Chip Repairs, Grout Cleaning, Shower Refinishing, Sink Refinishing, Tile Refinishing, and Vanity Top Refinishing in Raleigh or any of our locations. Cabinet Refinishing in Raleigh NC, contact us online or call 919-780-7143 for a free estimate.