Fiberglass Shower Refinishing In Raleigh & Charlotte | Renov8
Are you tired of looking at your stained & dirty fiberglass shower or bathtub? Have years of scrubbing and cleaning your shower or tub worn it down and made it dull looking? You don't need to cover it up with an insert and you definitely don't need to spend $1000's on replacement, instead choose Renov8 for Fiberglass Shower Repair in Raleigh or Charlotte. Our fiberglass shower refinishing service can be done quickly and costs a fraction of what it would to replace your current shower or tub. Get a free estimate in Charlotte or Raleigh for Fiberglass Shower Resurfacing today!
Fiberglass Shower Repair in Raleigh & Charlotte, NC
Replacing a worn down fiberglass shower or tub can be a daunting task. First you have to find a replacement that is the exact same size and shape, and once you cross that hurdle you actually have to do the work. Removing & replacing your old bathtub isn't easy and can be expensive as well. Luckily, most issues you find with a fiberglass shower or fiberglass bathtub can be repaired with refinishing services from Renov8. The shower refinishing process is fast and affordable, but the results will make you think you were just given a brand new shower or tub. If you want to learn more about shower refinishing in Raleigh or Charlotte, contact the professionals at Renov8 today for a free estimate.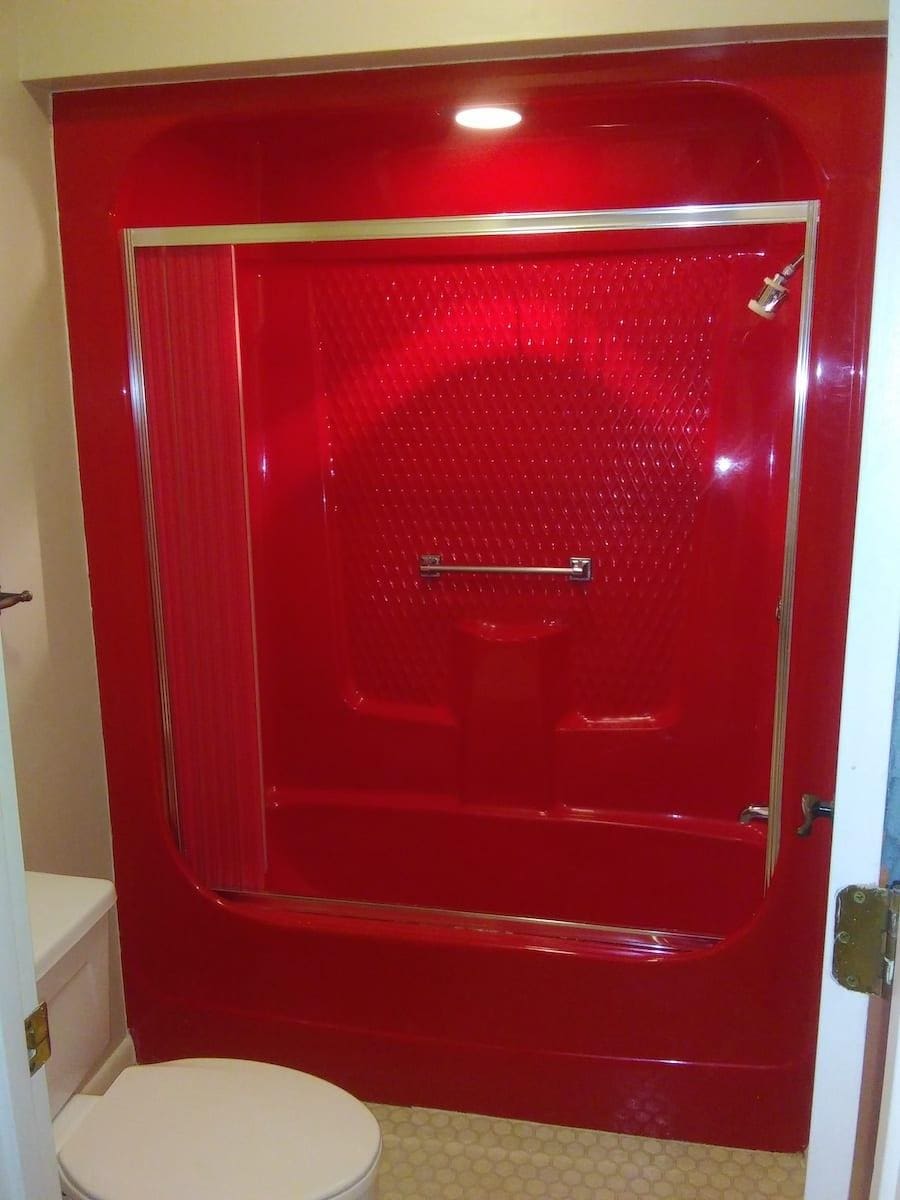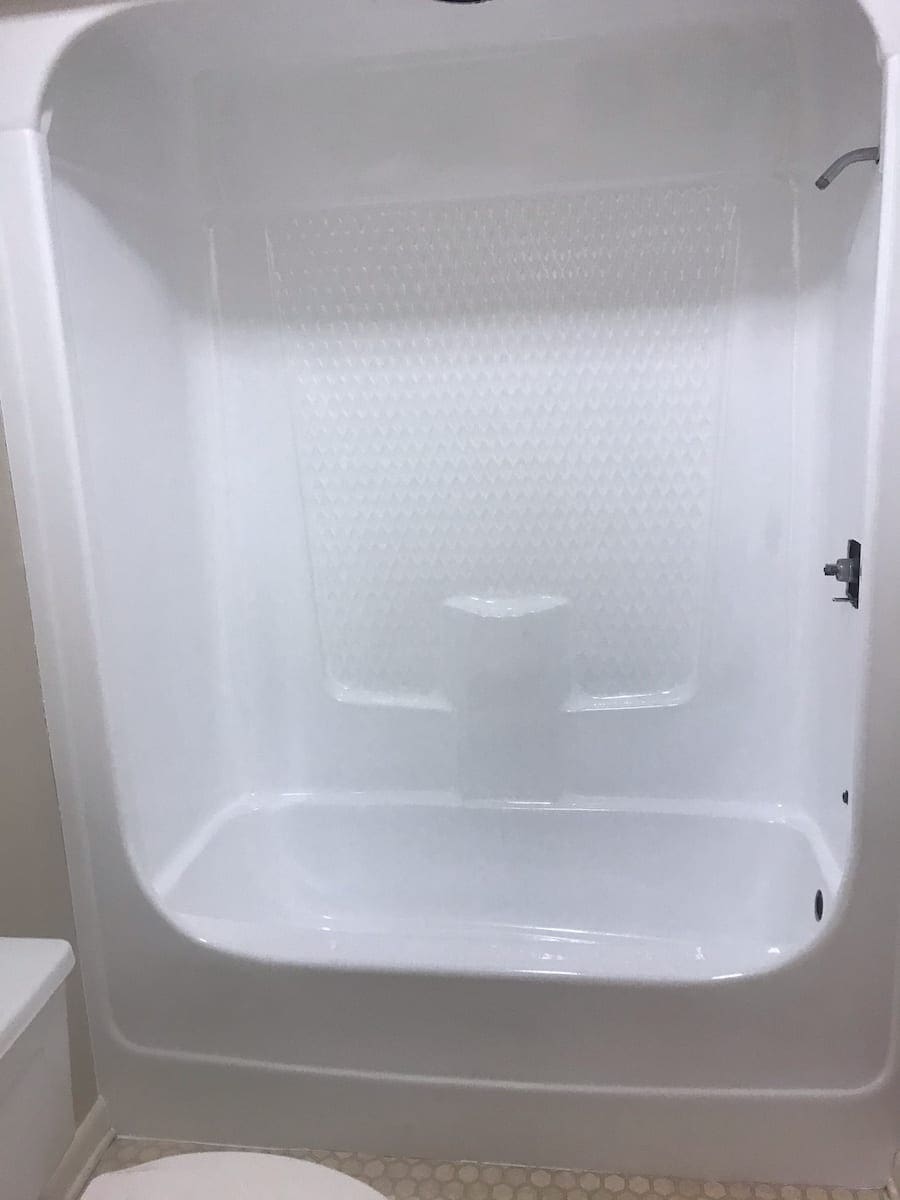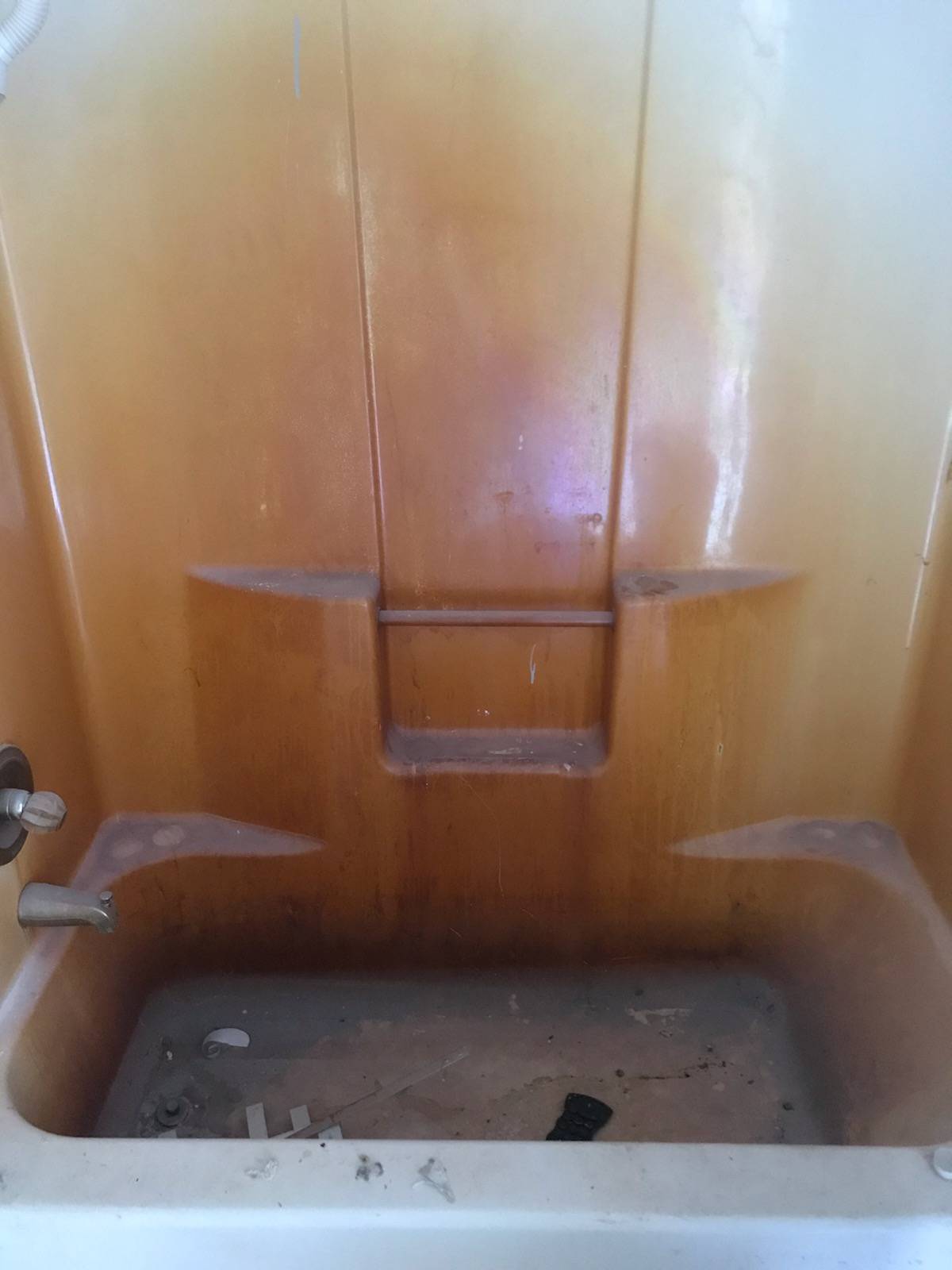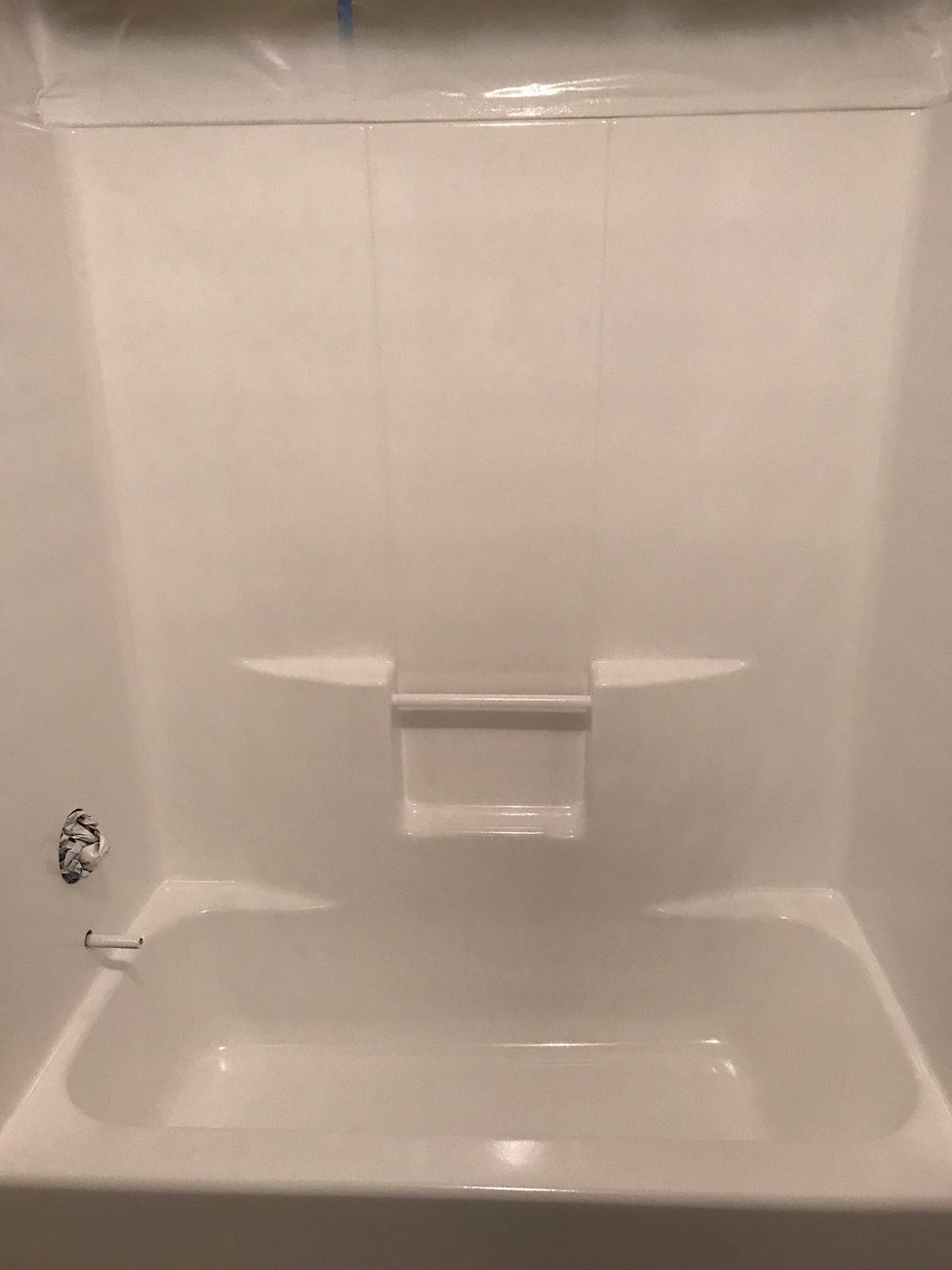 Replace Or Refinish Fiberglass Showers in Raleigh & Charlotte?
Replacing your fiberglass shower or bathtub in Raleigh or Charlotte costs anywhere from $900-$12000 dollars, which can be cost prohibitive for many people. However, even if you do have the money to replace your fiberglass shower or tub, should you? Replacing your shower or tub requires a lot of work and can leave you without the use of your facilities while the work is being completed. Below are some benefits to having your fiberglass shower repaired in Raleigh or Charlotte:
Cost Effective: Refinishing your fiberglass shower in Raleigh can save you thousands of dollars, while giving you a new-looking unit that fits your aesthetics & color scheme.
Finished Quickly & Less Waste: We can often have your bathtub or fiberglass shower refinished in a matter of hours, instead of days with replacement. Also, there is far less waste because we don't need to remove the old unit (which usually ends up in a landfill), so once we're done the cleanup is minimal and you can begin using the facilities again quickly.
Change The Look & Feel: We don't just remove stains, chips and cracks, when you have your bathtub or fiberglass shower refinished in Charlotte or Raleigh, you can choose the color you want.
Choose Renov8 For Fiberglass Shower Repair in Charlotte & Raleigh
Fiberglass is a great material for showers and bathtubs, both for residential and commercial use. Fiberglass is long-lasting and durable, but it can still be damaged and can wear down over time. At Renov8, we can repair your fiberglass showers in Charlotte & Raleigh at a fraction of the cost of replacing it. When we come to repair your fiberglass shower, we can reglaze, restore, refinish, recolor, and resurface your unit so it looks like new. We will get rid of any cracks, chips, stains and we can even change the color of your fiberglass shower in a matter of hours.
Contact Renov8 For Fiberglass Shower Refinishing & Fiberglass Shower Repair in Raleigh & Charlotte, NC
Your fiberglass shower or bathtub is an important part of your bathroom. The way your fiberglass unit looks can make or break the aesthetics of the entire room. As your fiberglass shower sees use it can get worn down and in some cases can even be damaged, cracked or chipped. Replacing a broken or grimy looking fiberglass shower can be costly and take a lot of time. Save yourself the hassle of replacement by letting Renov8 refinish your fiberglass shower in Raleigh or Charlotte at a fraction of the cost. We provide a number of other refinishing services in Raleigh & Charlotte, such as: counter top refinishing, cabinet refacing, vanity top refinishing, shower tile resurfacing, sink refinishing, wall & floor tile resurfacing, crack & chip repairs, bathtub refinishing. grout cleaning.
We provide our bathroom & kitchen renovation & resurfacing services to customers in the Charlotte & Raleigh markets. We provide residential & commercial customers in the Triangle area of North Carolina with high quality, affordable surface refinishing services. This includes Raleigh, Wake Forest,  Knightdale, Clayton, Apex, Holly Springs, Cary, Smithfield, Carrboro, Durham, Morrisville, Chapel Hill, Garner and beyond. If you are in need of fiberglass shower repair in Charlotte call us at 704-807-9764, if you are looking for fiberglass shower refinishing in Raleigh, call 919-780-7143 or contact us online for a free estimate.