Renov8 Services | Your Surface Refinishing Specialists In Raleigh & Charlotte
Remodeling your kitchen or bathroom & replacing their surfaces can be an expensive and inconvenient task. However, you don't need to remodel your home to give it a fresh new look. Renov8 can refinish bathtubs, showers, flooring, cabinets, counter tops and almost any other surface in your home at a fraction of the cost of remodeling. Our resurfacing projects can also be finished quickly, which means less inconvenience for you and your family while we work. If you are looking for surface refinishing in Raleigh or Charlotte, get in touch with Renov8 for a free estimate.
Bathtub Reglazing & Bathtub Refinishing In Raleigh & Charlotte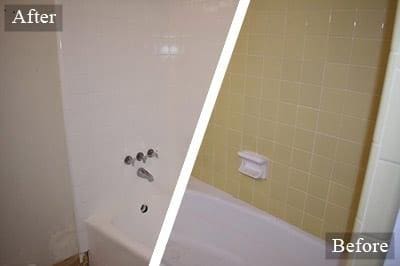 There are a number of reasons that your bathtub may need to be refinished. Discoloration, chips, or  can all ruin the aesthetics of an otherwise beautiful bathroom. Some people think that they might have to replace their bathtub or completely remodel their entire bathroom, however, there is the option of refinishing or reglazing your bathtub. When our Raleigh bathtub refinishing experts come to your home, we will first resurface your bathtub to make sure it has a smooth surface before completely refinishing it to give it a revitalized, like new appearance. If you want to get your bathtub refinished in Raleigh or Charlotte, contact us today for a free estimate.
Cabinet Refinishing In Raleigh & Charlotte, NC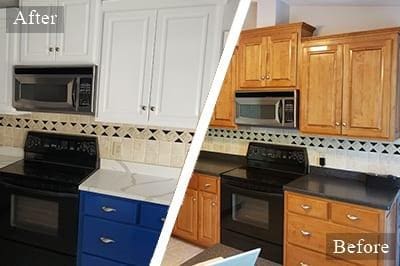 If your cabinets are old and are ruining the aesthetics of your kitchen or bathroom, you don't need to invest in brand new cabinets. Instead you can get your cabinets refinished or have your cabinets refaced in Raleigh & Charlotte at a much lower cost. The professional cabinet resurfacing team at Renov8 can refinish & paint your cabinets in Raleigh without leaving a mess behind. If you know how you want your cabinets to look, we can help you figure out how to achieve that look & feel. If you don't know what you're looking for exactly, we can help guide you through the thought process. Either way, you will save money and love your newly refinished cabinets in Raleigh.
Countertop Refinishing In Raleigh & Charlotte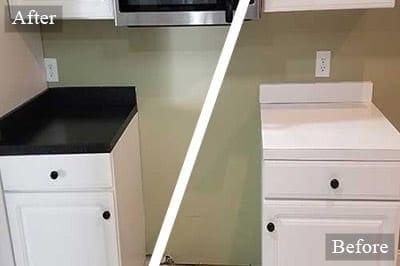 When you are looking to revitalize the look of your bathroom or kitchen countertops, consider having them resurfaced. When you resurface your countertops in Raleigh or Charlotte, there are a lot of choices available to you to get the new look & feel that you want. When we refinish, reglaze, or resurface your counters, you can choose from a number of custom colors & stone finishes. We can provide our services on just about any countertop surface you have, including wood, plastic, laminate, marble, formica and many others. When you are thinking about kitchen or bathroom counter refinishing in Charlotte or Raleigh, contact Renov8 for a free estimate and see how affordable improving their look can be!
Surface Crack & Chip Repairs In Raleigh & Charlotte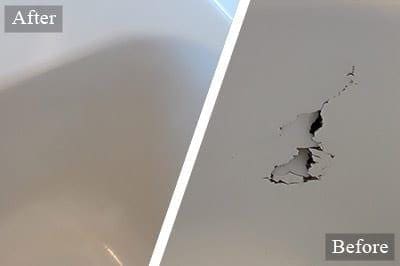 If you have cracked or chipped any of the surfaces in your home, such as in your bathtub, counters, cabinets, or sinks, you may not know that they can be repaired quickly and affordably. These blemishes can easily be fixed by resurfacing the surfaces that were chipped, often time the process takes only an hour or two. In fact, chip, crack, and hole repair is one of the first steps in any of our refinishing or resurfacing jobs, we need to make sure the surfaces are smooth before we proceed with those jobs. This means you know that we have the knowledge and experience you want to repair cracks or chips in your laminate, ceramic, marble, formica or fiberglass surface. Contact us for a free estimate on chip & crack repair in Raleigh & Charlotte, NC.
Fiberglass Tub & Fiberglass Shower Refinishing in Raleigh & Charlotte NC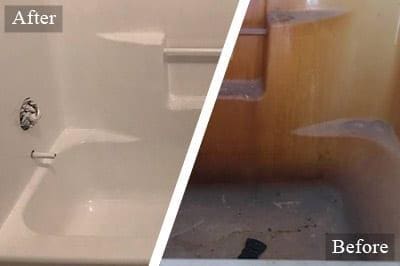 Years of scrubbing, cleaning, and normal wear and tear can start to make your fiberglass shower or tub start to have a worn down, dirty look. Replacing your tub or shower is expensive, and can be difficult to find the right size and shape. Instead of replacing your fiberglass shower, why not have Renov8 come and refinish your fiberglass shower. When we refinish or resurface your fiberglass shower, you can choose a new color or we can just revitalize the original look. Either way, you'll have a great looking fiberglass tub or shower at a fraction the cost of having it replaced. Get in touch with our fiberglass shower refinishing experts in Raleigh or Charlotte for a free estimate, and we can quickly get your fiberglass unit back to it's like new condition.
Floor & Wall Tile Refinishing In Charlotte & Raleigh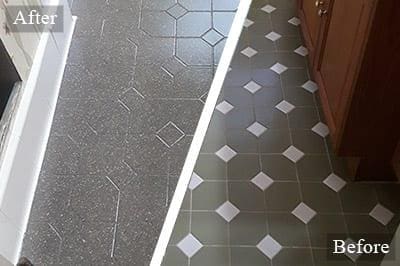 Your wall & floor tile often see a lot of traffic or use. Over time, these tile surfaces become chipped, cracked, discolored, or just always have a somewhat dirty look. Many people are surprised to learn that it's not only wooden floors that can be refinished or resurfaced. In fact, with the exception of laminate floor tiles, most other surface tiles can be refinished quickly and in a way that gives them a like new feel. We work with both residential & commercial floor & wall tile refinishing clients, which means we can make your home or business look fresh and new again. Get a free estimate on floor & wall tile refinishing in Raleigh or Charlotte today.
Grout Cleaning In Raleigh & Charlotte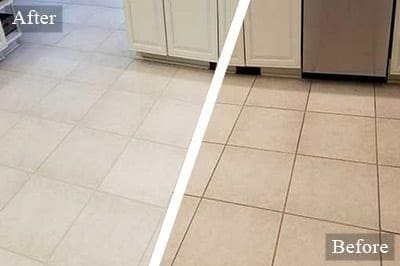 When was the last time you really took a look at the floors in your home or business? Most of the time, the dirt, grime and stains building up between your tiles goes unnoticed, even if it makes your floor look dirty. Cleaning grout on your own can be time consuming and not give you the results that you want. Store bought grout cleaning solutions and chemicals may not always work as they are intended. We understand how hard and time consuming cleaning your grout can be, which is why Renov8 is available to provide grout cleaning in Raleigh & Charlotte, we can replace your grout or clean it and revitalize the look and feel of your floors and tiles. Contact us for a free estimate on grout cleaning in Charlotte or Raleigh today.
Shower Tile Refinishing Raleigh & Shower Tile Reglazing Charlotte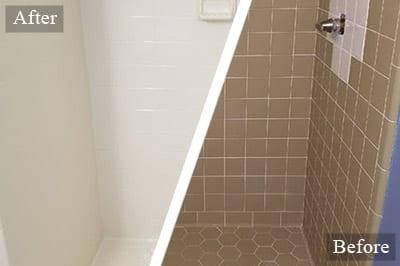 If the tiles in your shower or bathroom are in good condition, but are sporting a retro color, you can get a fresh modern look with tile refinishing, at a price that is more cost-effective than remodeling your bathroom. On average, bathroom & shower tile refinishing in Raleigh & Charlotte costs about 1/3rd of the cost of replacing them. Because there is no demolition involved, the process doesn't leave you without the use of your shower and there's not a big mess to clean up afterwards. If you want to give your outdated bathroom or shower tiles in Raleigh a new fresh look, get a free consultation from one of the tile refinishing experts at Renov8.
Sink Refinishing & Sink Resurfacing Raleigh & Charlotte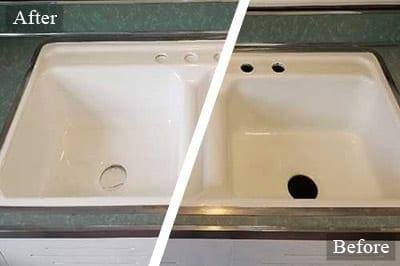 If your sink is stained, cracked, chipped, or starting to wear out, you don't have to replace it with a new sink. As long as your sink still functions properly, Renov8 can refinish your sink in Raleigh & Charlotte at a fraction of the cost of replacement. When our experts provide you with sink resurfacing in Raleigh, we will repair the damage to your sink and can give it a new look and feel, with less waste & hassle. Get a free estimate today.
Vanity Top Refinishing In Charlotte & Raleigh NC
As one of the biggest objects in your bathroom, your vanity can really tie your bathroom together. However, if your bathroom vanity chipped, outdated, cracked, or doesn't fit with your current style, it can ruin the look of the entire room. You don't need to spend money on replacing your vanity, Renov8 can repair & refinish your vanity at a fraction of the cost & in less time. Get a new look and feel by resurfacing your vanity, contact our resurfacing experts for a free estimate today.
Contact Renov8 For Bathroom & Kitchen Surface Refinishing In Raleigh & Charlotte
If you are looking to get a new look for your bathroom or kitchen, in a cost-effective way, Renov8 can help. We can help you remodel the hard surfaces in your kitchen or bathroom at a fraction of the cost of traditional remodeling or replacement. We work on surfaces made of porcelain, fiberglass, laminate, ceramic, wood cabinets, marble, tile, plastic, and more, for residential and commercial resurfacing customers. We provide bathtub refinishing, vanity top resurfacing, cabinet refinishing, crack and chip repair, counter top refinishing, grout cleaning, wall & floor tile refinishing, sink refinishing, shower tile refinishing, and fiberglass shower refinishing in Raleigh, Charlotte and our entire service area. Our service area includes the entire Charlotte metropolitan area, as well as Raleigh & The Triangle, including: Cary, Apex, Chapel Hill, Durham, Clayton, Morrisville, Knightdale, Holly Springs, Wake Forest, Fuquay Varina, Garner, Smithfield, Morrisville, and beyond. If you want a free consultation for kitchen or bathroom refinishing in Raleigh or Charlotte, contact us online or call us at 919-780-7143 in Raleigh or 704-807-9764 in Charlotte.