Professional Grout Cleaning Raleigh NC
Are you tired of getting on your hands and knees with a toothbrush, only to find that you couldn't get your grout cleaned well enough? Sometimes the stains on your grout is so severe that there is no way for you to clean it with the cleaning solutions available to homeowners. When you are ready to have your grout cleaned, the professionals at Renov8 will come to your home or business and thoroughly clean and & all grout that needs cleaning on your property. We use professional tools that clean the grout safely and effectively, leaving you with beautiful grout that looks as good as new. If we come out to provide our grout cleaning service and determine that your grout will need to be replaced, we can help you with replacing your grout as well in a way that will complement the color of the tiles you have. Get a free estimate for grout cleaning Raleigh NC, from Renov8 today.
Grout Cleaning Services We Provide in Raleigh
There are many areas in your home or business that may have grout in them, some that you may have overlooked. Fortunately, we can work on grout wherever it is on your property. These are a few of the areas that we can provide our grout cleaning in Raleigh NC:
Bathroom floors and walls, including showers and tubs.
Kitchen tile floors, countertops, and backsplashes.
Commercial kitchen flooring and counter surfaces.
Office bathroom and kitchen tiles.
Natural stone pavers and outdoor patio areas.
Brick, concrete, and porcelain tiling.
Routine Grout Care & Maintenance
Once Renov8 comes out to your home or office and thoroughly cleans the grout, it is up to you to provide routine care and maintenance to prevent staining from forming. We have the ability to provide sealing coat to protect the grout from staining and if we do, the maintenance that you have to do is relatively nonexistent. However, if you had the grout cleaned without this coating being added, you need to sweep and mop the area regularly to prevent excess dirt and stains from forming.
Grout Cleaning Projects By Renov8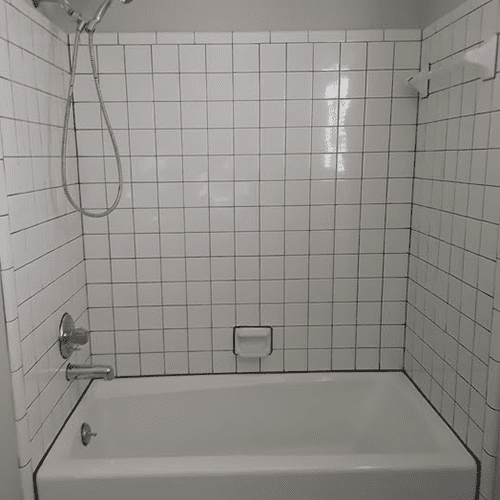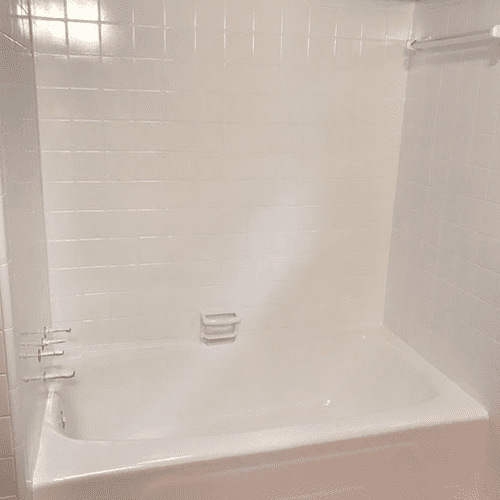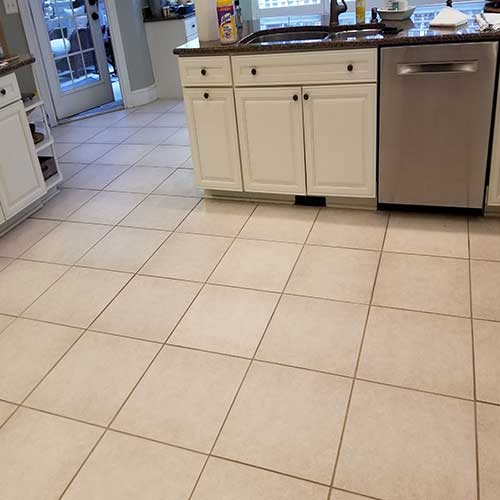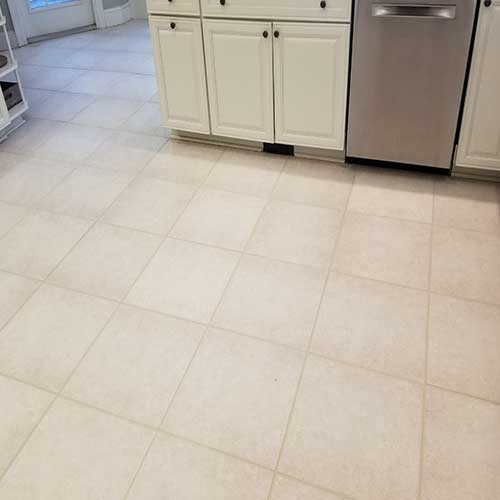 Contact Renov8 Refinishing for Grout Cleaning
Is the grout between your tiles looking black, gray, or just dirty & grimy? Dirty grout can lead to your bathroom or kitchen looking drab, but the clean group can give your home a more bright, attractive look. Without cleaning your grout properly, dirt will build up over time and cause it to become discolored, which is why Renov8 provides grout cleaning service in Raleigh NC to both residential and commercial customers. Aside from grout cleaning we also provide a number of other surfaces refinishing & repair services like Bathtub Refinishing, Cabinet Refinishing, Counter Refinishing, Crack & Chip Repairs, Grout Cleaning, Shower Refinishing, Sink Refinishing, Tile Refinishing, and Vanity Top Refinishing. We offer or resurfacing services for a number of different materials like porcelain, Formica, ceramic, marble, cultured marble, laminates, and more. Get  a free estimate for grout cleaning in Raleigh or Charlotte. Find out how you can save money and have a gorgeous looking kitchen or bathroom quickly by calling us at 919-780-7143, or just contact us online for a free consultation.