Refinish Or Remodel Kitchen & Bathroom Sinks In Raleigh & Charlotte
Remodeling your laundry room, kitchen, or bathroom can be expensive, especially when you want it to have the perfect look and feel. However, you can save money when you remodel your bathroom or kitchen by refinishing your sink, instead of replacing it. Sink resurfacing in Raleigh & Charlotte generally saves customers about 50% over the cost of replacement and it saves you money and time because you don't have to hire a plumber, redesign the counter & vanity, and you don't have to take your old sink to a landfill to get rid of it. If you want to save money and have a great looking sink, get a free estimate on Sink refinishing in Charlotte or Raleigh from Renov8 today!
Types of Vanities & Sinks We Refinish In Raleigh & Charlotte
At Renvo8 we work with both residential and commercial customers who need to have their sinks refinished in Raleigh & Charlotte. Because sinks come in all different sizes and are made from a number of different materials, you may be wondering if we can provide our Raleigh sink refinishing services for your sink. We provide our sink refinishing for the following types of sinks & vanities:
Porcelain Sink Refinishing
Fiberglass Sink Resurfacing
Ceramic Sink Refinishing
Metal Sink Refinishing
Plastic Sink Resurfacing
Formica Vanities
Tile Vanities
Cultured Marble Vanities
Wood Vanities
If you don't see your sink or vanity material listed, give us a call or contact us online to find out if we can resurface your sink in Raleigh or Charlotte, NC.
Kitchen Sink Refinishing in Raleigh & Charlotte
If you are a homeowner performing renovations on your kitchen in Raleigh or Charlotte, so you can sell your home, resurfacing your sink can be an excellent investment. Many home buyers want to buy homes that are move in ready and will pay a premium for such a property. For a fraction of the cost of replacing an old sink, you can refinish it and make your sink look flawless before showing it to potential buyers.
Bathroom Sink Resurfacing in Raleigh & Charlotte
Some homeowners have cosmetic damage to their bathroom sinks or vanities. If your current vanity & sink fit the current space and are functioning properly, but are dirty or worn out, resurfacing your bathroom sink in Raleigh or Charlotte is a great way to save money and get the look and feel you want in your bathroom. Just like with kitchen sink refinishing, a bathroom sink looking new and fresh is more attractive to potential homebuyers. It doesn't matter what the reasons you have for refinishing your sink in Charlotte & Raleigh might be, you can get a free estimate by calling or contacting our Raleigh sink refinishing experts today.
Sink Refinishing Projects By Renov8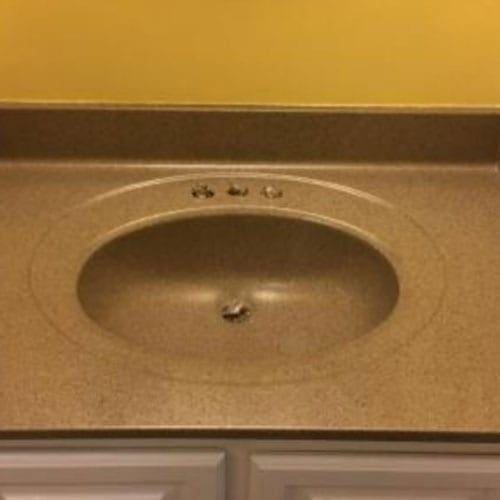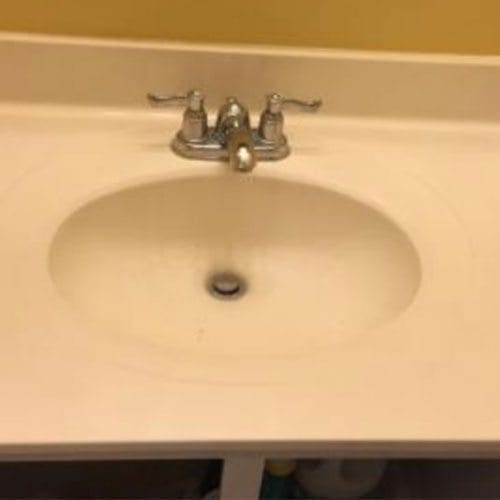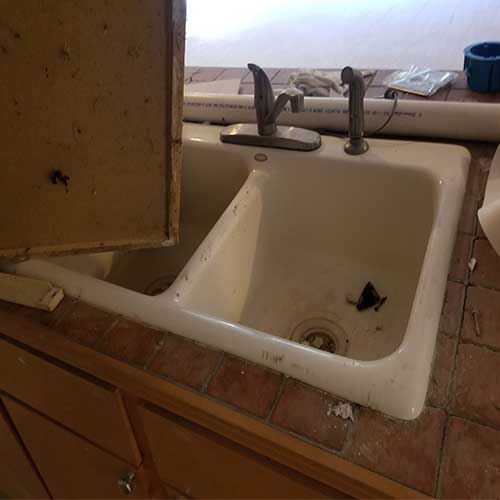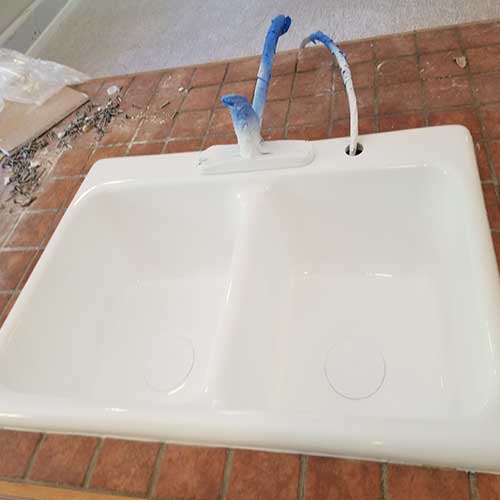 Contact Renov8 Refinishing for Sink Refinishing
Your kitchen and bathroom sinks see a lot of use and because of that, over time, they may start to look discolored or dirty. Sinks also can get scratched, chipped, cracked and stained, making them ruin the look and feel of your bathroom or kitchen. Replacing your sink can cost a lot of money and can be hassle, between finding a sink that fits the dimensions and having a plumber come out and make sure the new one is installed properly. At Renov8, we can refinish your sink in Raleigh or Charlotte at a fraction of the cost of having your sink replaced. We don't only provide resurfacing for sinks, we also provide a number of other refinishing services for residential & commercial customers. We can Bathtub Refinishing, Cabinet Refinishing, Counter Refinishing, Crack & Chip Repairs, Grout Cleaning, Shower Refinishing, Sink Refinishing, Tile Refinishing, and Vanity Top Refinishing.We can refinish sinks made of porcelain, marble, ceramic, metal, and most materials that sinks are made of. If you are looking for sink refinishing in Raleigh or Charlotte, get a free estimate by calling 919-780-7143 in Raleigh or 704-807-9764 in Charlotte, or by contacting us online today.