Bathroom Refinishing & Remodeling in Belmont
Are you in the process of updating your bathroom? Renov8 is your source for bathroom refinishing in Belmont NC. We provide the best resurfacing, reglazing, and refinishing services that will restore the look and luster of your hard surfaces. Our refinishing options in Belmont are fully customizable, allowing you to select a new color, texture, and pattern. Not only does our refinishing process take a fraction of the time, but it also costs significantly less than replacement and other remodeling services. Contact us now for a free consultation on cabinet refacing, countertop resurfacing, tile floor resurfacing, sink refinishing, shower resurfacing, bathtub refinishing, and other bathroom refinishing services in Belmont NC.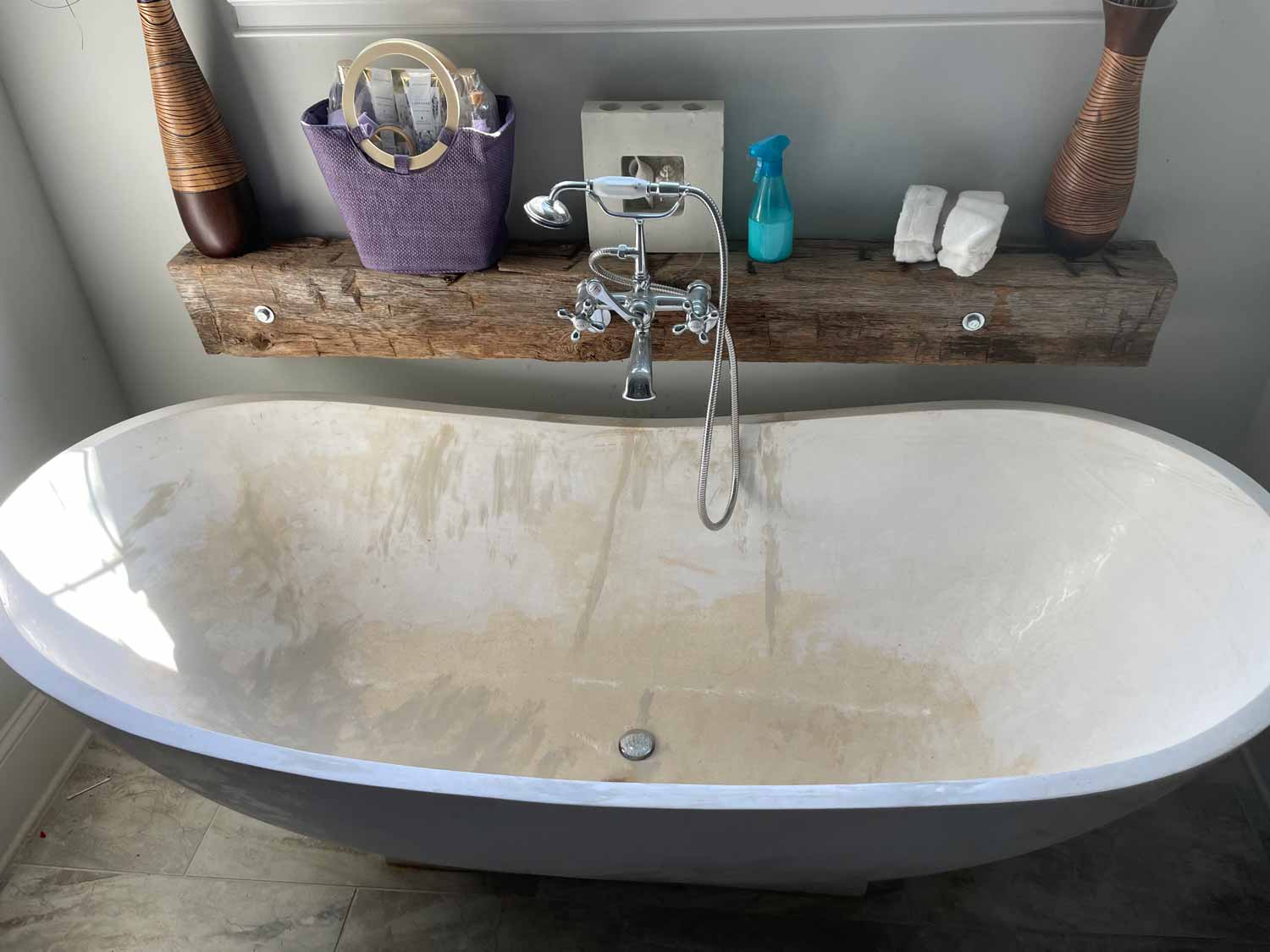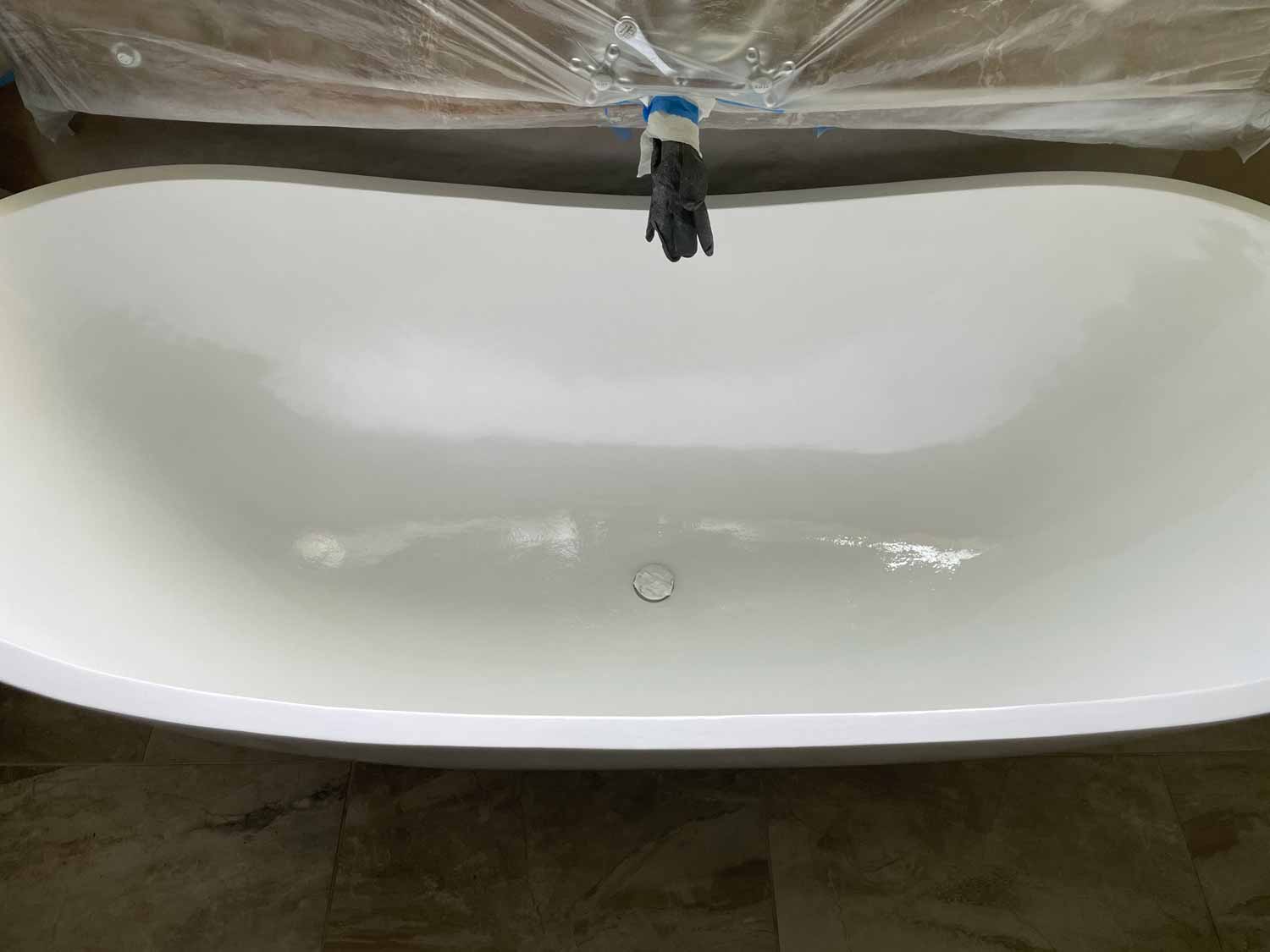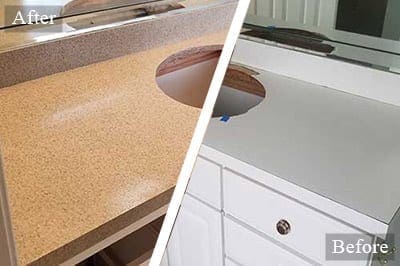 Vanity Top Refinishing In Belmont
Bathroom vanities usually combine your sink, mirror, and bathroom cabinets; making them one of the largest objects in most bathrooms. Because of their size, your…
Learn More
Kitchen Refinishing & Kitchen Remodeling In Belmont NC
Renov8 specializes in kitchen refinishing in Belmont NC. When you contact us for kitchen refinishing services, our team will schedule a free onsite consultation. We will examine your hard surfaces, discuss your color choices, and provide a quote for the refinishing services you need. Our reglazing, resurfacing, and refinishing in Belmont allow you to select a new texture, pattern, and color for your surfaces. The process is completed in just a couple of days and costs about half the price of remodeling services that involve surface replacement. Contact us now for a free consultation and quote for kitchen refinishing in Belmont NC. Renov8 will provide superior refinishing services that will update and restore your kitchen surfaces.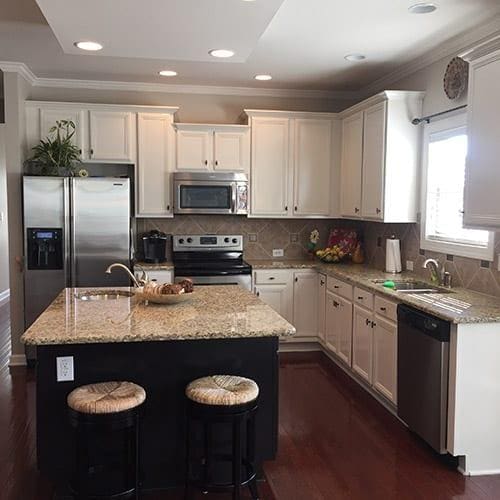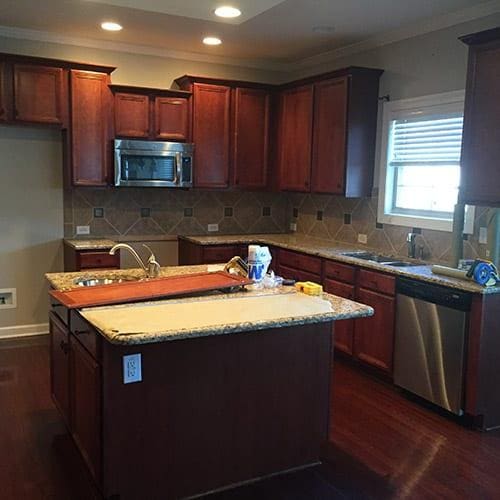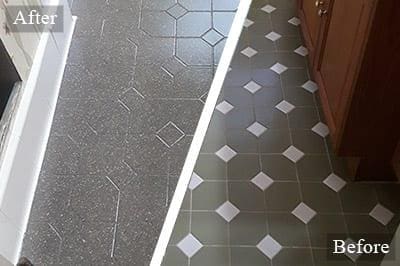 Tile Refinishing In Belmont
Are the tiles in your kitchen or bathroom so dirty that it makes you cringe when you look at them? Are there cracks in your…
Learn More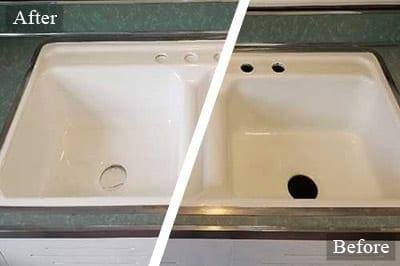 Sink Refinishing In Belmont
Is your sink looking worn and dirty? Maybe it's an older sink and the color is out of date or it has cracks, scratches or…
Learn More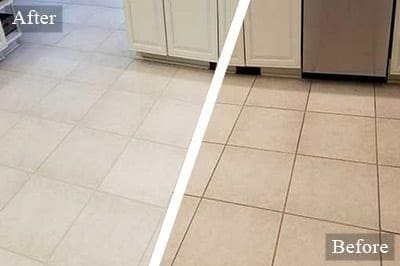 Grout Cleaning In Belmont
You can sometimes go for years without realizing how dirty & grimy the grout in your home or office is. Dirt, grime & stains can…
Learn More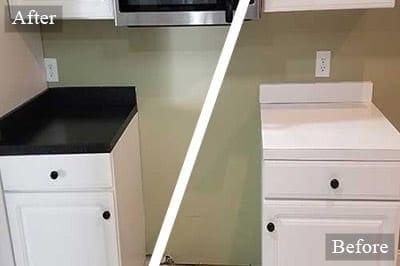 Counter Refinishing In Belmont
Over the years, your countertops see a lot of wear and tear. Over time, you may find that your counters start to crack, chip or…
Learn More
Surface Crack & Chip Repairs in Belmont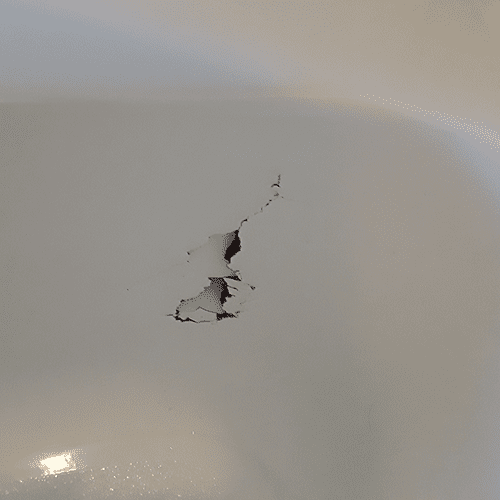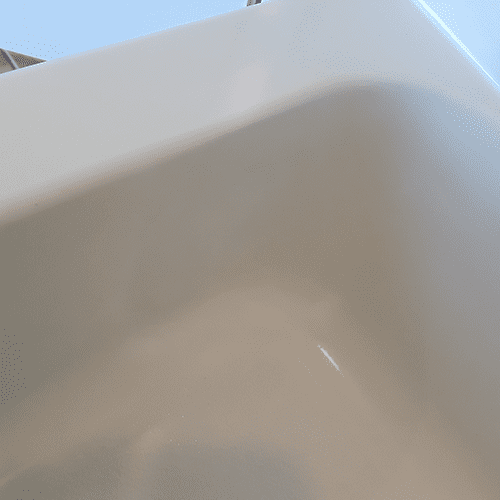 When surfaces in your bathroom or kitchen get cracked, chipped, scratched, or even have holes in them, we can help. Renov8 can repair cracked or chipped tile, cultured marble, fiberglass, and just about any other common household surface. Our repair process is as quick as it is affordable and you can usually use that surface the same day we complete the process. While we're doing the repairs, we can also change the color and style of your surfaces as well.
Surface Materials We Refinish in Belmont
Tile
Cultured Marble
Marble
Porcelain
Plastic
Formica
Ceramic Tile
Laminate
Fiberglass
Metal Furniture
Acrylic
And More!
Real Reviews From Real Customers in Charlotte
All of the reviews on our website are from actual customers, you can see them on Google by clicking the link under their name. You can also see the other reviews these customers have done with other businesses. We want you to know that you can trust the reviews on our website, which is why we make it possible for you to verify them yourself.
Excellent
5.0
★
★
★
★
★
Based on 51 reviews from
review us on
Edie Robbins
★★★★★
Luis and his partner did a great job reglazing my tub. It looks like new!They got here early, they were friendly and fast. When they were done, they made sure I thoroughly reviewed the work before asking for payment. And, they clearly explained instructions to use my secondary bathroom for 24 hours before using the tub.I highly recommend them.
Bethany
★★★★★
Jared was stellar!!!!! He did my countertops and bath tubs and they look incredible!!! Seriously makes the space look so much brighter and more premium. I saved so much money going through renov8! Jared was also extremely professionally and helpful and kind. I cannot recommend highly enough.
Jeff S
★★★★★
Junior came and did a fantastic job refinishing my counters. Extremely friendly and great clean up
Preston Chrisman
★★★★★
Fantastic service! Very professional and courteous. Bathtub and sink from the 1950s were both resurfaced and look amazing now, breathing new life into our little old bathroom. Would 10/10 use Renov8 again!
Rick
★★★★★
Prompt, very courteous and professional. Excellent quality workmanship. And neat, too. No mess to clean up. Highly recommend.
Sue S.
★★★★★
Renov8 did an amazing job refinishing our bathtub and surrounding tile. They were accommodating, quick and have hard workers. Our tub looked like a brand new tub when they were finished!
kevin helms
★★★★★
I have a rental that was built in 1934. The tub in it is original to the house and looked every bit like it was 90 years old. Stained, pitted, water damaged...just really a mess, mostly caused by a horrible previous tenant. I was referred to Renov8 and thought I would give them a shot at bringing it back to life. Junior and his assistant came to the rescue. I had an idea of what I was willing to accept when all was said and done, and what they did was nothing short of remarkable. They far and away exceeded my expectations. In 2 1/2 hours, they took a tub I had contemplated trashing and made it look like it was brand new.
MsKISS6
★★★★★
Like a large number of homeowners, I am in the process of completing much needed renovations/ home projects. A local retailer recommended tub refinishing vs purchasing new tubs during a recent consultation. Renov8 was one of three companies I researched and I am glad I chose them to assist me with my bathroom upgrades.Milton was the technician who refinished my tubs. He arrived early, began promptly and did an awesome job! He expertly protected my new bathroom fixtures, walls and floors. I was pleased that my home was returned to the state it was in prior to his start. A job that I assumed would take 8 hours was completed in ~4. My friend who owns a cleaning service can't stop raving about how my tubs look brand new.I would highly recommend Renov8 for your tub refinishing needs. If you are in the Charlotte, NC area, please request Milton as your technician based on this review. I promise you won't be disappointed.
Contact Renov8 Refinishing Charlotte NC For Bathroom or Kitchen Surface Refinishing In Belmont
Renov8 Refinishing Charlotte NC Provides in Belmont & These Areas
Address:
6047 Tyvola Glen Cir #130
Charlotte, NC 28217
Renov8 Refinishing Charlotte NC
Kitchen & Bathroom Refinishing Belmont NC