What Does Bathroom Tile Reglazing in Fayetteville Mean?
You may have heard a lot of different terms when you are shopping around for bathroom tile repairs or replacements. The terms bathroom tile re-glazing, shower tile refinishing, or tile resurfacing are all used pretty interchangeably these days, and the truth is that they have all come to mean the same thing. If you were really going to reglaze a tile, you would need to remove it, strip it, refinish it and then bake in at over 2000 degrees. Renov8 doesn't have a portable Kiln (or the time) to reglaze your shower tiles in Fayetteville, but we do have the technology and chemicals to repair your cracked, chipped & stained bathroom tiles in a fraction of the time. Our bathroom & shower tile refinishing process will repair your tiles and make them look better than when they were new!.
Benefits Of Bathroom Tile Refinishing in Fayetteville NC
We get it, your old bathroom tiles are damaged, ugly, outdated, stained, and definitely not suitable for entertaining guests. It's definitely time to do something about the problem, but what exactly? Replacing tile is expensive, according to Home Guide "The cost to retile a shower is $800 to $3,000. Retiling a bathroom floor costs $800 to $3,800." This information then leads to the logical next step of  doing online searches for things like "how to replace my shower tile in Charlotte without taking out a loan" or "affordable repairs bathroom tiles in Raleigh", that's when people find Renov8. Here are some benefits you can expect when you resurface your bathroom floor, backsplash or shower tiles in Raleigh & Charlotte:.
Savings, Savings, and More Savings – The cost of replacing your shower tile can be be $3,000 dollars, the cost of replacing your entire shower (we won't go there), but refinishing your shower tiles will cost somewhere between $300 – $500 dollars.
Customize Your New Look – It doesn't matter if you want your tile to have a new color or a new texture, Renov8 can help you select the perfect new look for your bathroom tiles.
Get The Job Done Quickly – We can usually reglaze your bathroom tiles in less than 24 hours. Replacing your tiles can take a week or more (depending on the size of the project.
Better For The Environment – What happens to used shower tiles? Usually they end up in a landfill because dirty shower tiles generally aren't something people recycle. Less waste is always better for mother nature.
Make Your Fayetteville Bathroom Tiles Beautiful Again
At Renov8, we know how to take old tiles and make them look beautiful again. We can refinish tiles on any surface of your bathroom, including backsplashes, vanity tops, showers, & flooring. We also provide tile & grout cleaning services to customers throughout North Carolina. We are a small, family-owned and operated tile refinishing company, which is one of the ways we keep our costs so low. We work with individual homeowners, but also apartment communities, hotels, and property management groups with multiple units, which means can handle any size job. If you are looking to refresh the tiled areas in your bathroom, contact us for a free quote today!
Tile Refinishing Projects By Renov8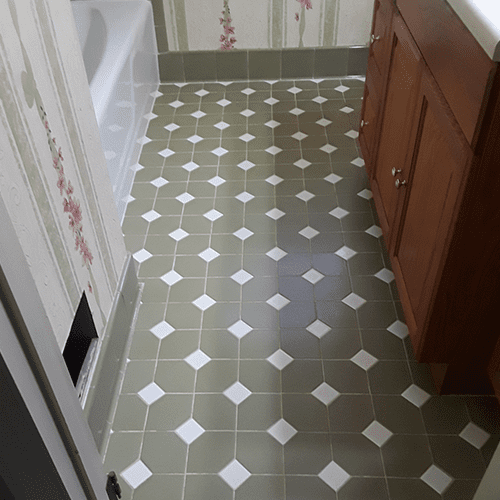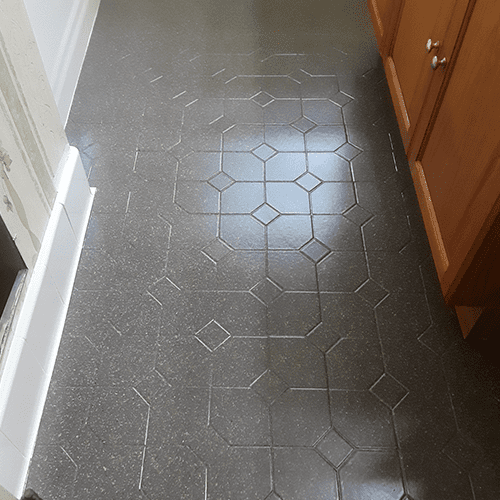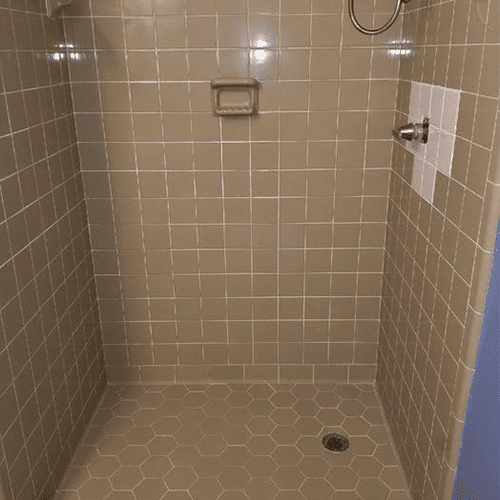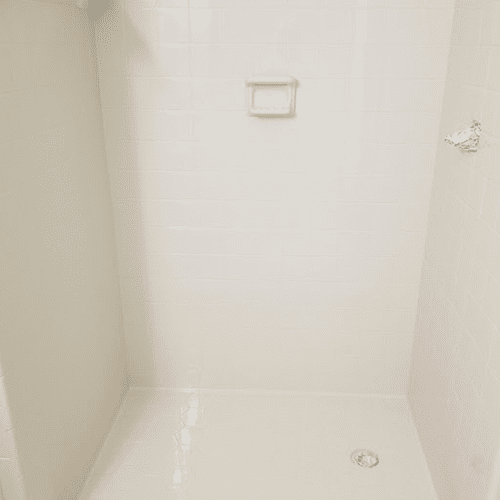 Contact Renov8 Refinishing Fayetteville NC For Tile Refinishing In Fayetteville
With the cost of building materials skyrocketing, people are always looking for a way to make their money go further. Refinishing your bathroom floor, wall, backsplash and shower tiles is a great way to increase your property value without spending a lot of money. The cost for our bathroom tile resurfacing services in Fayetteville & start at as low as $300 dollars. When you contact us, make sure to ask us about our kitchen tile refinishing service as well. In fact, we can resurface just about any surface in your kitchen or bathroom. Give us a call or contact us online to schedule service and refresh the tiled areas of your home.