Vanity Top Refinishing in Raleigh & Charlotte NC
| Renov8 Bathroom vanities usually combine your sink, mirror, and bathroom cabinets; making them one of the largest objects in most bathrooms. Because of their size, your vanity is often what dictates the style of your bathroom, which means that if it is cracked, stained, or outdated you might be thinking about remodeling your entire bathroom. You don't have to spend 1000's of dollars to update the look of your bathroom, Renov8 can refinish your vanity top at a fraction of the cost. Give us a call or contact us online to get a free estimate on vanity top resurfacing in Raleigh, Charlotte or Fayetteville.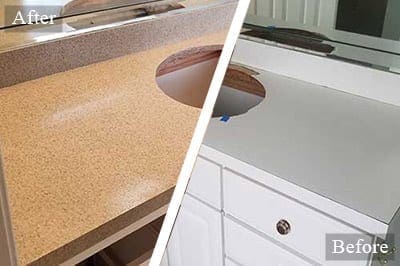 Save Time & Money By Refinishing Your Bathroom Countertops
When people are thinking about replacing showers or bathtubs, it might be because they are looking for new features (think dual shower heads or a jacuzzi tub). With vanity tops, the majority of the time people are looking to replace them because they are looking to update the style or look of their bathroom.  A new bathroom vanity costs about $1500 on average, and that doesn't include the cost of installation. Not only that, it can leave you without the use of your bathroom for weeks while the project is being completed. When Renov8 refinishes your vanity it will repair any chips, cracks, or stains, but we can also change the color and update the look to match your style. The best part is we can be finished in a matter of hours, while saving you a lot of money.
Replacing VS. Refinishing Your Vanity Top In Raleigh & Charlotte
When you are deciding if you should replace or refinish your vanity top, there are certain things you should consider. When you replace your vanity it means making adjustments to the new vanity to fit properly, it also may mean plumbing work, electrical work & even moving your mirrors. However, refinishing your vanity top means that you don't have to worry about if the old sink will fit or if the vanity will fit properly into your bathroom. There are a number of benefits that refinishing your vanity top in Raleigh or Charlotte has, instead of replacing it, below are just a few:
Better For The Environment – When you refinish or resurface your vanity top in Raleigh or Charlotte, you don't have to get rid of the old vanity top which usually ends up in a landfill. Instead, we work with your existing furniture to make it look and feel like you want it to.
Faster Turnaround Time – Replacing a vanity top means you might be without the use of your bathroom for a much longer time than refinishing your vanity top. When you refinish there is less work and less cleanup time, meaning you can use your bathroom again within days, not weeks.
Get The Color & Texture You Want – Yes, when you replace your vanity top, you can choose the material and color you want, but when Renov8 refinishes your vanity top in Raleigh or Charlotte, you can choose the look and texture you want as well. If you want a marble or stone finish, we can do that. There are a number of options available to you.
Vanity Top Refinishing is Affordable – Compared to the cost of replacing your vanity top, you can refinish your vanity top in Charlotte or Raleigh at a fraction of the cost. Often times, our customers save 50% – 70% or more over the cost of replacement.
Our Process For Bathroom Countertop Reglazing in Raleigh & Charlotte
At Renov8, it is our goal to provide the best possible work at a reasonable price for all of our customers, residential or commercial. Before we begin, we will choose the texture and colors that are right for you. While every project is different, but they all follow the same basic process.
Step 1. When we arrive on location our technicians will remove any drawers & doors, the backsplash and faucets if necessary.
Step 2. Our technicians will then clean the vanity surface and remove any sealant or buildup on the vanity.
Step 3. Next we will fill any holes, or scratches, and once they've cured, we will cover the countertop with our resurfacing material.
Step 4. We then sand the vanity and apply the bonding agent.
Step 5. Once ready, we apply the finishing material and spray a topcoat for protection. Once dried, we may apply more coats to enhance the color and texture.
Step 6. After everything has completely dried, we will put your vanity back together again.
How long it takes depends on the size of the project, but most residential jobs are done within a day. Commercial jobs may take longer depending on the number of vanity tops we are refinishing. If you have questions, give us a call or fill out the form below.
Some Of Our Past Vanity Refinishing Projects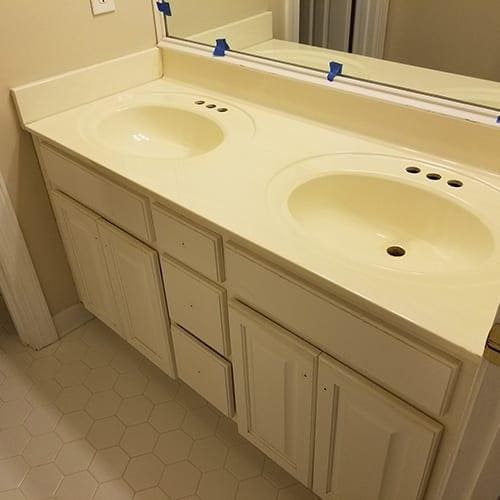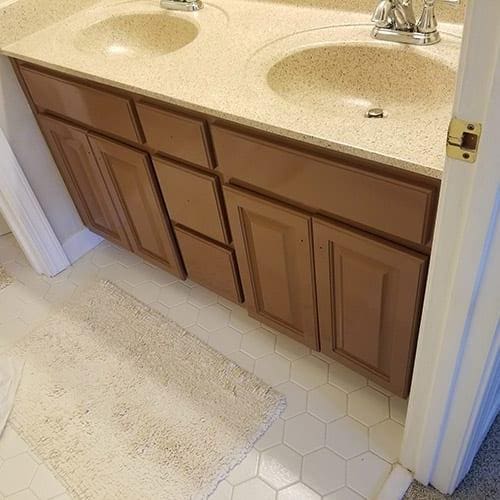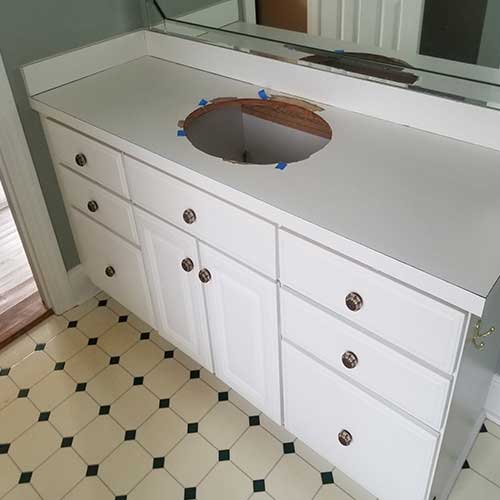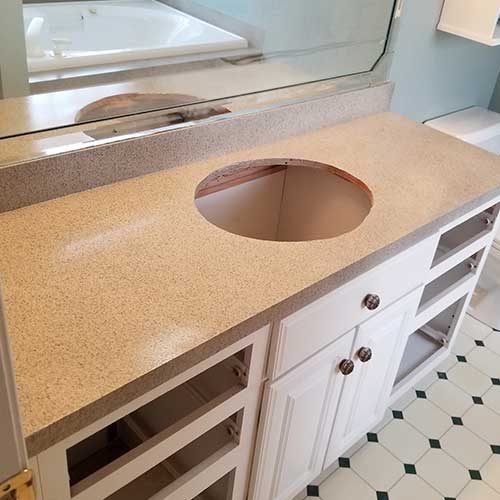 Contact Renov8 For Vanity Top Refinishing in Charlotte & Raleigh NC
You don't have to remodel your entire bathroom to update the look and feel of it. Renov8 can save you a lot of hassles and money by refinishing your bathroom countertops & vanity. Even if you are remodeling your bathroom, refinishing your vanity can help you stretch your budget so you can have the bathroom of your dreams. We have locations in Raleigh, Charlotte, and Fayetteville & our service area encompasses most of North Carolina. We provide residential & commercial repair & refinishing services for bathrooms and kitchen surfaces including: bathtub refinishing, cabinet resurfacing, fiberglass shower refinishing, shower tile refinishing, sink refinishing, countertop refinishing, wall & floor resurfacing, crack and chip repair, and grout cleaning. Give us a call at your closest location or contact us online to get a free estimate.