Shower Tile Resurfacing in Charlotte NC
Renov8 can handle everything needed for shower tile refinishing in Charlotte NC. We start with an inspection of your shower tiles, looking for worn, chipped and damaged tiles, as well as issues with surrounding grout. A quote is provided for the shower tile refinishing services recommended and we get to work. First, we strip your shower tiles and make any needed repairs of chips and cracks and surrounding gout. If you are choosing a new color, pattern or texture, we then provide shower tile reglazing services. The tiles are then buffed to shine and re-sealed with a protective coat. The end result is restored shower tiles that shine like they did when new. Contact Renov8 for a free consultation and quote on shower tile resurfacing in Charlotte and surrounding areas.
Kitchen Tile Resurfacing & Reglazing in Charlotte NC
You may know that it is possible to refinish hardwood floors, but many of our clients are surprised to find out they can also get other types of flooring refinished in their home. Renov8 can resurface a variety of different types of floor materials, such as stone, concrete, vinyl and tile. Because each surface is different' they may all require a slightly different procedure, though the process for floor & tile refinishing is largely the same. It starts with our team removing any dirt from your floors, before repairing and cracks or scratches. Next we apply a bonding agent to your floor before a final protective clear finish that will keep them looking nice for years to come. Once we've finished refinishing your floor in Charlotte, they are ready to be used within the next 24-48 hours.
Tile Replacement VS Tile Refinishing in Charlotte
Shower tile refinishing in Charlotte NC is a better option than shower tile replacement to restore tiles in most instances. Provided shower tiles are not irreparably damaged, shower tile refinishing services are superior:
Shower Tile Refinishing Has a Lower Cost – Shower tile replacement can cost thousands. Shower tile refinishing in Charlotte NC costs about half what replacement does without sacrificing quality of restoration.
Shower Tile Resurfacing Takes Less Time – Shower tile replacement can take weeks from the time old tiles are removed until new ones are in and ready to use. Shower tile resurfacing is completed in about 3 days, allowing you to resume use of you shower more quickly.
Shower Tile Reglazing Allows for New Color & Pattern – Shower tile reglazing allows you to select a new color, pattern or texture.
Shower Tile Refinishing Services Are Eco-Friendly – Shower tile refinishing services use existing tiles, so there is less waste.
Renov8 Provides Superior Kitchen & Bathroom Refinishing in Charlotte
Whatever your kitchen refinishing and bathroom refinishing services in Charlotte NC, Renov8 can handle the job. Our team has been providing commercial and residential refinishing services in Charlotte and the Triangle for more than a decade and can handle your refinishing needs, big or small. Contact us today for a free consultation on bathroom refinishing services and kitchen refinishing services including shower tile refinishing in Charlotte NC.
Tile Refinishing Projects By Renov8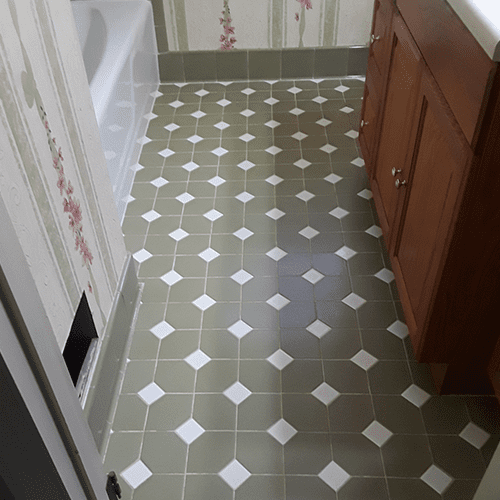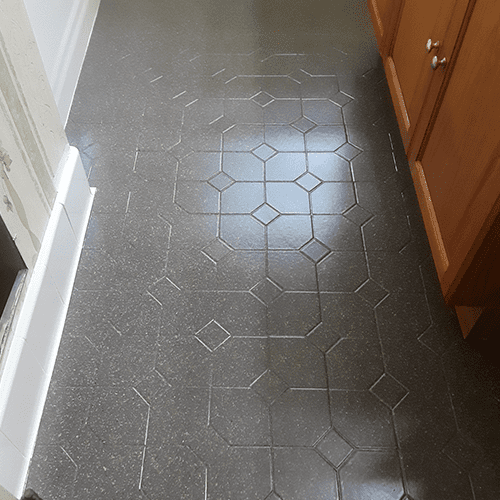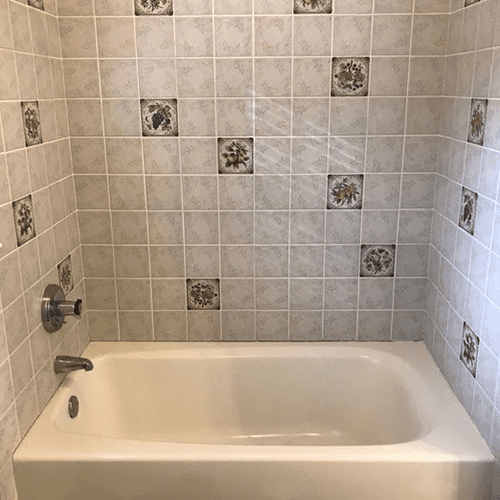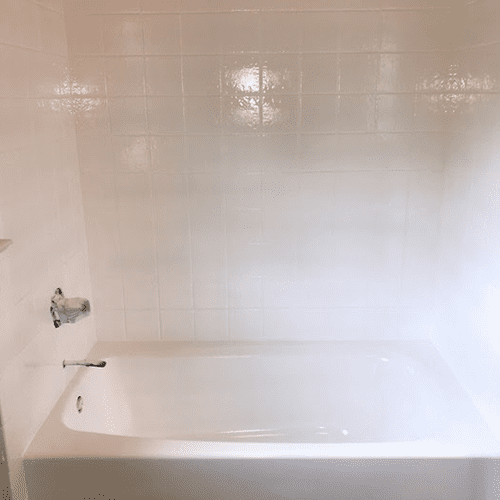 Contact Renov8 Refinishing Charlotte NC For Tile Refinishing In Charlotte
If your walls or floors in your kitchen or bathroom have tile that is cracked or chipped, it can make your home look unsightly. You might think that replacing the broken tile is the only way to restore the original beauty of these rooms, but you have options. It doesn't matter if your wall or floor tiles are damaged or just not stylish anymore, Renov8 can refinish them letting you choose the color, style, and texture that you want at a fraction of the cost of tile replacement in Charlotte. We are experts at refinishing and also provide residential and commercial customers the following refinishing services: Counter Refinishing, Cabinet Refinishing, Tile Refinishing, Grout Cleaning, Sink Refinishing, Bathtub Refinishing, Crack & Chip Repairs, Vanity Top Refinishing, Shower Refinishing, and Bathroom Remodeling  Contact Renov8 online or call 704-807-9764 for tile refinishing in Charlotte NC.