Countertop Repair & Countertop Resurfacing Charlotte NC
Because your counters see a lot of daily use, it isn't surprising that they can become stained, burned, scratched, or otherwise damaged. Fortunately, you don't have to replace your countertops to make them look nice again. Renov8 provides countertop resurfacing Charlotte based service to both residential & commercial customers. We have the ability to repair your countertops and make them have the look and feel you want. We can give your counters a stone, marble, or granite appearance at a fraction of the cost of replacing them. If you are looking for countertop resurfacing in Charlotte, contact Renov8 for a free estimate today.
Kitchen & Bathroom Countertop Resurfacing Charlotte
As countertops begin to wear down or get outdated, many people may consider replacing them, but did you know that most countertops, including tile, cultural marble, laminate, & wood countertops can be refinished? Refinishing or resurfacing your countertops in Raleigh or Charlotte can expand the life of your counters without the price tag associated with replacing them. Our countertop refinishing experts in Raleigh & Charlotte can help you upgrade your countertops quickly and with minimal mess, usually completing Raleigh countertop refinishing projects within a day or two. Contact us online or give us a call at 919-780-7143 in Raleigh or 704-807-9764 in Charlotte for a free estimate on countertop resurfacing.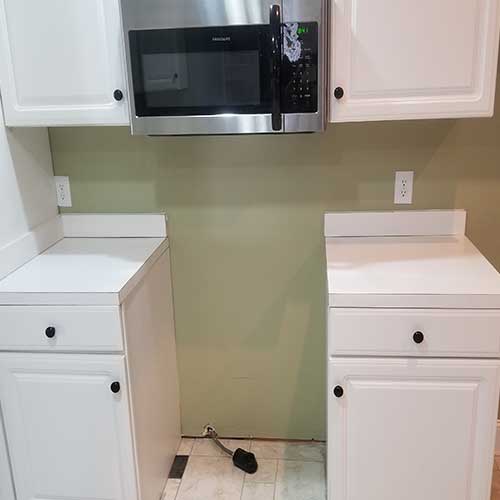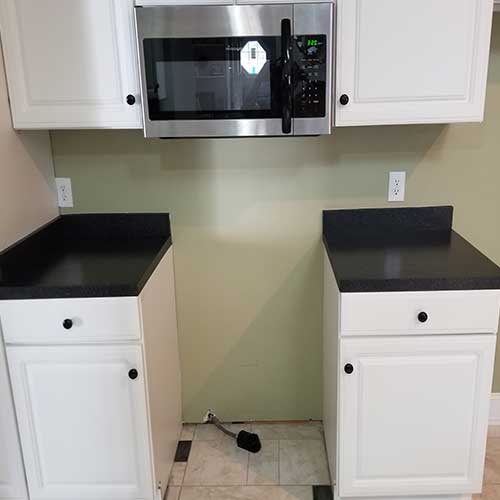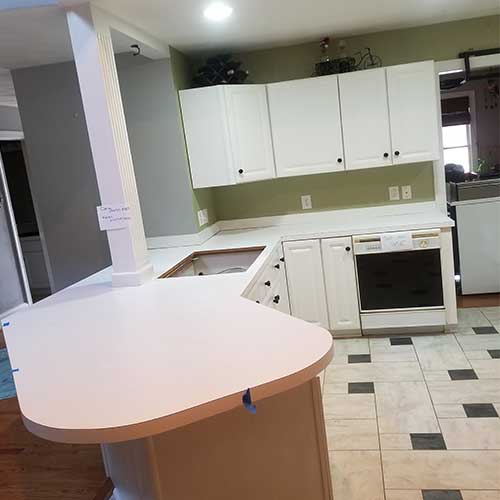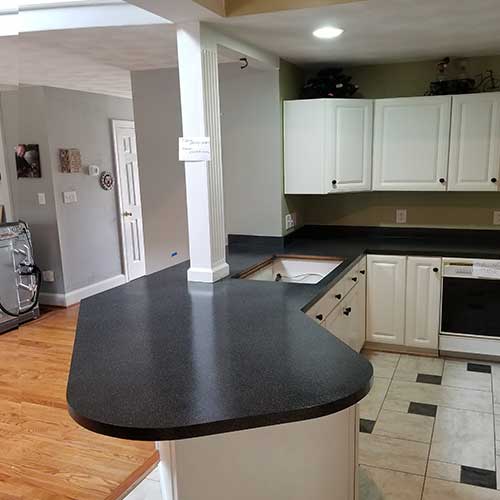 Replace Or Refinish Your Countertops in Charlotte?
Counter Repair Is A Part Of Counter Refinishing in Charlotte: Your countertops may be cracked or chipped, making them lose their appeal. When we refinish your counters in Charlotte, we also repair any surface damage they might have.
Choose Your Style: When you get your counters refinished, you can have them have a new color, texture, or style. We can make them look like stone, marble, granite, or a number of other surface types. If you have your own design, we can work with that, or help you design something that matches your style.
Quick Turnaround Time: When you replace your countertops, it can take weeks or more, our cabinet resurfacing can be finished in 1 or 2 days in most situations.
Better For The Environment: When you replace your countertops, the old counters have to go somewhere. Usually they will end up in a landfill or at the dump. Because we work on your existing countertops there is no waste when we refinish them.
Save Money When You Refinish Your Countertops: Replacement counters can cost thousands of dollars. Our clients always save at least 50% over the cost of replacement, sometimes much more!
Contact Renov8 For Countertop Resurfacing Charlotte
If your countertops are worn out, damaged, stained, or old and drab looking, Renov8 can get them updated so they have the look and style you want, at a cost that is more affordable than replacement. We can make your countertops look like marble, granite, or any other texture you may want. Our goal is to provide high quality countertop refinishing in Charlotte, that will last you for years to come. Of course, countertops are not the only surfaces that we can refinish, we also finish a number of other common bathroom and kitchen surfaces, such as: shower tile resurfacing, grout cleaning, bathroom & kitchen sink resurfacing, floor & wall tile refinishing, vanity top resurfacing, cracked tile repair, cabinet refacing, bathtub resurfacing, and fiberglass shower refinishing.
We provide these services to both residential and commercial customers throughout our service area, which includes both the Charlotte and Raleigh metropolitan areas. In Charlotte, our service area includes: Matthews, Stallings, Mount Holly, Indian Train, Kannapolis, Concord, Gastonia, Harrisburg, Lake Normal, Davidson, Huntersville, Mooresville & beyond. In the Raleigh market, we provide our service throughout the Triangle area, in areas like Durham, Wake Forest, Knightdale, Cary, Holly Springs, Clayton, Apex, Chapel Hill, and the surrounding areas. If you are looking for high quality countertop refinishing in Charlotte NC, give us a call at 704-807-9764 or contact us online.
Counter Refinishing Projects By Renov8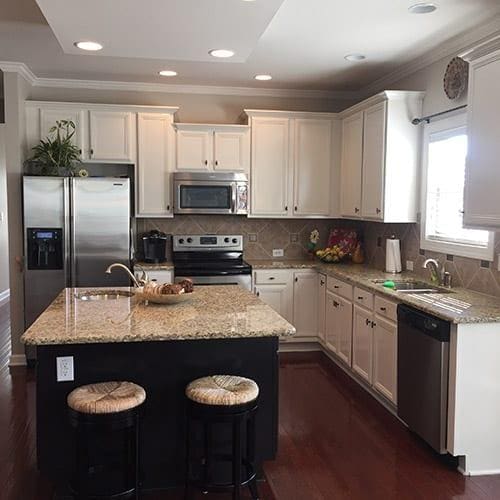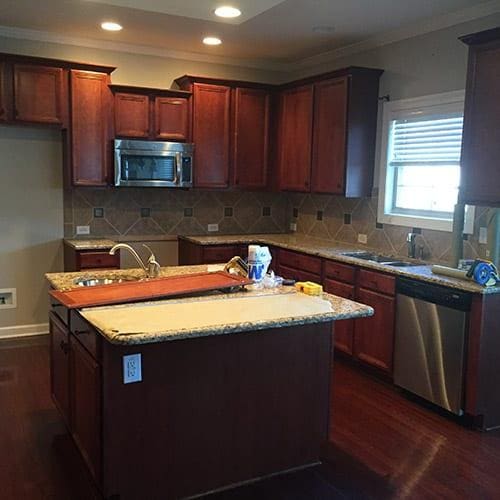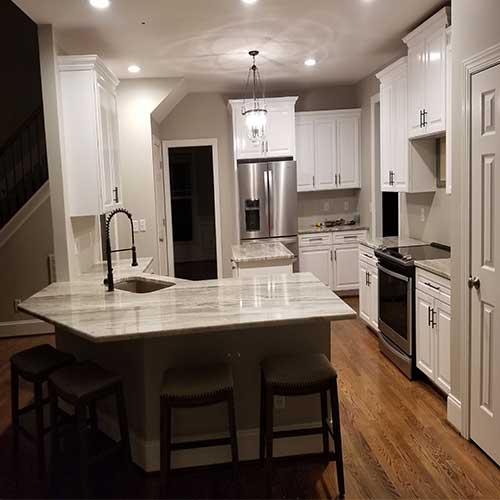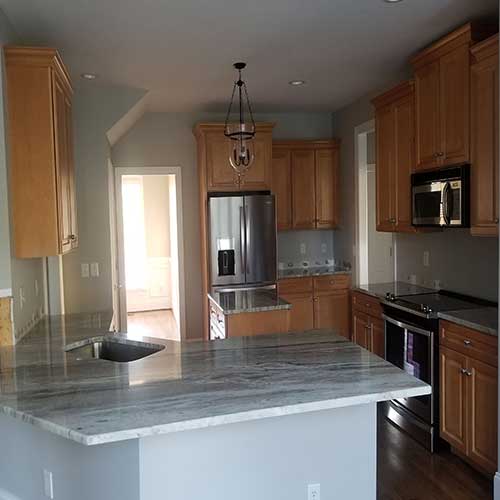 Contact Renov8 Refinishing Charlotte NC For Counter Refinishing In Charlotte