Bathroom Refinishing & Remodeling in Cary
Your bathroom sees a lot of foot traffic throughout the day, that means that it is also subject to a lot of wear and tear. Of course your bathroom is also one of the places that you, your family, and guests, should feel comfortable in. The average cost of remodeling your bathroom in NC is around $11,000 dollars according to home advisor, with the high end costing as much as 30,000 dollars, which isn't something most people have lying around. That's where Renov8 comes in! By refinishing your existing surfaces, we can give you a brand new look and feel that will match your style and tastes, and if you're doing something more than just refreshing the look, we can be a part of your overall bathroom remodeling project, saving you money so you'll have more to spend on that new jacuzzi tub. Contact Renov8 today to find out how we can make your Raleigh bathroom remodeling dollar stretch further.
Kitchen Refinishing & Kitchen Remodeling In Cary NC
Your Kitchen is one of the most expensive rooms in your home to remodel, cabinets alone can cost upwards of $11,000, and in , NC the average kitchen remodel ranges between $12,500 – $35,000 according to HGTV., If you're just looking to refresh your kitchens look and feel, we can take care of that for you, often for far less than any traditional remodeling. But if you're looking to remodel, maybe get that new refrigerator or bigger cabinets, we can be a part of your entire project.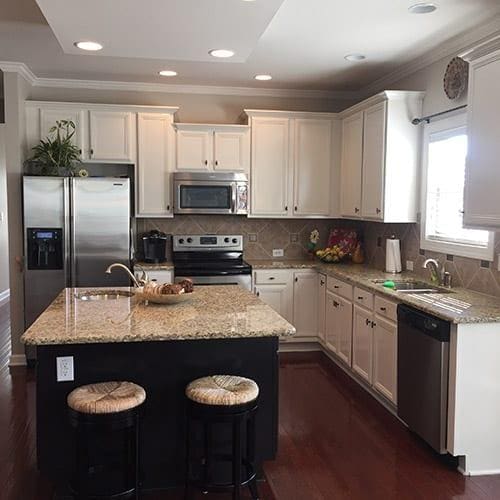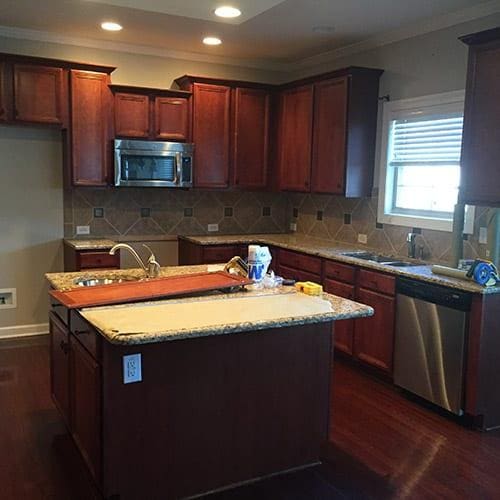 Surface Crack & Chip Repairs in Cary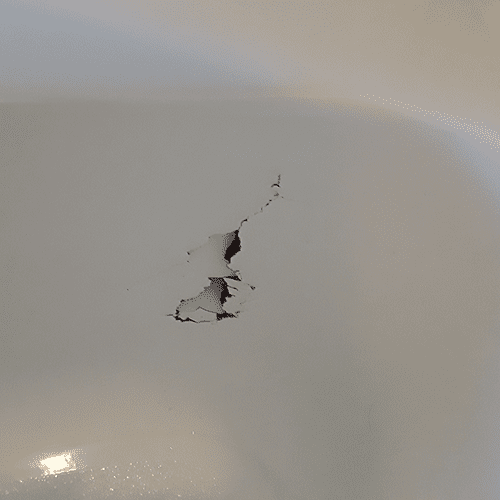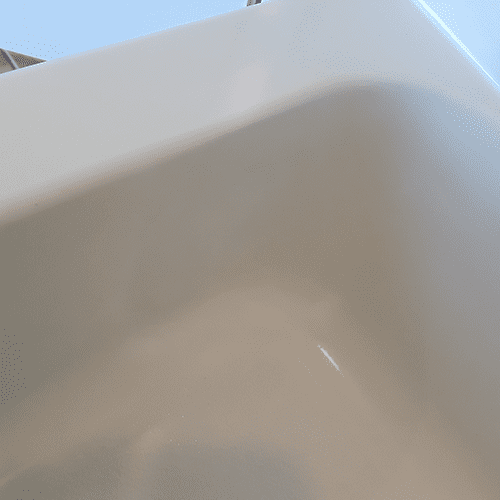 When surfaces in your bathroom or kitchen get cracked, chipped, scratched, or even have holes in them, we can help. Renov8 can repair cracked or chipped tile, cultured marble, fiberglass, and just about any other common household surface. Our repair process is as quick as it is affordable and you can usually use that surface the same day we complete the process. While we're doing the repairs, we can also change the color and style of your surfaces as well.
Surface Materials We Refinish in Cary
Tile
Cultured Marble
Marble
Porcelain
Plastic
Formica
Ceramic Tile
Laminate
Fiberglass
Metal Furniture
Acrylic
And More!
Real Reviews From Real Customers in Raleigh
All of the reviews on our website are from actual customers, you can see them on Google by clicking the link under their name. You can also see the other reviews these customers have done with other businesses. We want you to know that you can trust the reviews on our website, which is why we make it possible for you to verify them yourself.
Excellent
5.0
★
★
★
★
★
Based on 62 reviews from
review us on
Eric Romilly
1680629049
★★★★★
Let me start by saying will would hire Renov8 again with no hesitation. I am renovating a small bathroom but the 38 year old (48" x 32") shower was hideous. I first called one of the "one day" remodelers whose quote was over $9,000. Next, I turned to, and hired Renov8. I hesitate to say how much they charged but it was SIGNIFICANTLY less. I wish this review site allowed pictures because the finished product is nothing less than fantastic. Thanks to Joel and Yesi (pronounced Jessie).
Mary Tomaselli
1674740851
★★★★★
Renov8 refinished our rusted and chipped bathtub after we removed old glass doors - the tub was disgusting. They did an awesome job! Patty coordinated the assignment with professionalism, courtesy, promptness, efficiency and thoughtfulness! Juan and Joel were amazing with their refinishing expertise - the tub looks brand new, it's beautiful. They were prompt, knowledgeable, reasonable, friendly and considerate of us and our home. Thank you, Renov8!
Karima Mahmoud
1673033767
★★★★★
Job well done, thank you!!
Erin Bergstrom
1671475870
★★★★★
Made an old bathroom look great again! Thanks
gary tisdale
1670955855
★★★★★
Great professional service, shower looks brand new.
Kay Rhew
1669914132
★★★★★
I have a 60 year old house. And my bathtub and bathroom sink looked 60 years old. Renov8 refinished the bathtub & sink in one day, and they look brand new! We were so pleased we had them come back and refinish the bathroom laminate. Now we're talking to them about refinishing our kitchen cabinets! I wish we'd done this years ago. The staff is great and the workmanship is incredible. I'd recommend Renov8 to anyone looking for this type of work. I would give them more than 5 stars if I could. Thank you, Renov8!!
Lynn Futrell
1669744516
★★★★★
Junior did a nice job on my tub. It looks brand new! Thank you!
Clay Andrews
1669229626
★★★★★
Jr. Was professional and on time. Did a great job, definitely worth the money!
Dee Dee Coggins
1668727571
★★★★★
JR took great care of regrouting our shower. He brightened all the grout in the bathroom floors as well. Looks like a new bathroom.
TERESA MONROE
1668467065
★★★★★
Joel reglazed my 40 year old garden tub and it looks brand new!! Joel was so nice!! I highly recommend using Joel for any project you have!!! Very pleased and will have him back when we update our guest bathroom!
Contact Renov8 Refinishing Raleigh NC For Bathroom or Kitchen Surface Refinishing In Cary
Renov8 Refinishing Raleigh NC Provides in Cary & These Areas
✓

Raleigh

✓

Smithfield

✓

Carrboro

✓

Clayton

✓

Wendell

✓

Pittsboro

✓

Holly Springs

✓

Knightdale

✓

Cary

✓

Fuquay-Varina

✓

Morrisville

✓

Garner

✓

Zebulon

✓

Apex

✓

Durham