Renov8 Is The Trusted Name In Cabinet Refinishing In Raleigh
If you are thinking about a kitchen or bathroom renovation, cabinets can take up a large chunk of your budget. Perhaps you aren't renovating, but you have old, stained, or cabinets that no longer fit with the look and feel of your home. You don't have to replace your old cabinets, in fact, if they are still functioning properly and have enough room for your belongings, you have other options. Renov8 provides cabinet resurfacing & cabinet refacing in Raleigh, which usually saves 50% or more of the cost of replacing them. When we refinish your cabinets, we can work with a design that you have in mind or we can help you figure out the best design options we have to match your style. That means you can have the look you want and have money left over for the rest of your home improvement products.
Cabinet Replacement OR Cabinet Refinishing in Raleigh, Which is Right For You?
Determining if your cabinets should be replaced or refinishing depends on a number of factors. Do the cabinets still function properly, do they have enough storage space to meet your needs? If they do not, you should probably replace your cabinets. However, if there is minor damage or they are outdated, stained, or dirty, Cary cabinet refinishing might be right for you. Below are some of the benefits you can expect when you choose renov8 for cabinet refacing in Raleigh:
Get The Right Look & Design: When you choose to have your cabinets refaced, there are a number of design options available to you. If you have already a design in mind, we can work with it. If you haven't thought about it, we can help you pick out the best design for your taste. There are many options available to you.
Fast Turn Around Time: Renov8 doesn't have to demolish or remove your old cabinets, we also don't have to install new cabinets which means there isn't as much clean up time. This cuts down on the length of the project, which means you won't be without the use of your bathroom or kitchen for a long time.
Cabinet Refacing Is Affordable: When you choose Renov8 for cabinet refinishing in Raleigh, you may save 40-50% off of the cost of cabinet replacement. That means you get the look & feel you want and have a little extra money for your next renovation project.
An Eco-Friendly Solution: Replacing your cabinets means that you have to do something with the old cabinets. Most of the time, the old cabinets end up in a landfill. Renov8 refinishes your existing cabinets and doesn't throw them away, which means nothing ends up in a landfill and there is far less waste.
Residential & Commercial Cabinet Resurfacing in Raleigh
It doesn't matter if you own a chain of hotels, an apartment complex, or are a homeowner; if you have cabinets that need to be updated, we can take on your project. We have been providing our cabinet refacing services in Raleigh & the triangle for over a decade and have the experience & technology you can trust to make sure your cabinets get the look and feel you want at a price you can afford. Contact Renov8 today and let us show you how much you can save over replacing your cabinets!
Cabinet Refinishing Projects By Renov8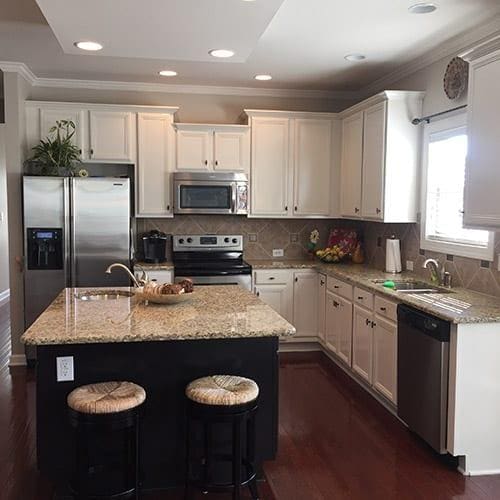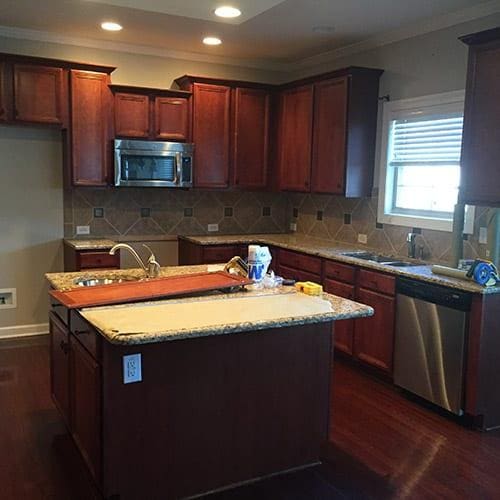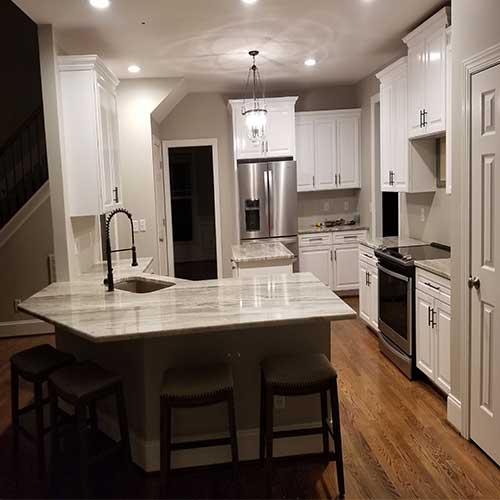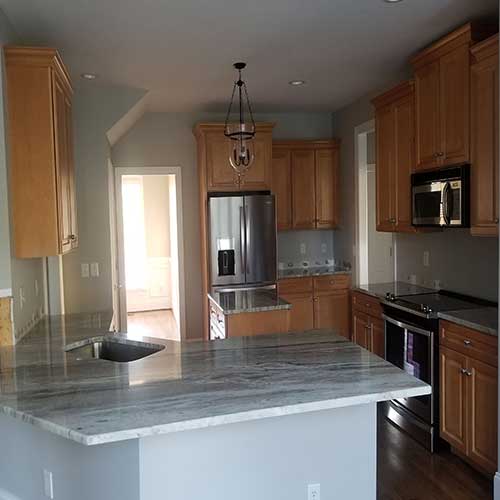 Contact Renov8 Refinishing Raleigh NC For Cabinet Refinishing In Raleigh
Are your bathroom or kitchen cabinets outdated? Do they have scratches, dings, or are they stained? Renov8 provides cabinet refacing in Raleigh at a fraction of the cost of replacing them. When we refinish your cabinets in Raleigh we will fix any minor damage, get rid of stains, and you can even choose a design that matches your current style. Renov8 also provides a number of other refinishing services to residential & commercial customers.  Sink Refinishing, Grout Cleaning, Counter Refinishing, Shower Refinishing, Tile Refinishing, Cabinet Refinishing, Vanity Top Refinishing, Bathtub Refinishing, and Crack & Chip Repairs. Give us a call at 919-780-7143 or contact us online and find out how we can save you time and hassle with cabinet refinishing in Raleigh today!