The #1 Shower Refinishing Company in Raleigh NC
If you have an outdated, damaged, or worn out shower or tub, replacing it is expensive and can leave you without the use of your restroom during the project. Selecting a new shower means choosing on that is the right dimensions for your bathroom, removing the old unit and then finding a way to dispose of it.  Fortunately, if your current shower is cracked, has holes in it, or doesn't match your style anymore, Renov8 can help. Our shower refinishing experts can transform your shower without all of the hassle & at a much more affordable cost. While a lot of providers offer shower refinishing services, what sets Renov8 apart from the competition is the quality of the materials we use and the extra care we put into our process. We also have a lifetime guarantee, so you can rest assured you're shower will be beautiful for years to come.
Benefits Of Shower Resurfacing When Compared To Replacement
Renov8 can save you money by refinishing your fiberglass shower in Raleigh, as opposed to replacing it. Replacing your shower  can cost between $900 – $10,000 dollars, while refinishing it usually costs under $1000. While savings are important, there are other benefits you can have from refinishing your fiberglass shower, such as:
Less Hassle: When we refinish your fiberglass shower in Raleigh, we work with your existing unit. That means you don't have to rip the old fiberglass shower out, or have a new one installed. It also means you don't have to spend days trying to find a unit that you like that also fits the dimensions of your shower or bathtub.
Quicker Turn-around Time: Because of all of the additional work involved in replacing a fiberglass unit, it can take days or weeks. During this time, you may be without the use of your bathroom, which can be a major inconvenience. When Renov8 refinishes your fiberglass shower, we can often have it done in a day or two, meaning you will have use of your bathroom quicker.
Get A New Look: We don't just repair your fiberglass unit from cracks, chips or stains; we can give you a new color, texture or style that fits current style. If you have a design in mind, we will help you realize it. If you haven't thought about the look or feel, we can show you the options you have available and even help you pick a design that works perfectly for your home or business.
Save Money: We've said it already, but it's true, you can save $1000's of dollars over the cost of replacing your unit, when you have Renov8 refinish your fiberglass shower in Raleigh NC.
The Trusted Shower Resurfacing Company in Raleigh
One of the reasons that so many showers and tubs are made of fiberglass is that fiberglass is very durable and has a long lifespan. However, normal wear and tear, as well as other minor accidents can damage your shower over the course of time. Many people think that replacement is the only option available and find use because of the sticker shock when they look at the cost of shower replacement. Renov8 works with residential and commercial customers which means we can work on one unit or multiple showers throughout an apartment complex or hotel. Have questions? We'll be happy to answer them, just give us a call or contact us online today.
Shower Refinishing Projects By Renov8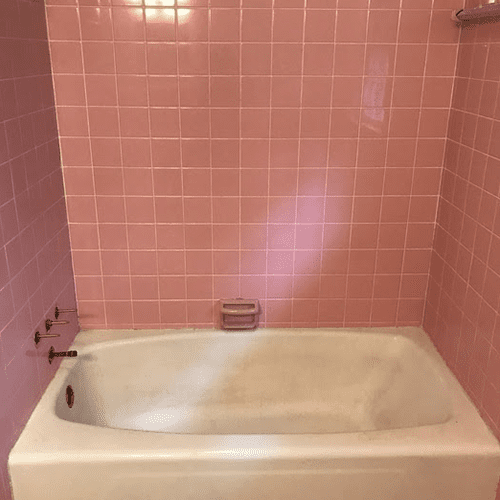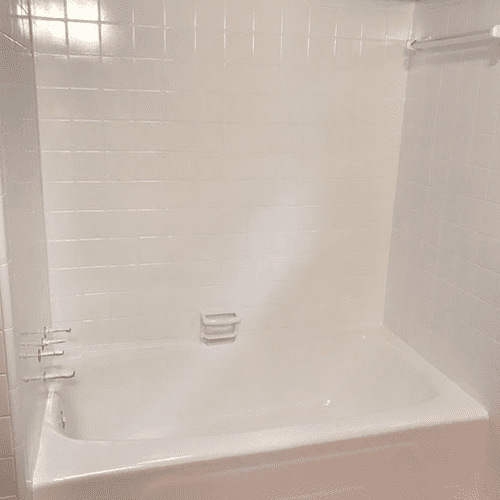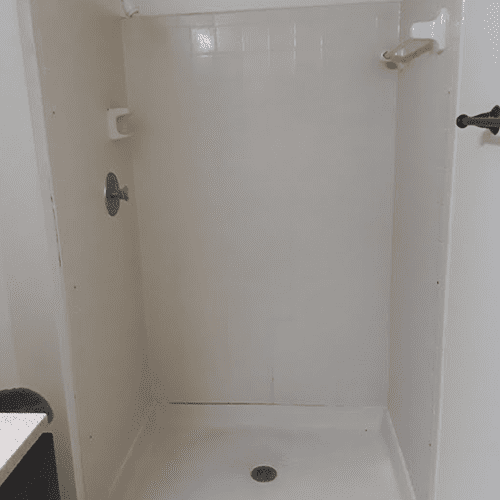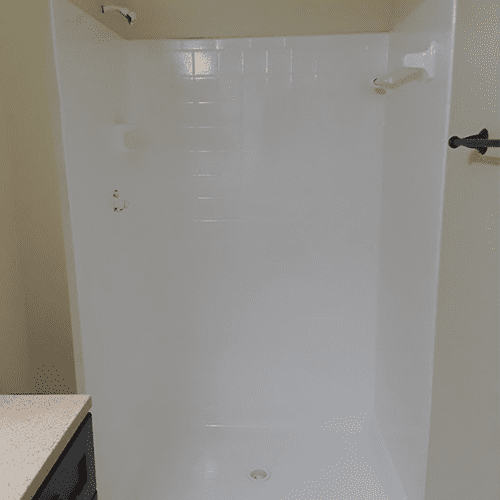 Contact Renov8 Refinishing Raleigh NC For Shower Refinishing In Raleigh
Your shower is one of the most noticeable fixtures in your bathroom and if it is outdated, stained, or damaged it can ruin the entire aesthetic. Renov8 works with residential & commercial customers to resurface their fiberglass, porcelain, and composite showers in Raleigh. When we refinish your unit, we can change the color, texture and repair damage, like chips or cracks, that may have developed over time. Our fiberglass shower resurfacing in Raleigh can save you 50% or more over the cost of replacing it it as well. We provide a number of other bathroom remodeling and also kitchen remodeling services in Raleigh, Charlotte, Fayetteville & our entire service area. For any of these or for a free quote on shower refinishing in Raleigh give us a call at 919-780-7143 or contact us online.