Bathroom Refinishing & Remodeling in Chapel Hill
Your bathroom sees a lot of foot traffic throughout the day, that means that it is also subject to a lot of wear and tear. Of course your bathroom is also one of the places that you, your family, and guests, should feel comfortable in. The average cost of remodeling your bathroom in NC is around $11,000 dollars according to home advisor, with the high end costing as much as 30,000 dollars, which isn't something most people have lying around. That's where Renov8 comes in! By refinishing your existing surfaces, we can give you a brand new look and feel that will match your style and tastes, and if you're doing something more than just refreshing the look, we can be a part of your overall bathroom remodeling project, saving you money so you'll have more to spend on that new jacuzzi tub. Contact Renov8 today to find out how we can make your bathroom remodeling dollar stretch further.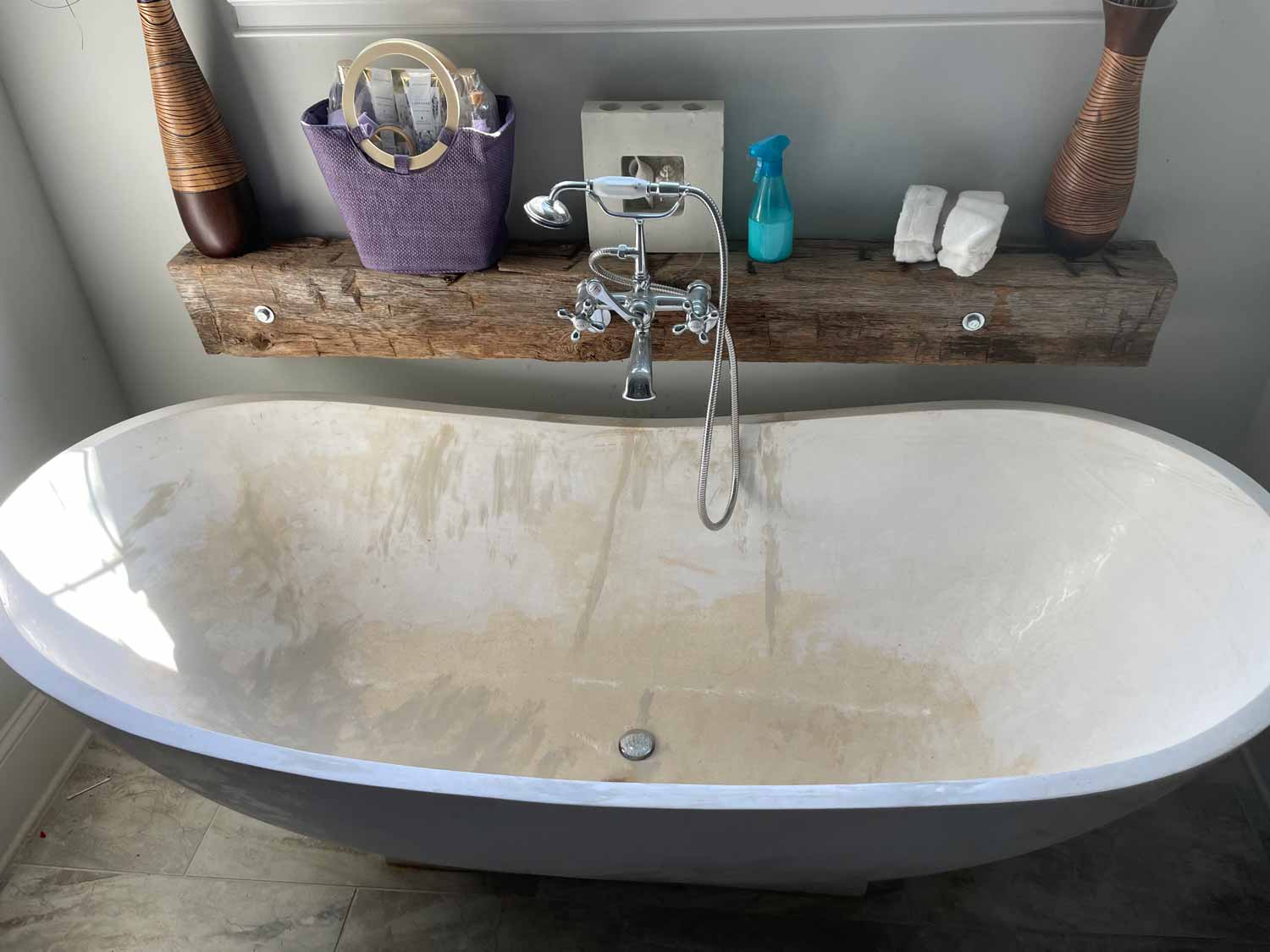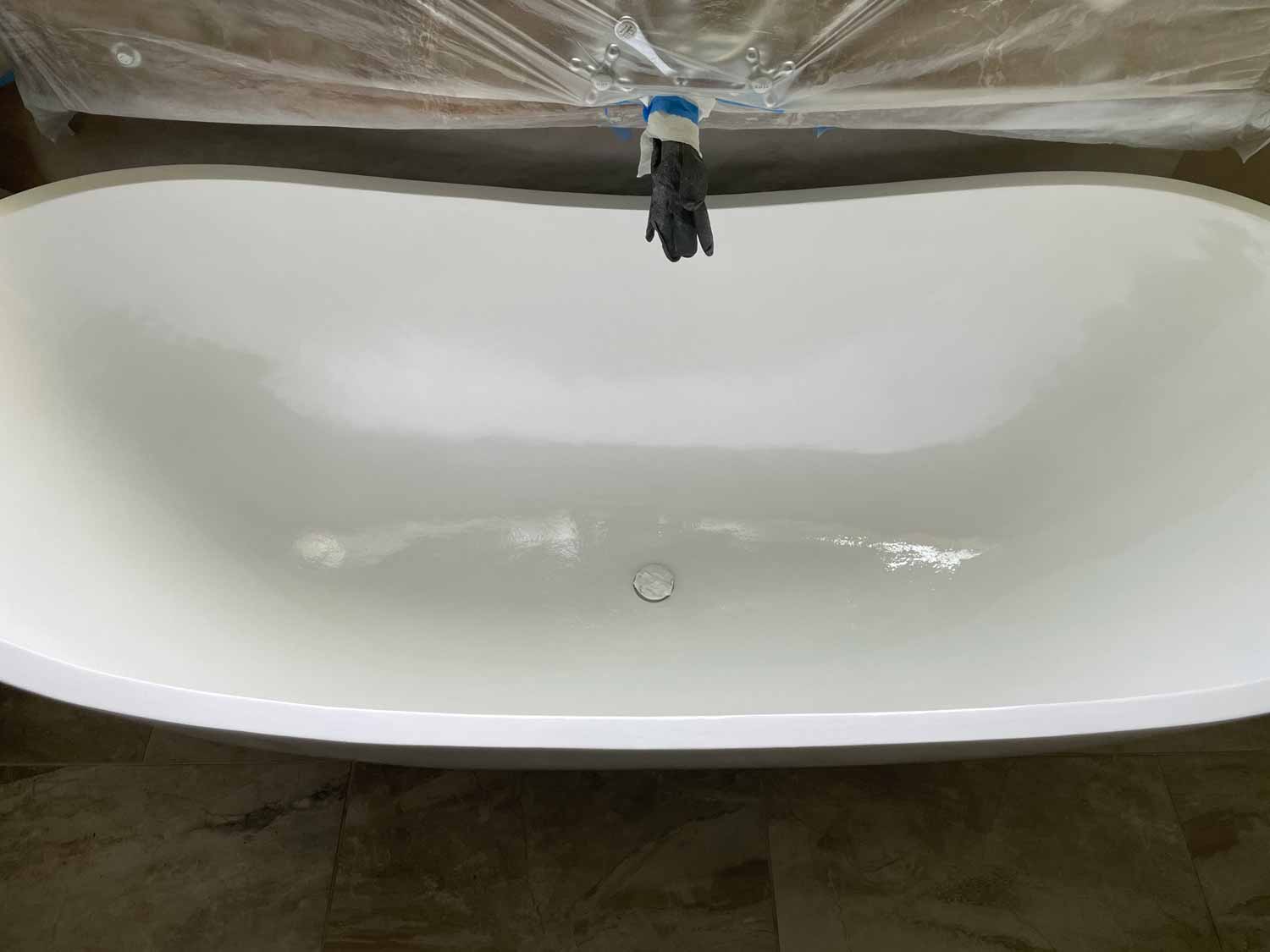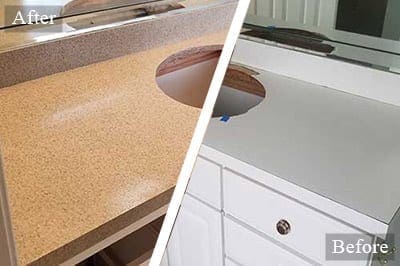 Vanity Top Refinishing In Chapel Hill
Bathroom vanities usually combine your sink, mirror, and bathroom cabinets; making them one of the largest objects in most bathrooms. Because of their size, your…
Learn More
Kitchen Refinishing & Kitchen Remodeling In Chapel Hill NC
Renov8 is your professional source for kitchen refinishing services in Chapel Hill NC.  When you contact us for kitchen refinishing, we provide a free on site consultation to discuss your needs. Our team can provide new colors and styles or improve the shine and lustre of your existing kitchen fixtures. From minor refinishing to major overhauls, we can handle all of your refinishing, reglazing, and resurfacing needs.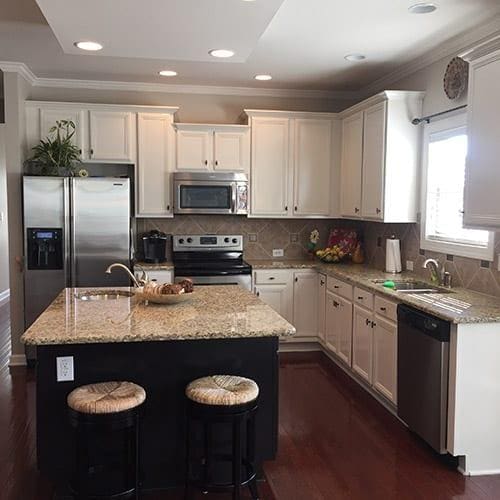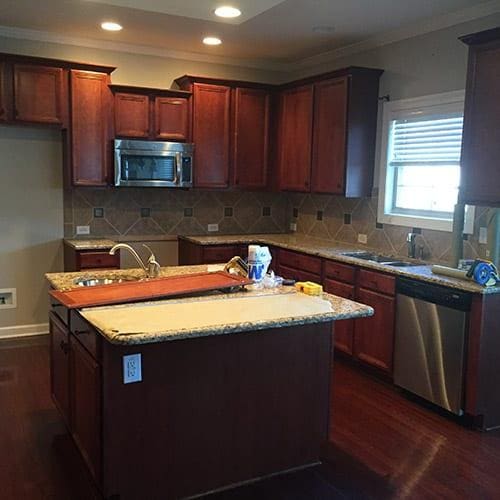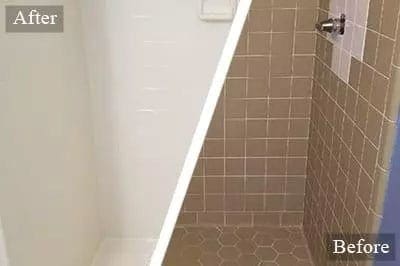 Shower Tile Refinishing Chapel Hill NC
Is the tile in your kitchen or bathroom dirty, cracked, chipped or dulled? Renov8 can help with kitchen tile refinishing and shower tile refinishing Chapel…
Learn More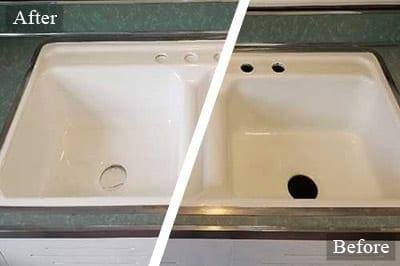 Sink Refinishing In Chapel Hill
Is your sink looking worn and dirty? Maybe it's an older sink and the color is out of date or it has cracks, scratches or…
Learn More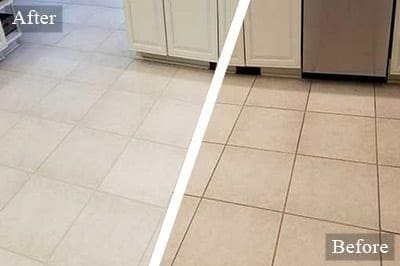 Grout Cleaning in Chapel Hill NC
Has the grout in between your tiles become dirty, grimy or stained? The team at Renov8 is here to assist with grout cleaning in Chapel…
Learn More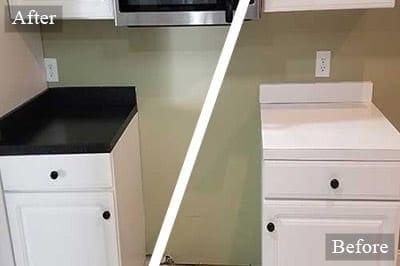 Counter Refinishing In Chapel Hill
Over the years, your countertops see a lot of wear and tear. Over time, you may find that your counters start to crack, chip or…
Learn More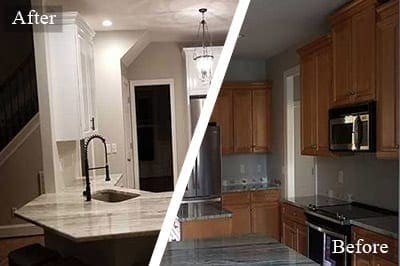 Cabinet Refinishing Chapel Hill NC
When cabinets become worn, damaged or outdated, contact Renov8 for cabinet refinishing Chapel Hill NC. Our team of refinishing experts can reglaze and resurface your…
Learn More
Surface Crack & Chip Repairs in Chapel Hill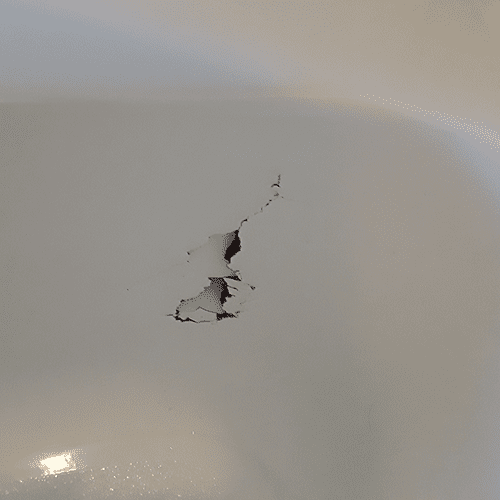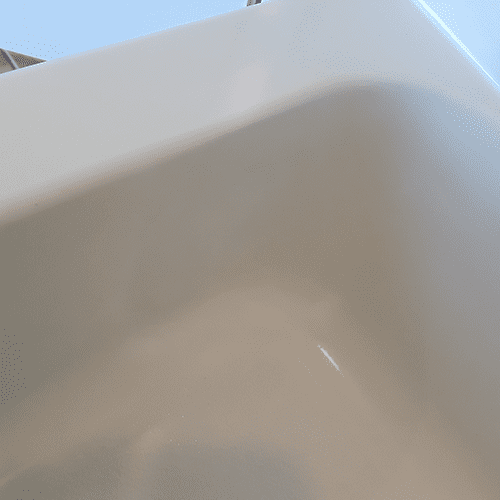 When surfaces in your bathroom or kitchen get cracked, chipped, scratched, or even have holes in them, we can help. Renov8 can repair cracked or chipped tile, cultured marble, fiberglass, and just about any other common household surface. Our repair process is as quick as it is affordable and you can usually use that surface the same day we complete the process. While we're doing the repairs, we can also change the color and style of your surfaces as well.
Surface Materials We Refinish in Chapel Hill
Tile
Cultured Marble
Marble
Porcelain
Plastic
Formica
Ceramic Tile
Laminate
Fiberglass
Metal Furniture
Acrylic
And More!
Real Reviews From Real Customers in Raleigh
All of the reviews on our website are from actual customers, you can see them on Google by clicking the link under their name. You can also see the other reviews these customers have done with other businesses. We want you to know that you can trust the reviews on our website, which is why we make it possible for you to verify them yourself.
Excellent
4.9
★
★
★
★
★
Based on 68 reviews from
review us on
Aaron Johnson
★★★★★
Great job on the actually job. Communication was good.Company showed up on time, finish the job. When I had an issue they addressed it . Great company.will use again !!!!!
Claire Blevins
★★★★★
Great experience! They got me on the books in less than a week, showed up promptly, ran ducting so the smell wouldn't be in the house and were courteous. 11/10.
Response from the ownerThank you Claire this great review.Please keep us mind for any Future projects.
Amelia Lynn
★★★★★
They did a wonderful job refinishing our tub!
Response from the ownerThank you Amelia !
Peter Dorfman
★★★★★
Came out looking like a brand new tub in a few hours!
Response from the ownerThank you Peter for the review !
Eric Romilly
★★★★★
Let me start by saying will would hire Renov8 again with no hesitation. I am renovating a small bathroom but the 38 year old (48" x 32") shower was hideous. I first called one of the "one day" remodelers whose quote was over $9,000. Next, I turned to, and hired Renov8. I hesitate to say how much they charged but it was SIGNIFICANTLY less. I wish this review site allowed pictures because the finished product is nothing less than fantastic. Thanks to Joel and Yesi (pronounced Jessie).
Response from the ownerThank you Eric for the review , We greatly appreciate it.Yesi is an amazing young man who does great work.
Mary Tomaselli
★★★★★
Renov8 refinished our rusted and chipped bathtub after we removed old glass doors - the tub was disgusting. They did an awesome job! Patty coordinated the assignment with professionalism, courtesy, promptness, efficiency and thoughtfulness! Juan and Joel were amazing with their refinishing expertise - the tub looks brand new, it's beautiful. They were prompt, knowledgeable, reasonable, friendly and considerate of us and our home. Thank you, Renov8!
Response from the ownerThank you Mary,It was our pleasure.
Karima Mahmoud
★★★★★
Job well done, thank you!!
Response from the ownerThank Karima, we definitely appreciate the review !
Erin Bergstrom
★★★★★
Made an old bathroom look great again! Thanks
gary tisdale
★★★★★
Great professional service, shower looks brand new.
Lynn Futrell
★★★★★
Junior did a nice job on my tub. It looks brand new! Thank you!
Response from the ownerThank you Lynn,We're glad you're happy with the final results.
Contact Renov8 Refinishing Raleigh NC For Bathroom or Kitchen Surface Refinishing In Chapel Hill
If you are in the market to upgrade or remodel your kitchen or bathroom, call Renov8 at 919-780-7143 or contact us online for a free consultation on kitchen resurfacing and bathroom refinishing in Chapel Hill NC. Our services are often half the price of traditional remodel efforts, taking less time and with fewer disruptions to your life. We work with a variety of materials and can handle most any area in your kitchen or bathroom.
Contact us for Sink Refinishing, Tile Refinishing, Crack & Chip Repairs, Bathtub Refinishing, Vanity Top Refinishing, Grout Cleaning, Shower Refinishing, Cabinet Refinishing, and Counter Refinishing in Chapel Hill and the surrounding areas for a free consultation today.
Renov8 Refinishing Raleigh NC Provides in Chapel Hill & These Areas
Address:
3420 Ribcowski Ct.
Raleigh, NC 27616
✓

Raleigh

✓

Cary

✓

Clayton

✓

Wendell

✓

Hillsborough

✓

Fuquay-Varina

✓

Garner

✓

Pittsboro

✓

Durham

✓

Smithfield

✓

Morrisville

✓

Apex

✓

Zebulon

✓

Wilson

✓

Youngsville

✓

Carrboro