Sink Refinishing & Sink Resurfacing Raleigh NC
If your sink is dirty, stained, or has cracks & chips and you want to do something about it, replacement is not your only option, Renov8 can repair bathroom & kitchen sinks. We don't repair sinks that have plumbing issues, but when you let us refinish your sink we can remove rust stains, cracks, scratches, and other damage that has accumulated through the years. Having your sink refinished is a more affordable option that can give you the desired effect. Get a free estimate on sink resurfacing in Raleigh from Renov8 and get the fresh new look and feel you want without the hassle of installing a new sink.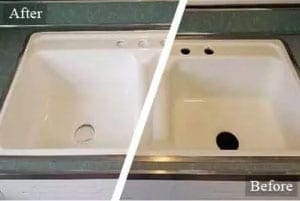 Let Our Raleigh Sink Refinishing Team Save You Money!
Your sink can really tie together the whole look of a kitchen or your bathroom, but they are prone to rust stains, scratches, chips and cracks because they are so often used. Don't let these blemishes ruin the aesthetics of two of the most important rooms in your home, call Renov8 and ask about our Raleigh sink refinishing services. When you choose to refinish your sink, instead of replacing it, you choose to save 50% or more on costs. Not only is the process of refinishing your kitchen or bathroom sink cheaper, you don't need to hire a plumber or contractor to install it. We get rid of rust stains, cracks, and can even update the style of your sinks no matter what they are made out of.
We Can Refinish Almost Any Type Of Sink In Your Home Or Business
There is no project too big or too small for our expert sink resurfacing professionals in Raleigh. We work with residential and commercial customers to make sure that their sinks look and feel new, without breaking the bank. We know you have questions like "Are There Sinks come in a variety of sizes and shapes and are made from many different materials, fortunately, we have extensive experience in the industry and can work on almost any type of sink or vanity found in your home or business. Below are some of the different vanity & sink surfaces that we can refinish:
Ceramic Sink Refinishing in Raleigh
Metal Sink Refinishing
Plastic Sink Refinishing
Fiberglass Sink Refinishing in Raleigh
Porcelain Sink Resurfacing
Cast Iron Sinks
Marble Vanities
Cultured Marble Vanities
Wood Vanities
And More!
If you're not sure what your sink is made of, or if you have don't see the material that your sink is made from, get in touch with one of our experts and we will get you an estimate on getting your sink resurfaced in Raleigh.
Bathroom Sink Refinishing Raleigh
If you have cosmetic damage, stains, or just an outdated bathroom sink or vanity, having your sink resurfaced can be a great way to have a fresh new looking bathroom without spending money on replacement. Having a new bathroom sink & vanity is a great way get your asking price when selling your home, which makes it a great investment. If you are looking to spruce up the look of your bathroom sink, contact Renov8 and get a free estimate on sink resurfacing in Raleigh NC.
Kitchen Sink Resurfacing in Raleigh
If you have ever remodeled your kitchen, you know that replacing your sinks can be expensive. However, if you are trying to sell your home, making sure your bathroom looks beautiful can make or break the sale. You can refinish your kitchen sink for a fraction of the cost of replacement and give your bathroom the look and feel that buyers will pay a premium for. Sink resurfacing can be a great investment for people selling their homes in Raleigh.
Kitchen & Bathroom Sink Refinishing Projects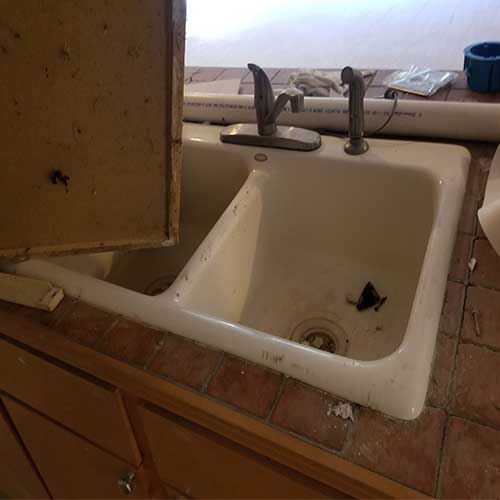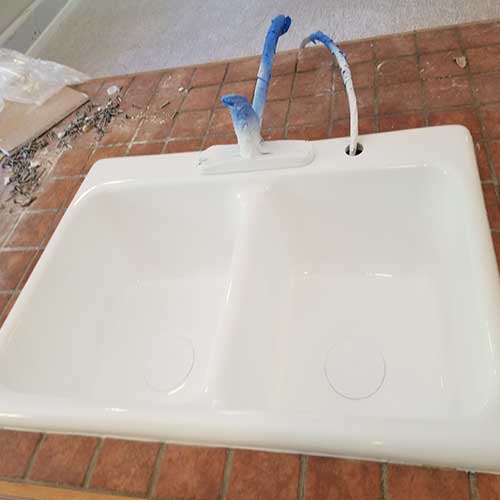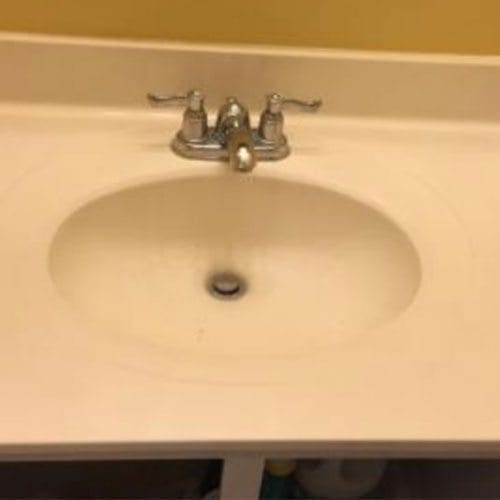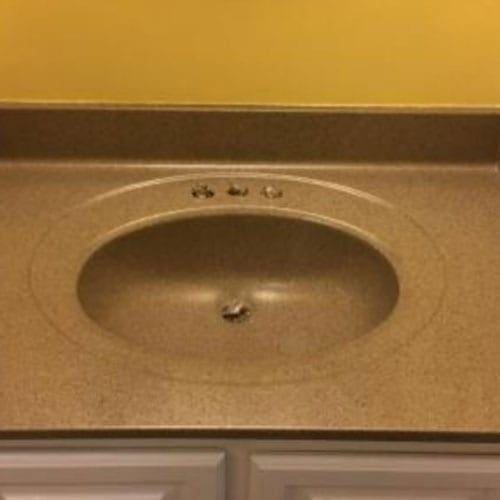 Choose Renov8 For Sink Refinishing in Raleigh NC
If your bathroom or kitchen sink is starting to get stained, discolored, scratched or chipped, it may be time to think about having your sink refinished. When we resurface your sink in Raleigh, you cut out the hassle of finding a sink that can fit your existing plumbing AND save 50% or more on the project, while changing the whole aesthetic of your bathroom or kitchen. Renov8 can doesn't just provide sink refinishing in Raleigh, we also refinish a number of other surfaces for both residential & commercial customers. If you are in need of floors & tile refinishing, cabinet refacing, vanity top resurfacing, fiberglass shower refinishing, shower tiles resurfacing, countertops refinishing, grout cleaning, cracks & chip repair, bathtub refinishing and more. Give us a call at 919-780-7143 or contact us online with any questions you may have.
Renov8 Offers Sink Repair in These Areas
Fuquay Varina
Garner
Morrisville
Wendell
Zebulon
Carrboro
Pittsboro
Smithfield
And More!
Check out our other locations: