Choose Renov8 For Kitchen Remodeling In Raleigh
It's sometimes said that the kitchen is the heart of your home. While a kitchen used to only be for meal preparation, more and more they are turning into rooms with a more open floor plan that is incorporated into your living space. Remodeling a kitchen can get expensive, according to HGTV, the average kitchen remodel ranges between $12,500 – $35,000. However, if you decide not to replace everything, but refinish your kitchen surfaces you can make sure everything matches the new aesthetics at a fraction of the cost. Contact Renov8 and talk to one of our specialists about your project, we will let you know how we can work with you to help you get the kitchen of your dreams.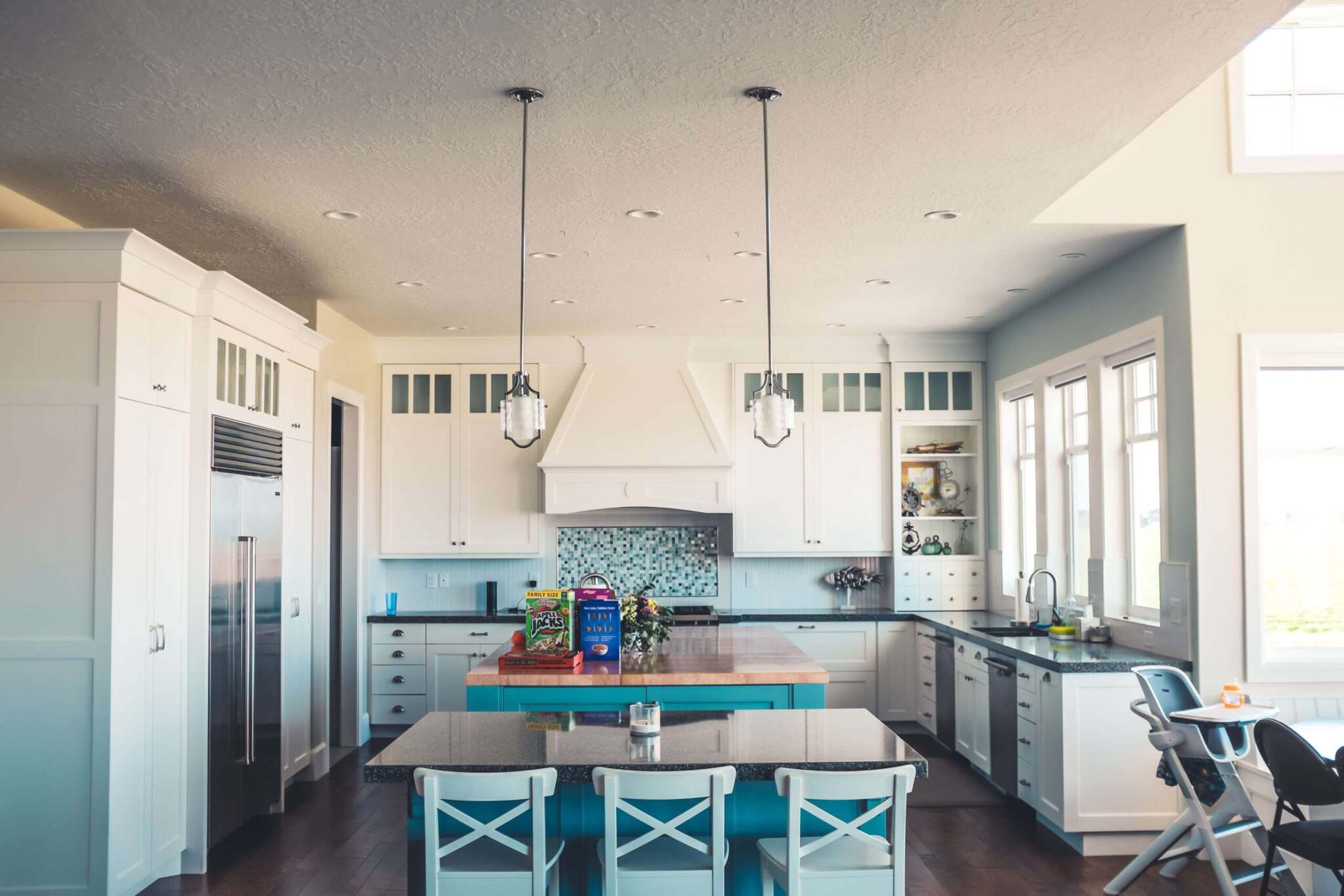 Can Renov8 Remodel My Entire Kitchen in Raleigh?
This is a question that can be hard to answer because everyone has different scopes for their kitchen remodeling project. If your kitchen is old or outdated and you just want to modernize the look and feel, you may not need any other company to help with your kitchen remodel. If you're looking to install a new kitchen island, update your appliances, or expand your kitchen; we will only be a part of your team. While many people may factor in the cost of building materials and installation, they don't always factor in the cost of tying their new kitchen in with their old. By choosing Renov8 to resurface your existing counters, tile, or cabinets, we can tie everything together quickly & easily.
Benefits Of Refinishing Your Kitchen Surfaces
From cabinets & countertops to floor & wall tiles, Renov8 can refinish just about any surface you have in your kitchen. If you've been thinking about remodeling your kitchen in Raleigh, you should consider Renov8 as at least a part of the project. Even if you haven't been thinking about remodeling, but you have unsightly blemishes that you want to get rid of, Renov8 can give your entire kitchen a brand new look and feel. Here are some of the benefits you can expect when you refinish with Renov8:
Increase Your Homes Value: Updating the look of your kitchen can add value to your home, especially if you are considering selling. Before you put your home on the market, check out the which kitchen colors are trending (in 2022 it's light neutrals) and have Renov8 refinish your cabinets & countertops. Not only can you raise your asking price a bit, the trending colors can help you close the sale quicker.
Helps Stretch Your Kitchen Remodeling Budget: It should come as no surprise, to anyone researching remodeling their kitchen, that things can start to get expensive quickly. Refinishing, instead of replacing your cabinets, countertops, or tile, can save you over 50% of the cost of having them replaced. That's literally thousands of dollars that can go into your new stove, dishwasher or refrigerator.
Your Won't Lose Use Of Your Kitchen: When you have Renov8 refinish your kitchen surfaces, our team is often done in hours, not days or weeks. This means you can use your kitchen the same day (usually) as we finish the work.
Update The Look Of Your Kitchen: Cabinets, counter tops, and tile make up the majority of your what you see when you look at your kitchen so by changing their color, texture or style you can have an entirely new look. We can turn an outdated kitchen into something trendy and modern without breaking the bank.
[fusion_widget_area name="avada-custom-sidebar-sidebarraleigh" title_size="" title_color="" hue="" saturation="" lightness="" alpha="" background_color="" padding_top="" padding_right="" padding_bottom="" padding_left="" margin_top="" margin_right="" margin_bottom="" margin_left="" hide_on_mobile="small-visibility,medium-visibility,large-visibility" class="" id="" /]
Kitchen Resurfacing Projects in Raleigh NC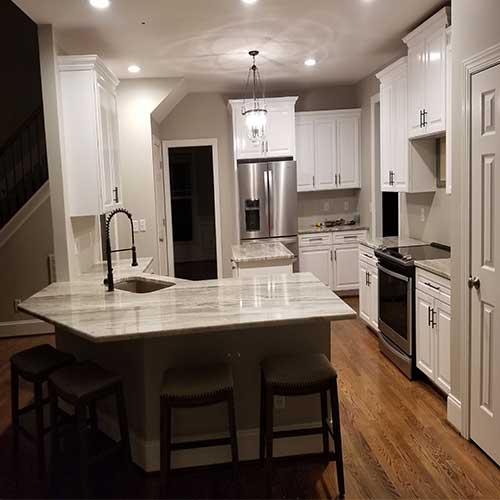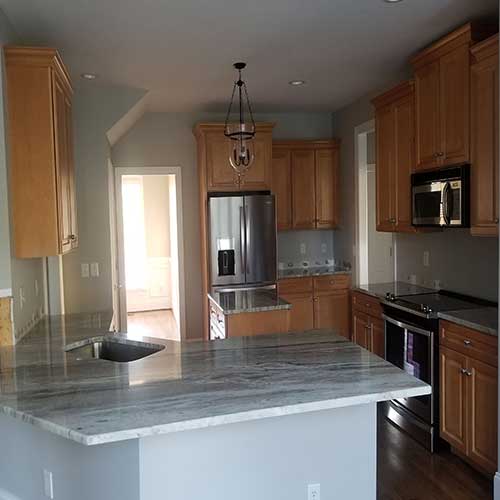 Kitchen Counter Resurfacing in Raleigh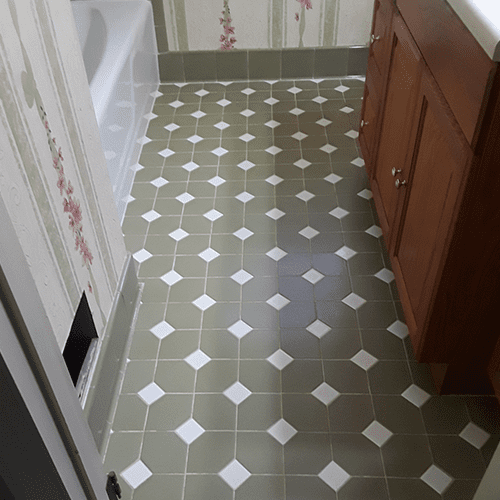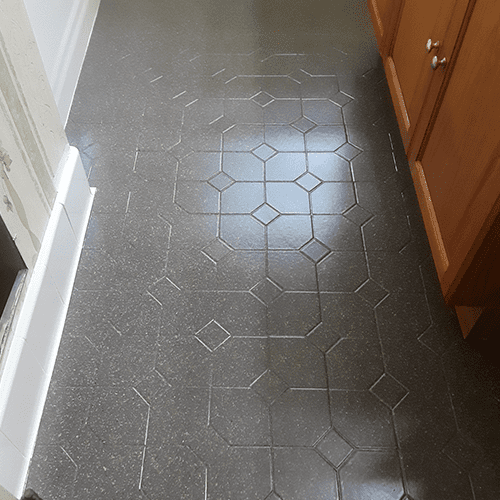 Kitchen Tile Refinishing in Raleigh
Contact Renov8 For Bathroom Remodeling in Raleigh NC
Your kitchen is one of the most important rooms in your home, so it's important to make sure it's comfortable and easy on the eyes. Renov8 can update the look of your kitchen & repair any damage to your tile, cabinets, and counter tops at affordable rates. Best of all, you can use your kitchen until we arrive and soon after we finish your project, often on the same day. To get a free quote on kitchen refinishing in Raleigh, give us a call or contact us via the form below and tell us more about your needs.
Renov8 Raleigh Provides Service In These Cities & Towns
Fuquay Varina
Garner
Morrisville
Wendell
Zebulon
Carrboro
Pittsboro
Smithfield
And More!
Check out our other locations:
Contact Renov8 Refinishing Raleigh NC For In Raleigh