Counter Resurfacing Raleigh NC | Renov8
Your kitchen counters see a lot of use every week, which is why they may be stained, scratched, burned, or even cracked. Damaged or outdated countertops can ruin the look of your kitchen, but it can also limit their functionality. Renov8 provides repair & countertop refinishing in Raleigh for residential and commercial customers. Let us give your countertops a fresh new look and feel, get a free estimate on countertop refinishing in Raleigh, you'll be glad you did.
Your Trusted Countertop Resurfacing Company in Raleigh
If your countertops are damaged or outdating, you don't have to spend a fortune on replacing them. Renov8 can refinish your countertops to give them the look and feel you want. Cultured marble, tile, laminate, wood, or other common surfaces materials can be refinished at a fraction of the cost of replacement. If you aren't sure what style or look you want for your countertops, our team can help you select from one of the many different options available to you. However, if you already have a style in mind, we can turn that into a reality for you as well. Call 919-780-7143 for a free quote on cabinet refinishing in Raleigh today.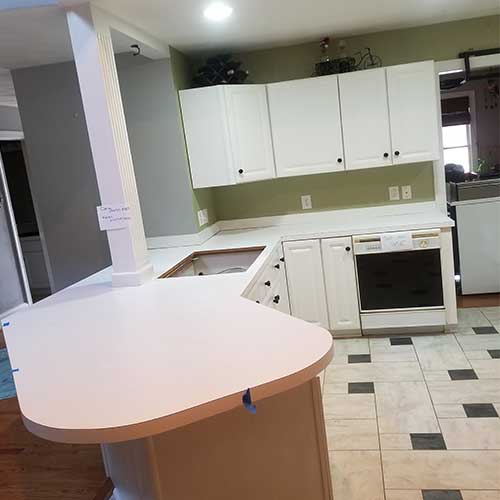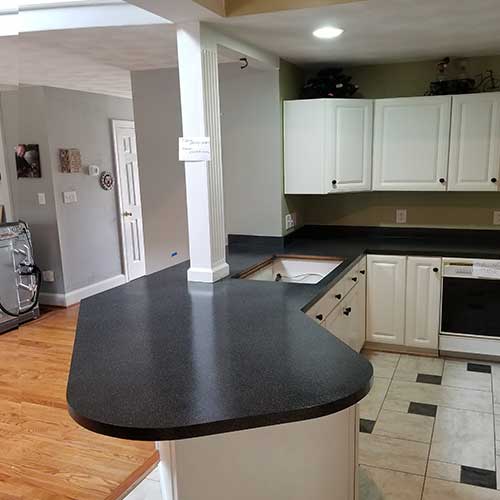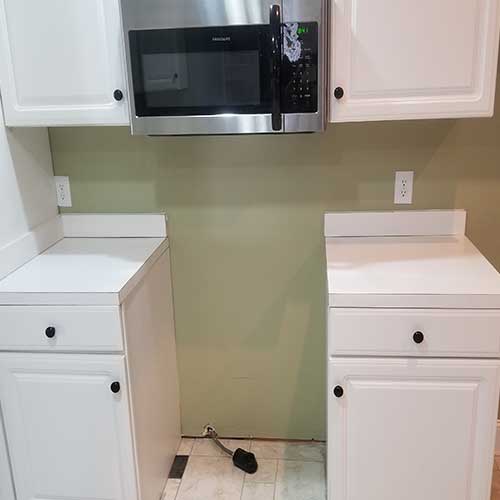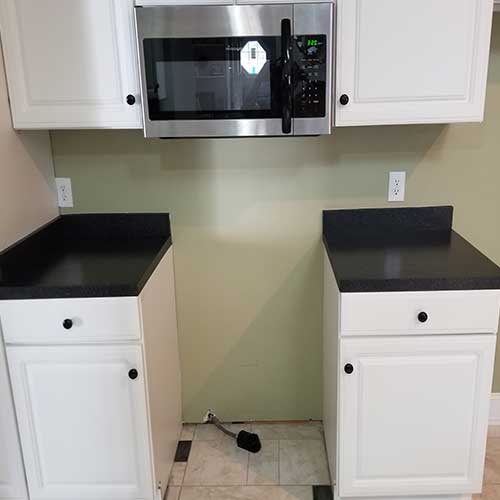 Benefits Of Countertop Refinishing In Raleigh NC
Get The Look & Feel You Want: With so many different options available with our countertop resurfacing in Raleigh, you can choose the look, style & texture you want. We can work with your designs or help you come up with a design that will please you for years to come.
Make Your Home More Valuable: If you are trying to sell your home, the condition of your countertops can matter. Refinishing your countertops can be a good investment before your home goes on the market.
Better For The Environment: When you replace your countertops, the old ones will likely end up in a landfill. When you have your cabinets refinished in Raleigh, we work with your existing counters which means little to no waste.
Repairs While We Refinish: If you choose Renov8 to refinish your countertops, we will also repair and cracks, chips, scratches, or dings. This means we don't just give you a new look & feel, we repair the counters as well.
Faster Than Replacement: Countertop replacement can take time, and during that time you may be without the use of your kitchen, bathroom, or other area in your home that the cabinets are being replaced. If we refinish your cabinets, the work is often done in a day or two.
An Affordable Option: Replacing your counters isn't cheap, but you have options. Countertop resurfacing in Raleigh can save you 50% or more over the cost of replacement.
Choose Renov8 For Counter Resurfacing in Raleigh NC
Are your countertops chipped, cracked our not in style anymore? Maybe it's just time for a new look and you've been considering replacing your old countertops. Before you choose to replace them, you should look into getting your countertops refinished in Raleigh, NC. Not only can counter refinishing can save you up to 50% over the cost of countertop replacement in Raleigh, you can also get the look you want with less hassle & in much less time. Renov8 provides a number of other resurfacing services to both residential and commercial customers in our service areas in Raleigh & Charlotte. Aside from Raleigh countertop refinishing, we offer shower tile refinishing, vanity refinishing, bathtub resurfacing, cabinet resurfacing & refacing, sink refinishing, floor tile resurfacing, grout cleaning, fiberglass shower resurfacing, crack and chip repair & more.
If you would like a free estimate for countertop resurfacing in Raleigh, or any of our other services, call 919-780-7143 or contact us online. We are proud to provide our service to the greater Charlotte Metropolitan area and the entire Triangle area, including: Holly Springs, Clayton, Knightdale, Garner, Carrboro, Morrisville, Chapel Hill, Durham, Cary, Apex, Wake Forest, Fuquay Varina, Smithfield, and beyond.