Choose Renov8 For Bathroom Remodeling In Raleigh
Are you considering renovating or remodeling your bathroom in Raleigh or the Triangle? If so, you should talk to our team to find out how we can make your bathroom remodeling budget go further. Here at Renov8 we work with residential & commercial customers to refinish, resurface, and reglaze the various surfaces in their bathrooms. The average cost of remodeling your bathroom in Raleigh is around $11,000 dollars according to home advisor, with a high end range of $30,000. A lot of the cost depends on the materials you use and the fixtures you buy, but when you refinish instead of replacing tile & fixtures, even just some of them, you can save $1000's of dollars. That means if you refinish the floor tiles, instead of replacing them, you'll have extra money to upgrade your bathtub or shower.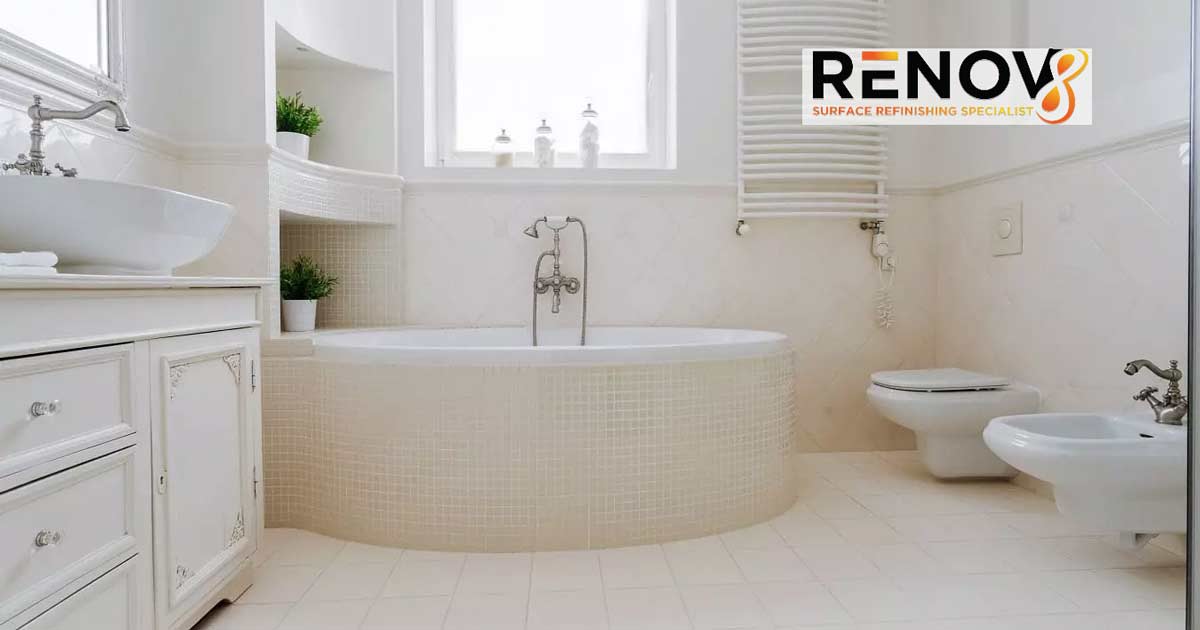 What Is Bathtub & Shower Resurfacing, Refinishing & Reglazing?
You may hear these words get used often and interchangeably when you are researching refinishing companies. The truth is, all of these terms mean the same thing. You might also sometimes see to them referred to as recoating, recoloring, or even repairing (because the process gets rid of cracks, chips and scratches). We use these terms in regards to bathtubs, showers, sinks, counter tops, vanities, and even tiles, and ultimately it all comes down to the process of restoring bathroom surfaces. Depending on the material of the surface we are refinishing the process takes a few hours and is ready for use in 24-48 hours, which means that refinishing your bathtub, tile or shower, doesn't just save money, it can save a lot of time as well.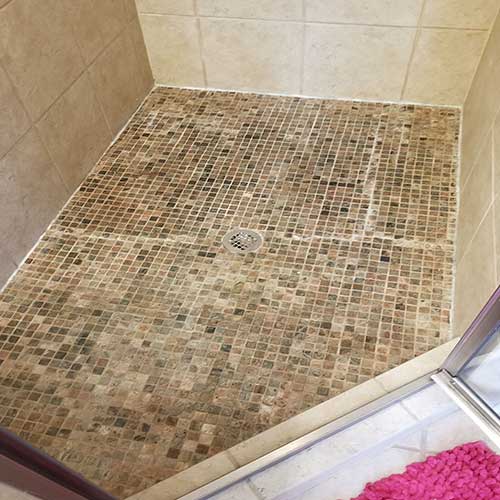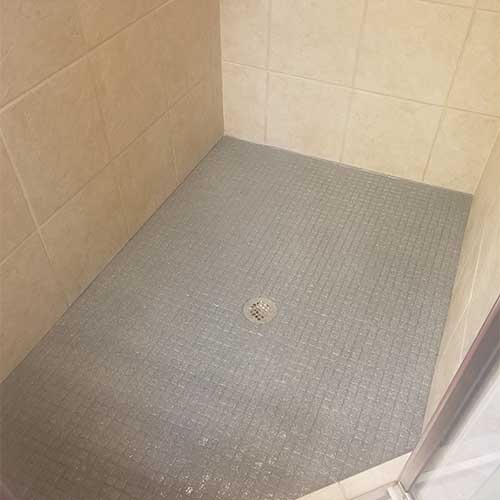 Shower Tile Reglazing Project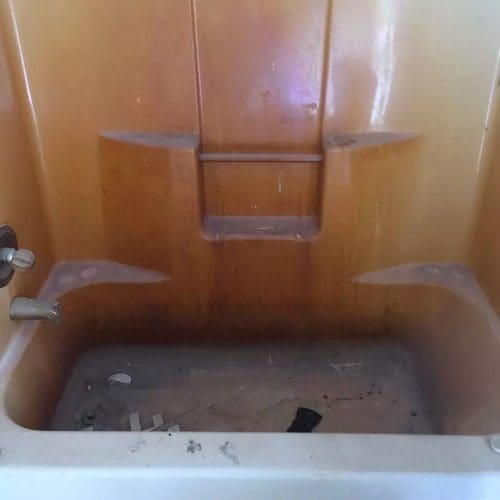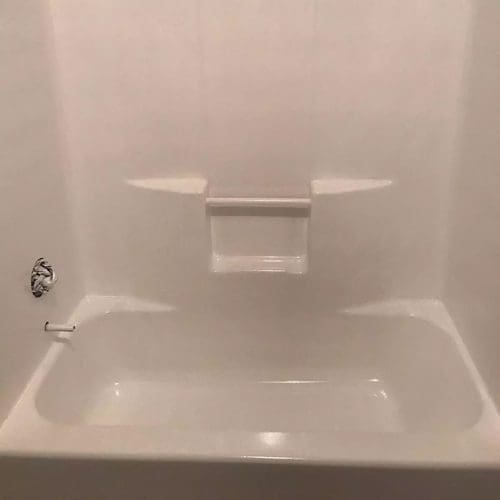 Fiberglass Shower Refinishing Project
Benefits Of Resurfacing Tiles, Tubs, & Showers Over Replacing Them
It's true, we can't refinish your bathtub into a jacuzzi tub and fiberglass resurfacing isn't going to make your bathroom tiles become heated, so in those cases replacement is your best bet. However, if you are happy with how your bathroom functions, but want to change the look, we can help.
When you replace a your shower or bathtub, or sink you have to find figure out how much space you have to work with, make sure the plumbing is set up correctly, shop for the new unit, wait for delivery, removing the old unit and installing the new one. This can take months and involves a lot of "moving parts". Here are some benefits that refinishing has over replacement:
Refinishing Is Faster: Our process takes hours, not weeks. Your new surfaces are usually ready for use the same day we do the work. That means you don't have to go without the use of your bathroom while the work is being done.
Fewer Moving Parts: You don't need to wait for materials to be in stock, rely on a plumber to arrive on time, or worry about cleaning up. Our team takes care of everything for you.
Better For The Environment: Replacing your old tiles, tubs, showers, or vanities usually means that the old materials go to landfills. In some cases you might be able to donate old bathtubs to local charitable organization, but many old fixtures aren't able to be recycled. This isn't an issue with Refinishing.
Affordability: Replacing a bathtub or shower can cost $1000's of dollars, tiles aren't cheap either. While cost is often determined by the brand, type of material, functionality for the physical object itself, it doesn't take into account the cost of removal, installation, and other contracting work that may be required. We can refinish most surfaces at well below 50% of the cost of replacing them.
Contact Renov8 For Bathroom Remodeling in Raleigh NC
Don't let a worn, damaged or dingy bathtub ruin your bathroom aesthetic. Call Renov8 Raleigh at the number listed below, or contact us online to learn more about our bathroom remodeling services in Raleigh NC. Renov8 handles cleaning and repair of bathtubs as well as bathtub reglazing, bathtub resurfacing and bathtub refinishing Raleigh NC. No matter your kitchen or bathtub remodeling needs in Raleigh, Renov8 can help. Contact us today for bathtub remodeling, shower remodeling,shower tile refinishing, fiberglass shower resurfacing, countertop refinishing, vanity top refinishing, cabinet refacing, crack & chip repairs, grout cleaning, floor & tile resurfacing, tile repair, and grout repair.
Renov8 Raleigh Provides Service In These Cities & Towns
Fuquay Varina
Garner
Morrisville
Wendell
Zebulon
Carrboro
Pittsboro
Smithfield
And More!
Check out our other locations: