Tile & Floor Resurfacing in Raleigh NC
Tile & Floor Resurfacing in Raleigh NC
Most of our customers know that hardwood floors can be refinished, but did you know that it's possible to refinish other floor materials? Renov8 can work on your vinyl, stone, or tile floors to give them a fresh new look and feel. Every floor surfaces is different and requires a different procedure, but the overall process is similar. First, we remove all of the dirt from your floor, then we repair cracks & scratches, next we apply a bonding agent, before finally applying a protective clear finish to your flooring. The process is similar for wall tiles as well. The best part is that your floors are ready for use within 24-48 hours of us finishing the project. Don't spend the money replacing flooring or wall tiles, let Renov8 resurface your tiles in Raleigh at a fraction of the cost.
Should You Replace Or Refinish Your Tiles In Raleigh?
If your tiles are stained, chipped or cracked, you have options to get them looking like new again. While some people think they can only replace their broken or dirty tiles, tile refinishing in Raleigh may be a better option for you. Below are some of the benefits to getting your tiles refinished in Raleigh:
Get A Fresh New Look: When Renov8 refinishes your tile or the floor in your home or business, we will get rid of any cracks & chips, but we can also change the texture and color of your tiles & floor.
Quick Results: Replacing your floor tiles or wall tiles can take a lot of time and can be expensive, when Renov8 works with you to refinish your tiles, we use your existing tiles, so there's less mess and the work gets done much faster.
Environmentally Friendly: When you replace your tiles, something has to be done with the old tiles that you are replacing. Usually they wind up in a landfill or dump. When you opt to resurface your tiles, Renov8 refinishes your existing tiles, which means nothing has to end up in the landfill.
More Affordable: Resurfacing your tiles can save you more than 50% of the cost of replacing the same tiles. That means you get the look you want and have more money left over for the rest of your home improvement projects.
Tile Refinishing In Raleigh NC<
You can find tile in a number of places throughout your home or business. While your bathroom & kitchen may have tile floors or walls, you may also have tile in your foyer, on your patio, in your basement or other places in your home. These tiles can become cracked or stained throughout the years and you may think that replacing them is the only option you have to make these areas look nice again. Renov8 provides floor tile & wall tile resurfacing on any tile areas you may have in your home or business. We take pride in the quality of the service we provide and we know you will be thrilled with the look of your refinished tile for years to come.
Tile Refinishing Projects By Renov8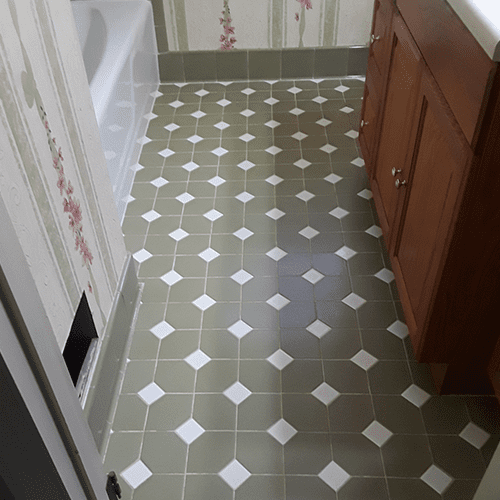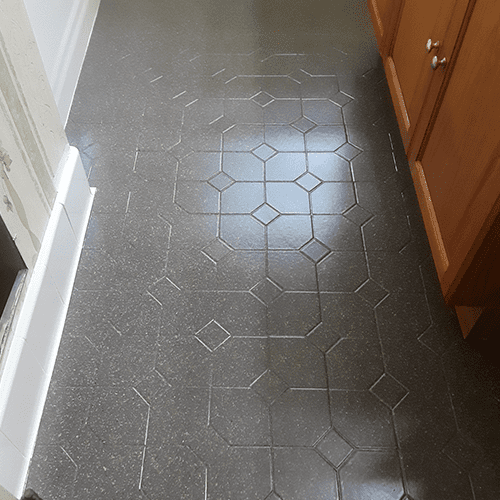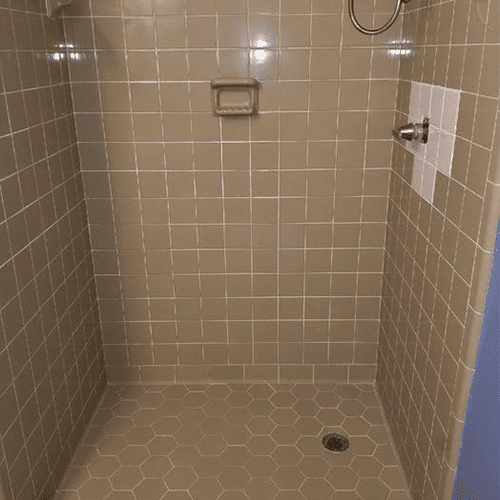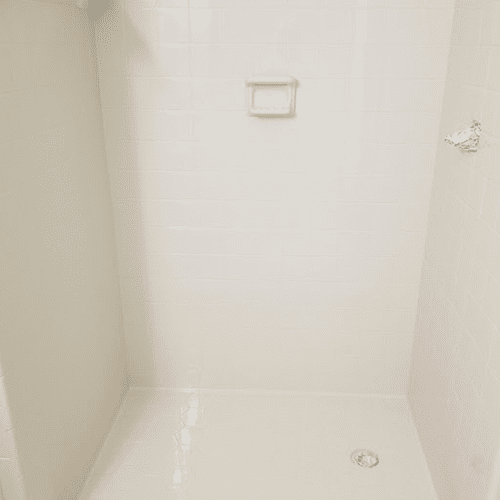 Contact Renov8 Refinishing Raleigh NC For Tile Refinishing In Raleigh
If the tile in your home is starting to develop chips or cracks, is dirty, or is outdated, it can ruin the aesthetics in your bathroom or kitchen. Renov8 wants you to know that you don't have to replace the tile, there are more affordable ways to address this issue. Our team of tile resurfacing experts can quickly and affordably resurface your floor or wall tiles in Raleigh NC. We also provide other resurfacing and refinishing services in Raleigh, such as: Vanity Top Refinishing, Grout Cleaning, Crack & Chip Repairs, Shower Refinishing, Counter Refinishing, Sink Refinishing, Tile Refinishing, Cabinet Refinishing, and Bathtub Refinishing. If you are looking to have your tile or floors refinished in Raleigh, we provide these services throughout the entire metro area, including: Clayton, Knightdale, Carrboro, Wake Forest, Apex, Cary, Raleigh, Garner, Wendell, Morrisville, Smithfield, Chapel Hill, Holly Springs and the surrounding cities & towns. We also provide our service in the Charlotte metropolitan area. If you have questions about floor tile refinishing in Raleigh, call us at 919-780-7143 or contact us online today.