Fiberglass Shower Refinishing Cary NC
You don't have to replace your fiberglass shower if it is outdated, chipped or cracked. In fact, replacing a fiberglass shower or tub can be quite an endeavor. Finding a fiberglass shower or tub that fits with your current aesthetics is hard enough, but making sure it has the right dimensions to fit your bathroom can make finding a replacement seem impossible. Once you've found a suitable replacement, you have to make sure to properly remove the old fiberglass shower and install the new one, which probably isn't a do it yourself job. The cost can run you $1000's of dollars. Why go through all of the hassle? At Renov8 we provide fiberglass shower refinishing in Cary. Our shower refinishing process uses your existing unit, so you don't have to worry about installation or removal, and it saves a bunch of time. When we refinish your fiberglass shower, we get rid of all the stains, cracks, chips & damage, but we can also give you a different color and texture. Best of all, fiberglass shower resurfacing in Cary can save you 50% or more over the cost of replacement. If you want to learn more about fiberglass shower reglazing in Cary, or to get a free estimate, contact us online or call us at 919-780-7143
Cary Fiberglass Shower Refinishing VS. Shower Replacement
The cost of replacing your fiberglass shower can cost as much as $12000 dollars, which might make you settle for a fiberglass shower or tub that isn't exactly what you're looking for. When you are replacing your shower, there's a lot more than just money that goes into it, there is the time and headache of actually removing and replacing the shower itself, which can leave you without a functioning shower for weeks. Replacement isn't your only option. Renov8 can refinish your fiberglass shower in Cary at a fraction of the cost of replacement and in much less time, all while giving your fiberglass shower a fresh new look and feel. Below are a few benefits that shower resurfacing has over replacement:
Less Waste & More Eco Friendly: When you replace your old fiberglass shower in Cary, what do you think happens the old shower? Usually it finds it's way to a landfill. When we refinish your fiberglass shower in Cary, we use your existing shower, so there's no waste, meaning it's better for the environment.
Less Headache: Resurfacing a fiberglass shower can be done in a matter of hours or a couple of days, with replacement, it can be weeks before your shower is functioning again.
Get The Look You Want: If you need to repair your fiberglass shower, our refinishing service does that. However, when you have your fiberglass shower reglazed in Cary, we can give it a new look and feel, from the color to the texture, there are a lot of different options you have available.
Affordable: When you get your fiberglass shower refinished, you can save thousands of dollars over the cost of replacement, without having to sacrifice the look!
Residential & Commercial Fiberglass Shower Refinishing Cary
Many bathtubs and showers are made out of fiberglass, largely because it is affordable, lasts a long time & is a durable material. This makes it ideal for both residential and commercial customers, such as hotels and apartment complexes. While it is a long-lasting, durable material, fiberglass will wear down over time and can become damaged.
Fiberglass is a great material for showers and bathtubs, both for residential and commercial use. Fiberglass is long-lasting and durable, but it can still be damaged and can wear down over time. At Renov8, we can repair your fiberglass showers in Charlotte & Raleigh at a fraction of the cost of replacing it. When we come to repair your fiberglass shower, we can reglaze, restore, refinish, recolor, and resurface your unit so it looks like new. We will get rid of any cracks, chips, stains and we can even change the color of your fiberglass shower in a matter of hours.
Shower Refinishing Projects By Renov8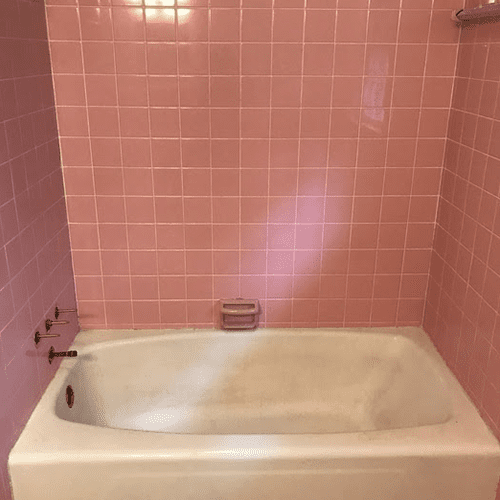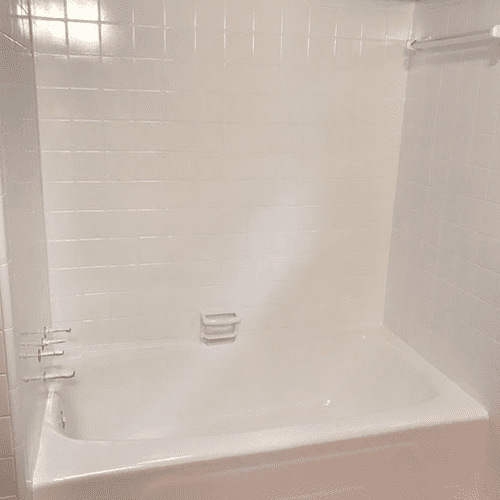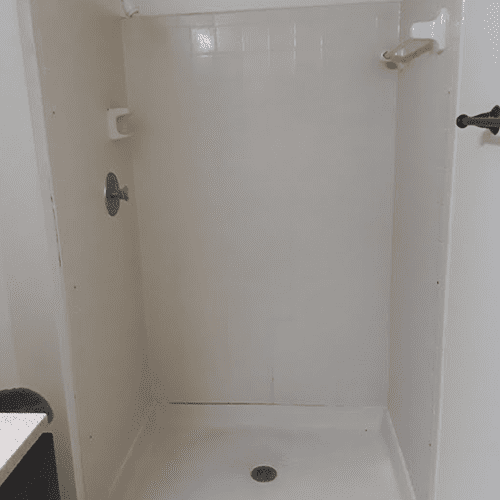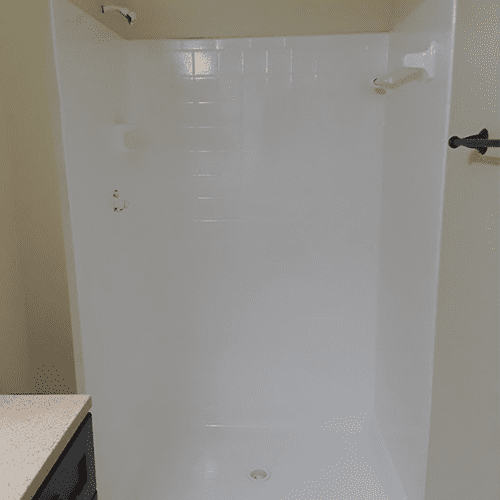 Contact Renov8 Refinishing Raleigh NC For Shower Refinishing In Cary
Do you have a fiberglass shower or bathtub that is outdated, cracked, chipped, or stained? Your fiberglass shower can tie together the look of your bathroom, but if it's in disrepair, it can ruin the look as well. Renov8 provides fiberglass shower refinishing in Cary, a fraction of the cost of replacing the unit. Instead of going through the hassle of finding the right fiberglass shower, removing the old one, and then installing the new one; our fiberglass shower resurfacing will repair the tub and give it a fresh new look and feel. We also provide other resurfacing services in Cary, such as Cabinet Refinishing, Crack & Chip Repairs, Vanity Top Refinishing, Sink Refinishing, Tile Refinishing, Counter Refinishing, Shower Refinishing, Grout Cleaning, and Bathtub Refinishing .