Choose Renov8 For Cabinet Refinishing Cary NC
If the cabinets in your kitchen or bathroom are starting to look old, dirty, or have damage (like scratches or cracks), it might be time to get them repaired or resurfaced. Getting your old cabinets replaced may not be in your budget, it also might be overkill if the cabinets are functioning properly. At Renov8 our cabinet refacing Cary NC based experts can help you achieve a brand new look & feel while saving you 50% or more over the cost of cabinet replacement. If you have an idea of how you want your cabinets to look, we can work with you to turn that dream into a reality. If you don't know what aesthetic you are looking for you, we can work with you to find a style that suits your liking. We have been refacing cabinets in Cary & the Triangle for more than a decade and have the experience & knowledge to help you get great-looking cabinets, affordably. Get a free estimate for cabinet refinishing Cary NC by calling 919-780-7143.
Why Choose Cabinet Refacing Cary NC?
If your old cabinets no longer have enough room or don't function the way you need them to anymore, you probably need to get them replaced. However, if your cabinets look old & outdated, no longer fit with the rest of your home, or you just want to update them, it's worth thinking about cabinet refinishing in Cary NC. There are a number of benefits to refacing your cabinets instead of replacing them, such as:
Cabinet Resurfacing is More Eco Friendly: If you replace your old cabinets, they most likely get thrown away and end up in a landfill. With cabinet resurfacing, in Cary, we reuse what's already in place which means we don't have much waste and are better for the environment.
Get The Look You Want: When refinishing your cabinets, we can help you choose the design you want or go with a design that we help you create. Either way, your cabinets will look how you want, without breaking the bank.
Cabinet Refinishing Takes Less Time: We can finish your cabinet refinishing projects in a day or two, usually. Because we don't need to demolish or remove your old cabinets, you can be using your kitchen or bathroom again much faster than if you replaced your cabinets.
Less Expensive: We save our clients about 40%-50% over the cost of cabinet replacement, which means you have more money for other renovations or for whatever you want to spend it on.
Choose Renov8 For Cabinet Refinishing Cary NC
At Renov8, we work with both residential and commercial customers to provide all of their cabinet refacing Cary NC & the Triangle. That means we can handle your project, no matter how big it is. From a single home to apartment complexes and hotels, we can make sure your cabinets look new and fresh, quickly and affordably. We have been providing our cabinet resurfacing service in Cary for over a decade, so we have the experience and know-how to make sure we get the job done on time and on budget. Call us today and see how we can save you from the headache and financial burden of replacing your cabinets in Cary.
Cabinet Refinishing Projects By Renov8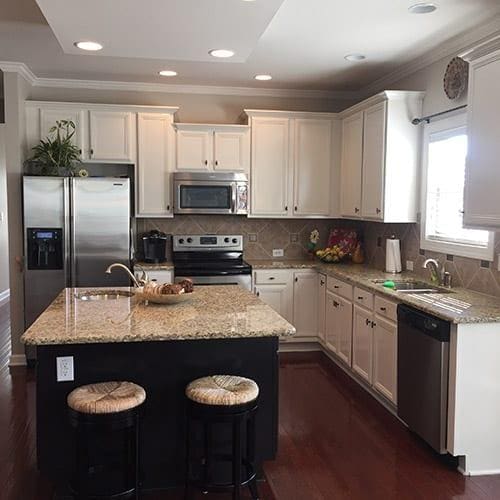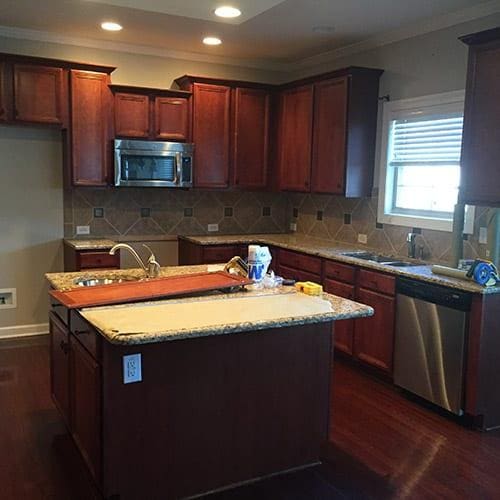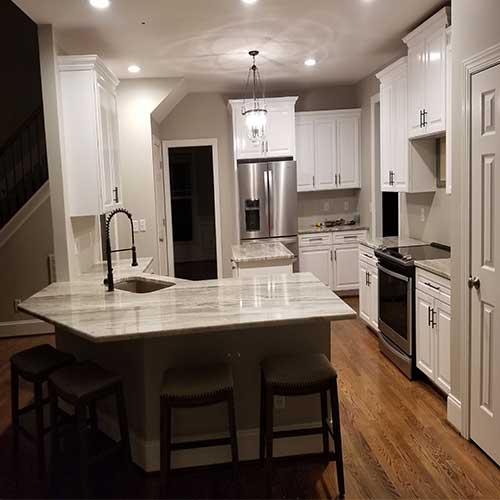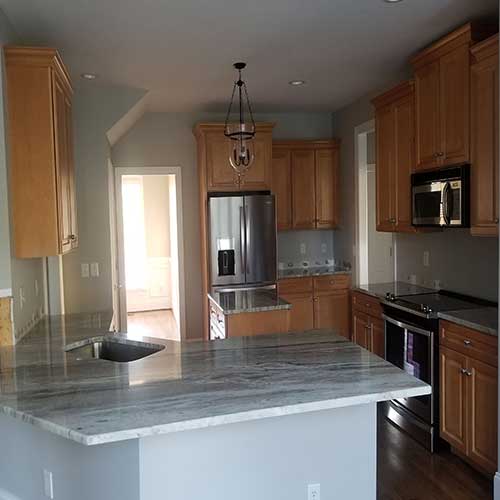 Contact Renov8 Refinishing Raleigh NC For Cabinet Refinishing In Cary
At Renov8, we take pride in the work we do when it comes to cabinet refinishing Cary NC. When you call to schedule service or to get a free estimate, we will learn more about your cabinet refacing needs and answer any questions you may have for us. Our cabinet refacing Cary NC based experts offer more than just cabinet resurfacing in Cary NC, we also provide [related_services format="comma"].