Kitchen Tile Reglazing & Shower Tile Refinishing in Cary NC
Is the tile in your bathroom or kitchen damaged, stained or dirty? If you have been thinking about replacing your tile, you should consider refinishing it instead. Renov8 provides shower tile refinishing & kitchen tile resurfacing in Cary NC. We can repair your tile and give it a fresh new look at a fraction of the cost of having it replaced. If you would like a free estimate for shower tile refinishing in Cary NC, contact our team today!
Tile Resurfacing In Cary NC
There are a lot of different terms that can be used for repairing your tile. "Tile Re-glazing" refers to having it stripped, refinished, and then baked at over 2000 degrees, but the end result is that your tiles have a fresh smooth surface, free from damage, cracks, and in like new condition. At Renov8, we have the technology to allow us to refinish your tiles in Cary and give you the same results in a lot less time. Our process for tile refinishing starts with us stripping the tile, repairing the cracks & damage, applying a primer coat & layers of coating, before we seal the tile. Finally, we will buff your tiles so that they shine like new again.  That means you don't have to spend a lot of money on tile replacement, when we can repair & refinish your kitchen & shower tile in Cary at a fraction of the cost.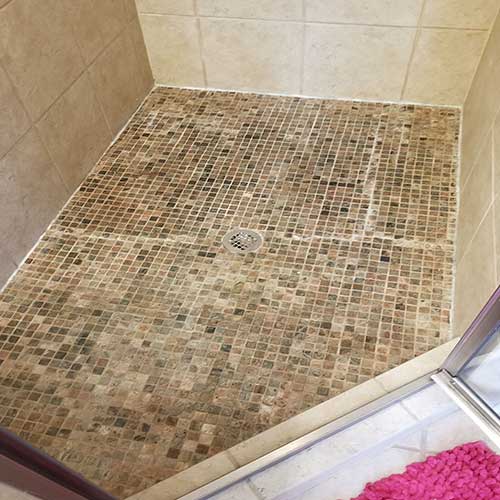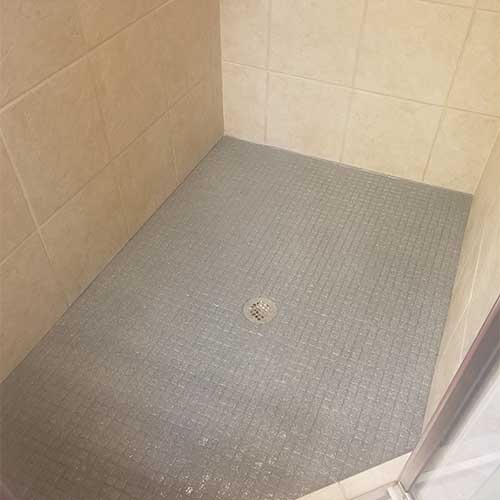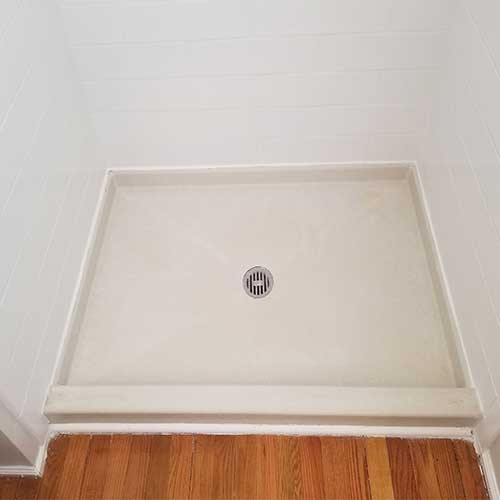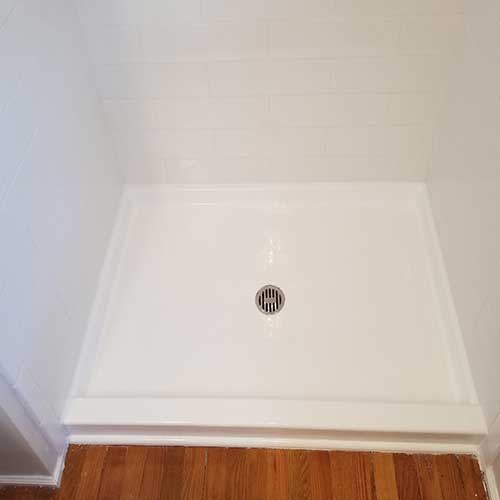 Shower Tile Replacement VS Shower Tile Refinishing in Cary NC
Replacing the tiles in your shower, bathroom or kitchen isn't the only option you have if you want to have undamaged tile that has a fresh new look and feel. Renov8 offers shower tile refinishing in Cary, which has many benefits such as:
Cost Effective – If you are in the middle of a kitchen or shower renovation, often times tile is one of the things that gets replaced. If you choose renov8 for shower tile refinishing in Cary, you can save money over the cost of replacement, which means additional money for the rest of your remodeling project.
Better For The Environment – When you replace your shower tiles, what happens to the old ones? Usually they end up in a landfill or a dump somewhere. However, when you refinish your tile in Cary, there will be no waste, since we work with your existing tile, which makes refinishing the eco-friendly solution.
Get The Look You Want – When we provide you with our tile refinishing in Cary, we can make the tile have any color you want, we can also give it a textured feeling, or even make it look like stone. Before we begin on your shower tile refinishing project, we will figure out the design you want and then make it turn into a reality.
Get Your Tile Repaired Or Refinished By The Tile Resurfacing Professionals In Cary
If you have stained, dirty, chipped, or scratched tile in your bathroom or kitchen, you can get a fresh new look, affordably with our Cary shower tile refinishing service. Renov8 provides our shower tile resurfacing to both residential and commercial clients in Cary & the neighboring cities and towns. We can take on any size project, from single homes to apartment complexes and hotels. Get in touch with our shower tile refinishing professionals for a free estimate today.
Contact Renov8 To Get Your Tiles Refinished Cary NC
Do you have dirty shower tiles that can't seem to get clean? Do they have chips, cracks or stains from years of use? It doesn't matter where the tiles in your home are, if they are dingy, they can ruin the whole look of the room they are in. Renov8 can help you update the look and feel of your tile by refinishing your tile in Cary NC, at a fraction of the cost of replacing that tile. We can resurface tiles for residential & commercial customers, so it doesn't matter how big the job is, we can save you money. We also provide a number of other surface refinishing services, such as: cabinet refacing, bathtub resurfacing, grout cleaning, sink resurfacing, fiberglass shower & tub refinishing, countertop resurfacing, chip & crack repair, vanity top resurfacing, floor resurfacing and more.
Renov8 has the ability to resurface just about any surface materials you may find in your kitchen or bathroom, like porcelain, Formica, acrylic, fiberglass, laminate, wood, metal, plastic, marble, cultured marble, tile and more. We offer our refinishing services throughout Raleigh & the entire triangle area, including, but not limited to: Cary, Apex, Durham, Clayton, Carrboro, Morrisville, Fuquay Varina, Smithfield, Chapel Hill, Wendell, Knightdale, Wake Forest, Garner, Holly Springs, and beyond. We also serve the greater Charlotte metropolitan area. Get a free estimate on shower tile refinishing in Cary today by calling us at 919-780-7143 or contact us online today!