Fiberglass Shower Repair in Chapel Hill NC
Fiberglass shower replacement is costly, time consuming and can be difficult to match. To replace a fiberglass shower, you have to find the same shape and size shower mold as the one you currently own. New fiberglass showers are expensive, and the process of removing your old shower and replacing it can take a very long time. Fiberglass shower repair can be accomplished quickly and affordably without need for replacement with fiberglass shower refinishing Chapel Hill NC from Renov8. Our fiberglass shower resurfacing and reglazing services will leave your shower looking like new. Contact the team at Renov8 today to receive a free consultation for fiberglass shower refinishing Chapel Hill NC.
Why Should I Opt for Fiberglass Shower Resurfacing in Chapel Hill NC?
There are a variety of reasons why fiberglass shower refinishing Chapel Hill NC is superior to shower replacement. Essentially, fiberglass shower repair services are less expensive, less time consuming and easier to customize than shower replacement. The end result of fiberglass shower resurfacing provides the same updated "new" look that would be achieved with shower replacement.
Fiberglass Shower Refinishing is More Cost Effective: Fiberglass shower refinishing costs about half of what you would pay for shower replacement services. your fiberglass shower in Raleigh can save you thousands of dollars, while giving you a new-looking unit that fits your aesthetics & color scheme.
Fiberglass Shower Resurfacing Takes Less Time: Fiberglass shower resurfacing can be completed in a matter of hours. Shower replacement takes a great deal of time in selection of a new shower that will fit, removing the old shower and installing a new shower, leaving you without use of your shower for days or weeks.
Fiberglass Shower Repair Creates Less Waste: Your old unit stays in place instead of ending up in a landfill. While some cleanup is required for fiberglass shower repair, there is also far less waste from cleanup and use of materials.
Fiberglass Shower Refinishing Can Change The Look & Feel Of Your Bathroom: Renov8 does more than just repair chips and cracks, and remove stains. You can choose a custom color and style for fiberglass shower reglazing in Chapel Hill NC.
Renov8 is Your Source For Fiberglass Shower Reglazing in Chapel Hill NC
Renov8 has been providing superior fiberglass shower refinishing Chapel Hill NC for more than 10 years. As a family owned local business, we care about our customers because we live and work in the community. When you contact us for fiberglass shower reglazing and fiberglass shower resurfacing, we provide a free on site consultation and quote. Our team is dedicated to customer service and will ensure complete satisfaction. When you need fiberglass shower repair in Chapel Hill NC, contact the experts at Renov8.
Shower Refinishing Projects By Renov8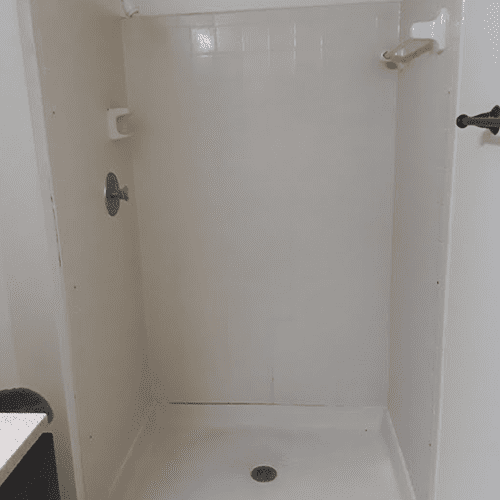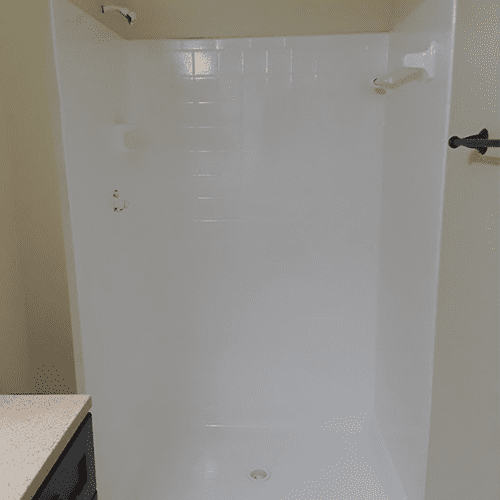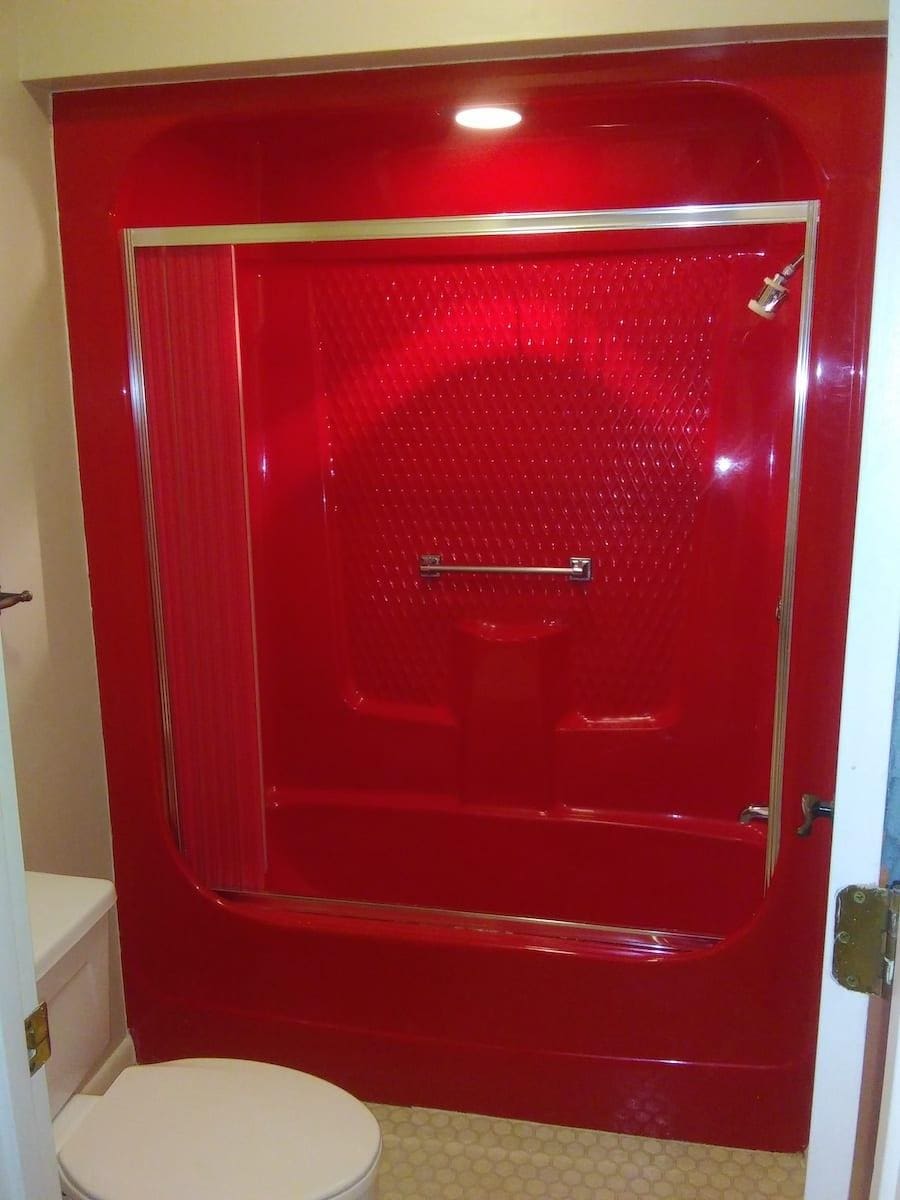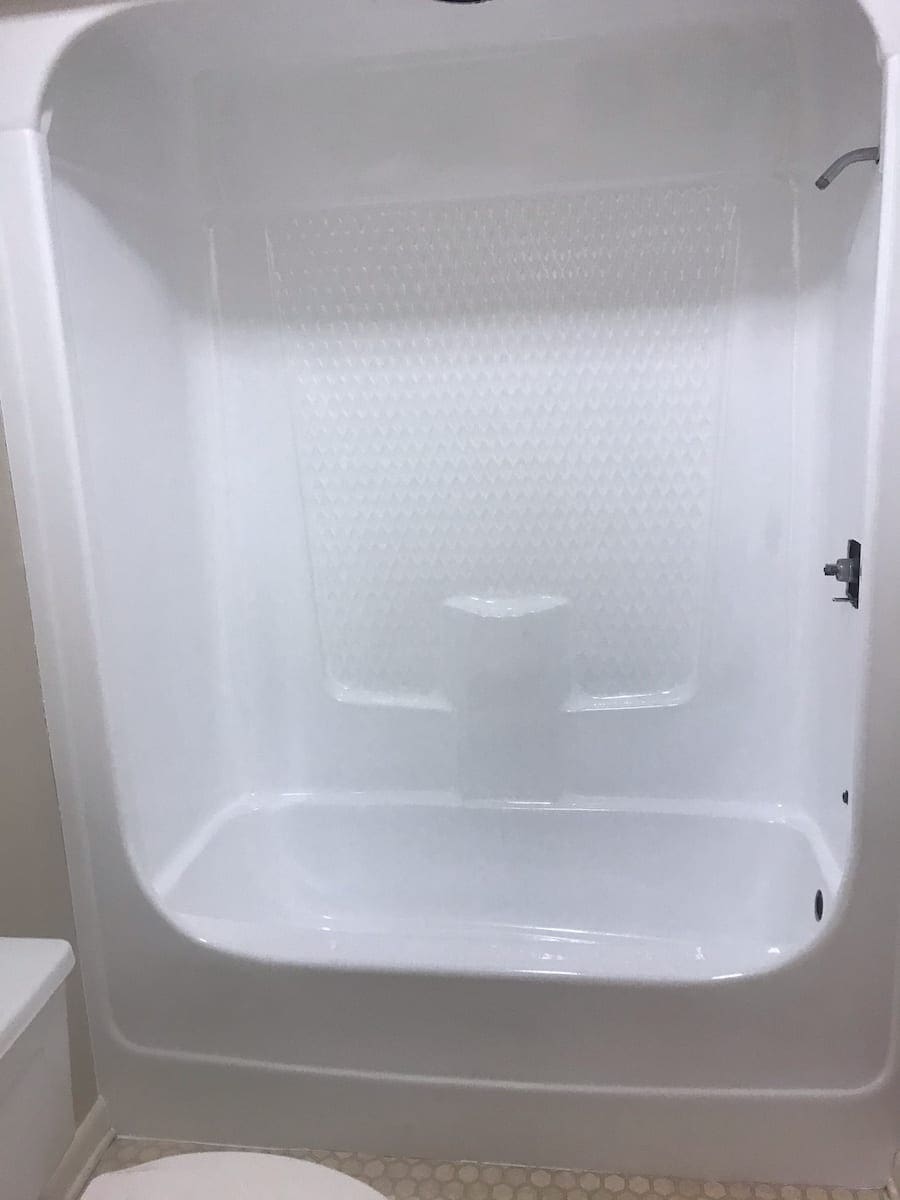 Contact Renov8 Refinishing Raleigh NC For Shower Refinishing In Chapel Hill