Cabinet Refinishing in Wake Forest NC From Renov8
When your cabinets become dull, worn, or outdated, you might think the only solution is replacement. The reality is quite different. Cabinet resurfacing in Wake Forest NC is a superior choice to cabinet replacement in most instances. When you contact Renov8 for cabinet refinishing, we start with a free on site consultation. Our team looks at your existing cabinets, the damages they have sustained, and the color or new pattern you want, and provides a quote for cabinet refacing and cabinet reglazing services. In most instances, cabinet resurfacing in Wake Forest NC will save time and money while providing the same great end result that cabinet replacement would. Contact Renov8 today by calling 919-780-7143 to learn more and receive a free quote for cabinet refinishing services in Wake Forest NC and beyond.
Cabinet Replacement VS. Cabinet Refacing in Wake Forest NC
Cabinet replacement and other remodeling services for your cabinets are expensive and time consuming. Cabinet resurfacing in Wake Forest NC is a better alternative. Consider why:
Cabinet Resurfacing Take Less Time: Cabinet resurfacing in Wake Forest NC takes only a couple of days to complete while cabinet replacement can take weeks, leaving you without use.
Cabinet Refinishing Costs Less: Cabinet refinishing from Renov8 costs about half of what cabinet replacement and other remodeling services typically do without sacrificing quality.
Cabinet Reglazing is Customizable: Perhaps most importantly, cabinet reglazing in Wake Forest allows you to select a new color or pattern for your cabinets to give your space a new look and feel.
Cabinet Refacing is Eco-Friendly: Cabinet resurfacing and cabinet refacing in Wake Forest uses your old cabinets meaning a lower environmental impact from less waste.
Commercial & Residential Cabinet Refinishing Services in Wake Forest
Renov8 handles cabinet resurfacing in Wake Forest NC for both commercial and residential customers. Our experts can provide cabinet refinishing services for jobs of any size. We are experienced in providing cabinet reglazing for hotels, apartment complexes and commercial centers as well as for individual home owners. Whatever your residential or commercial refinishing services needs in Wake Forest, contact Renov8.
Cabinet Refinishing Projects By Renov8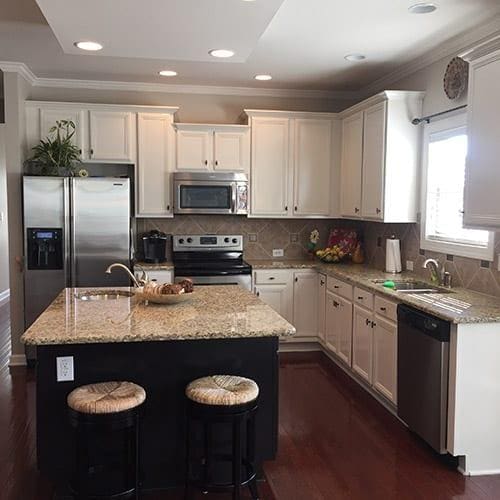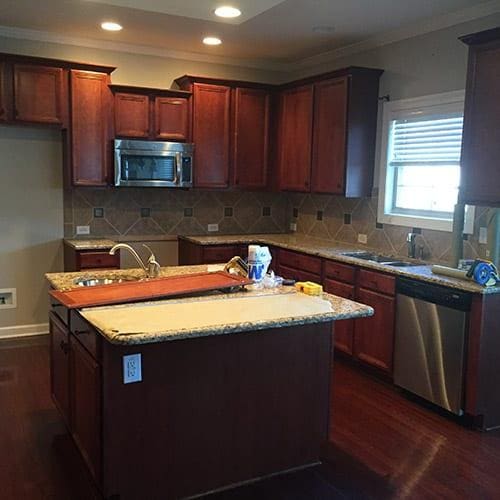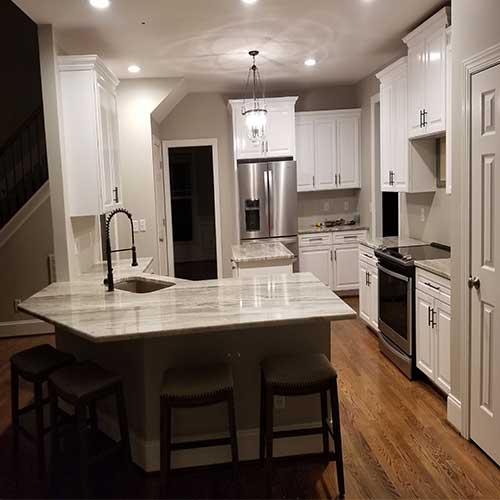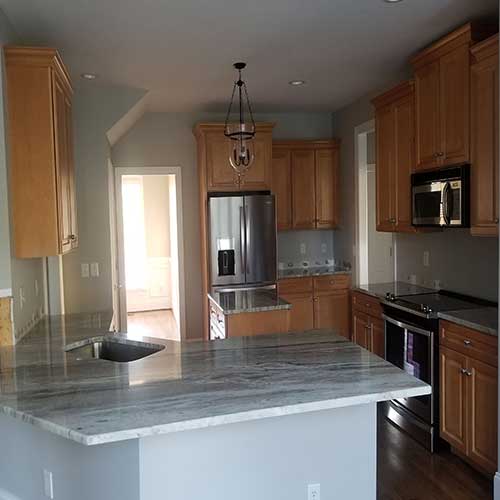 Contact Renov8 Refinishing Raleigh NC For Cabinet Refinishing In Wake Forest
Contact us for cabinet resurfacing in Wake Forest NC. Renov8 will provide a free consultation and quote for cabinet reglazing and cabinet refinishing services that will update and restore your cabinets. Cabinet refacing is a cost and time effective alternative to cabinet replacement services, while still providing you the ability to select a new pattern or color. Contact Renov8 today to schedule your free consultation.
Renov8 is your source for the very best bathroom and kitchen refinishing services in Wake Forest. Contact us today for cabinet resurfacing, Tile Refinishing, Vanity Top Refinishing, Cabinet Refinishing, Sink Refinishing, Bathtub Refinishing, Shower Refinishing, Counter Refinishing, Grout Cleaning, and Crack & Chip Repairs and other resurfacing, refacing, reglazing and refinishing services.