Bathroom Refinishing in Fayetteville NC
The Average cost of remodeling your bathroom in Fayetteville, NC was around $11,000 dollars in 2022,, with costs exceeding $30,000 for some high end projects. That might be worth it if you are looking to expand your bathroom or swap out old bathroom fixtures, but what if you're just looking to update the look of your bathroom? Renov8 Refinishing Fayetteville NC provides bathroom refinishing services that are aimed at refreshing the look of your bathroom by getting rid of cracks, chips, rust stains, with the ability to change the color look and style of your bathroom surfaces. Our services can be used on their own or as a part of a remodeling project as a way to make your remodeling budget go further.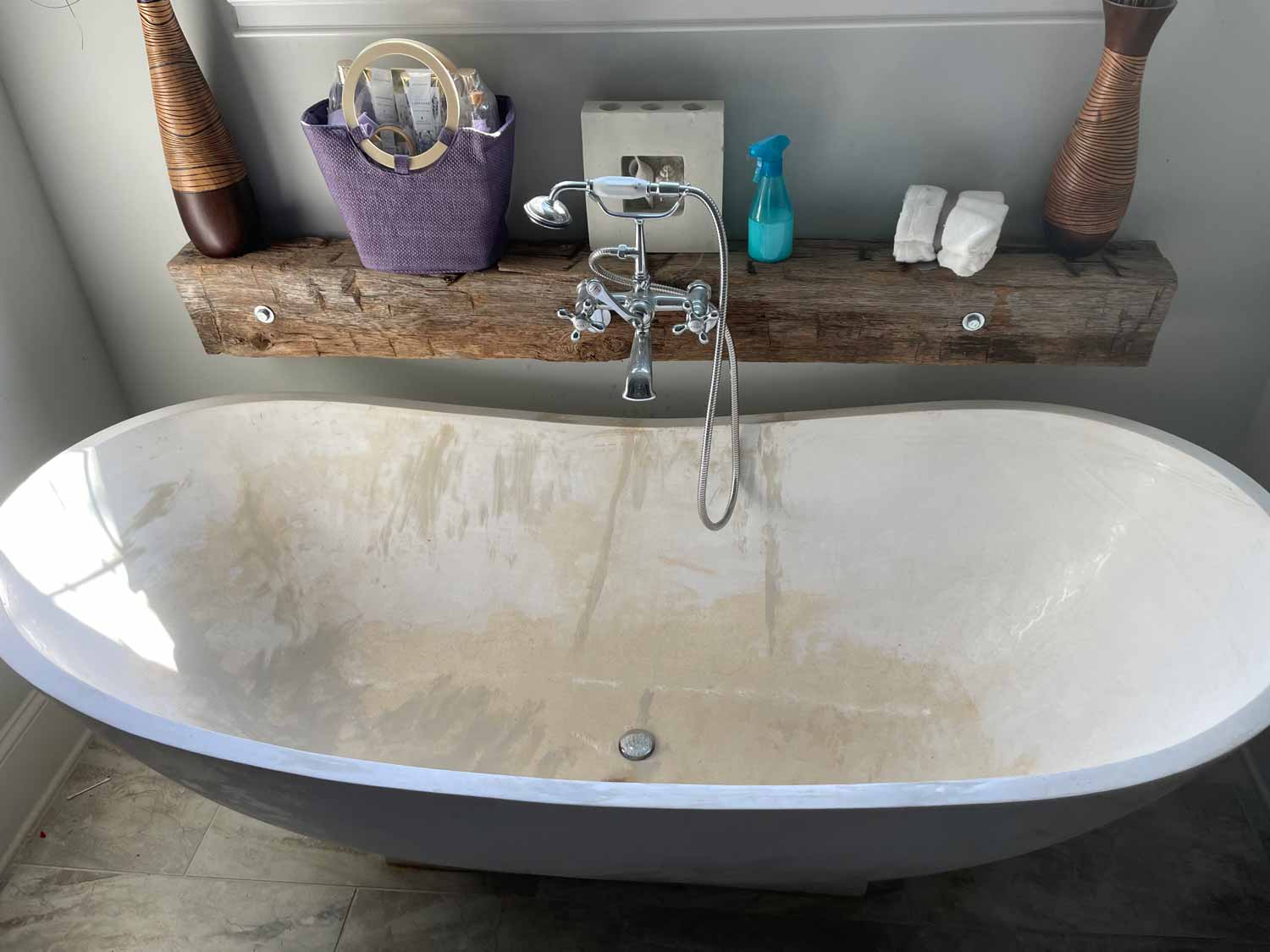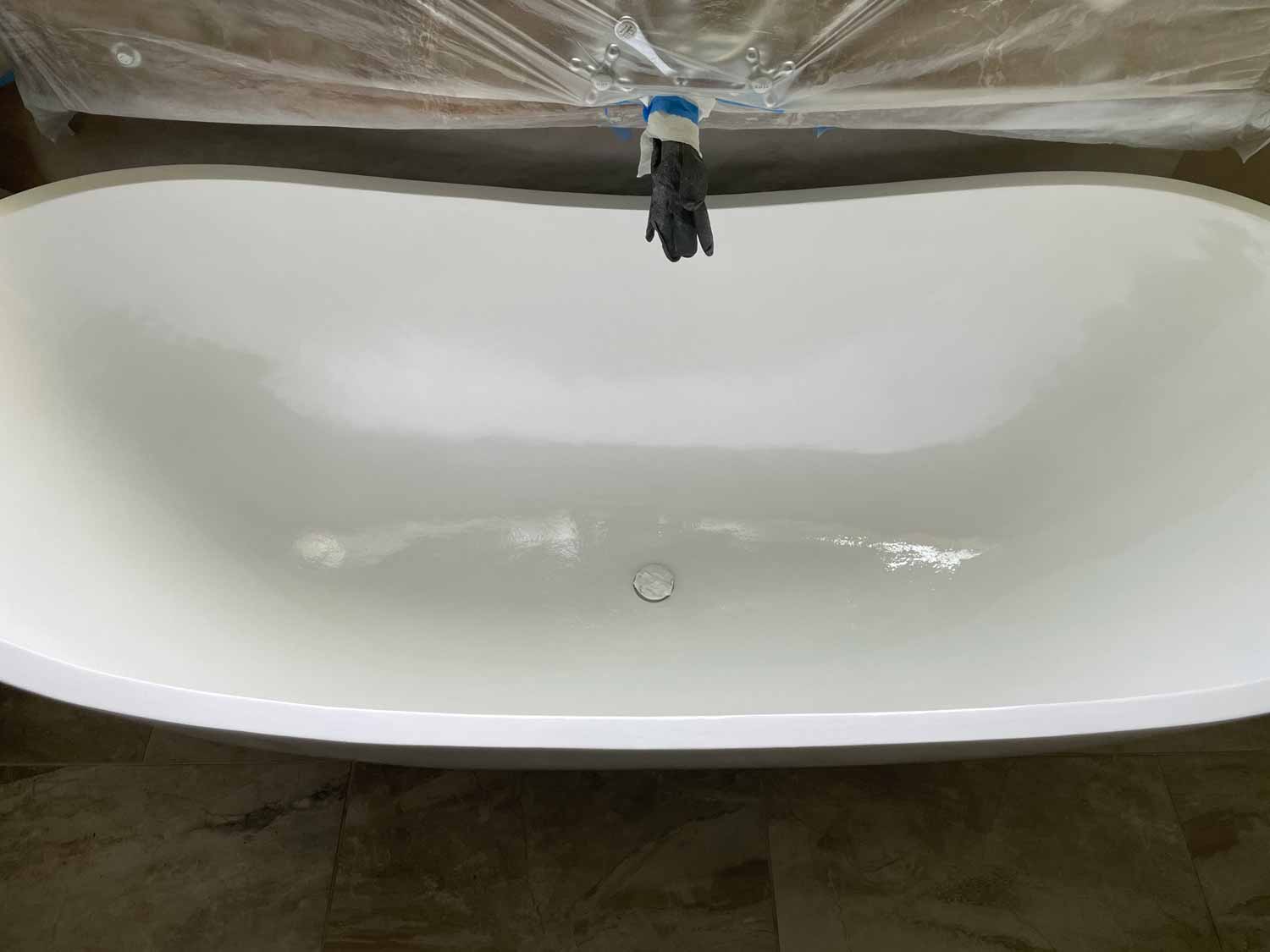 Bathtub Refinished By Renov8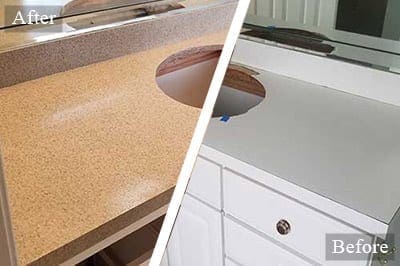 Vanity Top Refinishing in Fayetteville
Bathroom vanities usually combine your sink, mirror, and bathroom cabinets; making them one of the largest objects in most bathrooms. Because of their size, your vanity is often what dictates the style of your bathroom, which means that if it is cracked, stained, or outdated you might be thinking about...
Learn More
Kitchen Renovations in Fayetteville NC
Remodeling your kitchen isn't cheap, but Renov8 can help you get the most bang for your buck. Instead of replacing your cabinets, our team can change their look and style quickly. We can clean, repair, and transform your tile to the point that it looks better than new. It doesn't matter if you are looking to update your entire kitchen or if you just want to repair your countertops, Renov8 Refinishing Fayetteville NC can be a part of your kitchen remodeling project in Fayetteville NC. We can refinish or reface your cabinets, repair cracked tile, clean or replace the grout if it's grimy, or update your kitchen counters; all at a fraction of the cost of replacing them. This can leave you with enough money left in your budget to buy that new smart refrigerator that was just out of your price range before.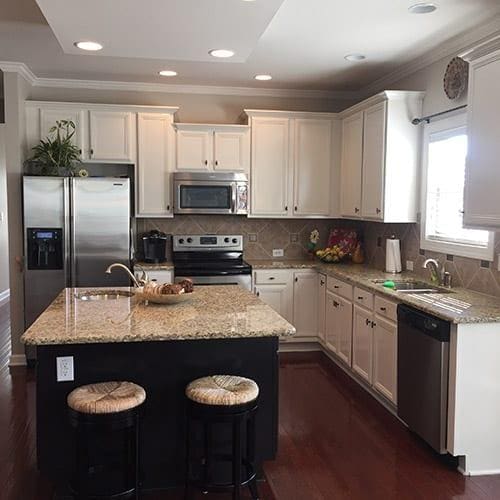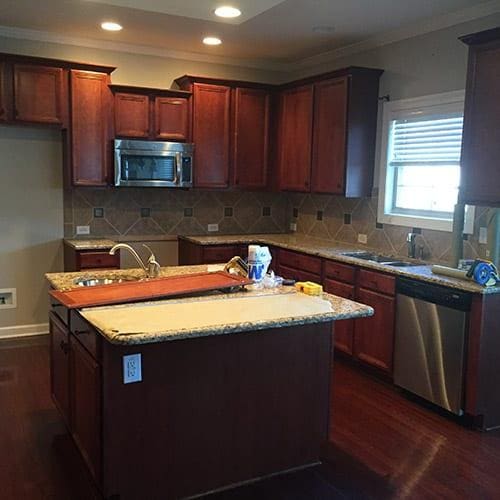 Counter Refinishing by Renov8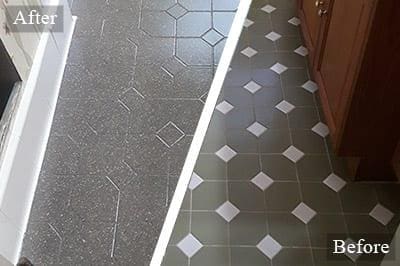 Tile Refinishing in Fayetteville
Are the tiles in your kitchen or bathroom so dirty that it makes you cringe when you look at them? Are there cracks in your floor or wall tile that are ruining the aesthetics of your kitchen or bathroom? You don't have to replace broken, cracked or stained tiles, instead...
Learn More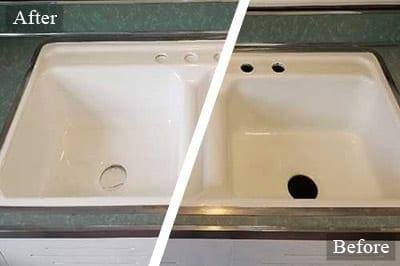 Sink Refinishing in Fayetteville
Is your sink looking worn and dirty? Maybe it's an older sink and the color is out of date or it has cracks, scratches or rust stains. There are a number of reasons that people consider replacing their sinks, but if your sink still functions, there is a more affordable...
Learn More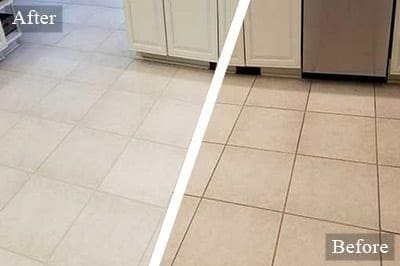 Grout Cleaning in Fayetteville
You can sometimes go for years without realizing how dirty & grimy the grout in your home or office is. Dirt, grime & stains can build up between your tiles, over time, making the grout appear black or brown. You might think that when your grout is dirty and gross...
Learn More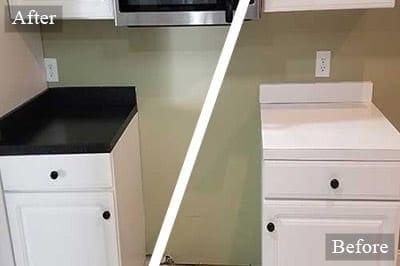 Counter Refinishing in Fayetteville
Over the years, your countertops see a lot of wear and tear. Over time, you may find that your counters start to crack, chip or develop burn marks, which can not only ruin the looks of your countertops, but their functionality and reliability. For a fraction of the cost of...
Learn More
Surface Crack & Chip Repairs in , NC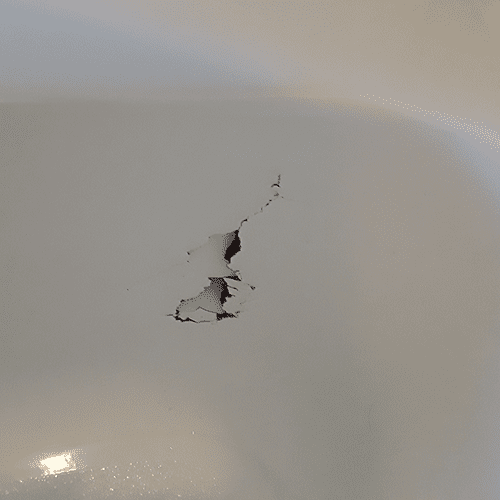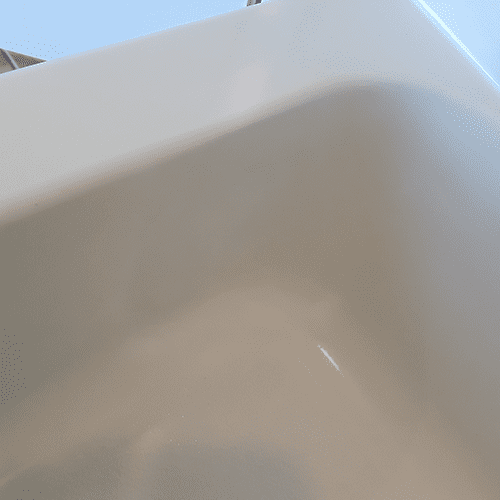 When surfaces in your bathroom or kitchen get cracked, chipped, scratched, or even have holes in them, we can help. Renov8 Refinishing Fayetteville NC can repair cracked or chipped tile, cultured marble, fiberglass, and just about any other common household surface. Our repair process is as quick as it is affordable and you can usually use that surface the same day we complete the process. While we're doing the repairs, we can also change the color and style of your surfaces as well.
Surface Materials We Can Refinish
Tile
Cultured Marble
Marble
Porcelain
Plastic
Formica
Ceramic Tile
Laminate
Fiberglass
Metal Furniture
Acrylic
And More!
About Renov8 Refinishing Fayetteville NC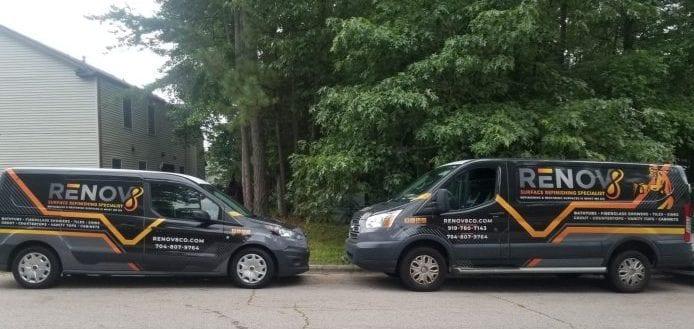 Renov8 is a family owned small business, with over 10 years of reglazing, resurfacing, and refinishing kitchens & bathrooms for homes and businesses. We got our start in Raleigh and quickly expanded our operations across North Carolina. As we continue to grow into a company with a presence in multiple states, we always strive to have that small company feel. We currently have locations in Fayetteville NC, Greensboro, Charlotte and Raleigh and are one of the few companies that can honestly say that we love seeing the look on our customers faces when they get the bill, because it really does save them that much money over the alternatives.  We can help you restore showers, bathtubs, kitchen counters, cabinets or any other kitchen or bath surface. We are affordable, but never sacrifice quality to save money. 
Bathtub Refinishing & Other Bathroom & Kitchen Refinishing Projects In Fayetteville, NC
We don't want to just tell you about our results, we want to show you the work we've done. Take a look below and see the difference that refinishing can make. We can give your tiles a new look & texture and we can make your fiberglass showers or bathtubs look like new again. Want to change the color of a surface? No problem. We work on a number of different surfaces that are found in homes & offices around , NC & the surrounding areas. Give us a call at 910-508-9520 and get a free consultation on your next surface refinishing project in , NC.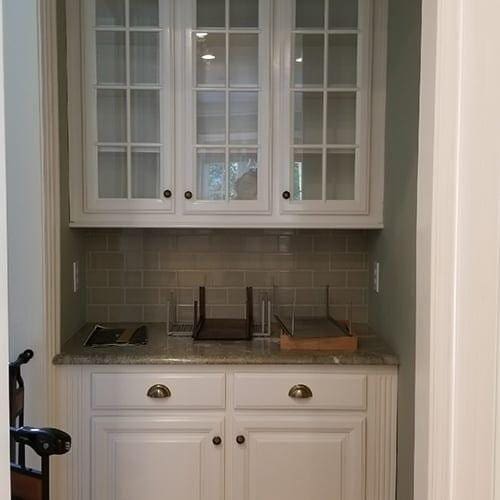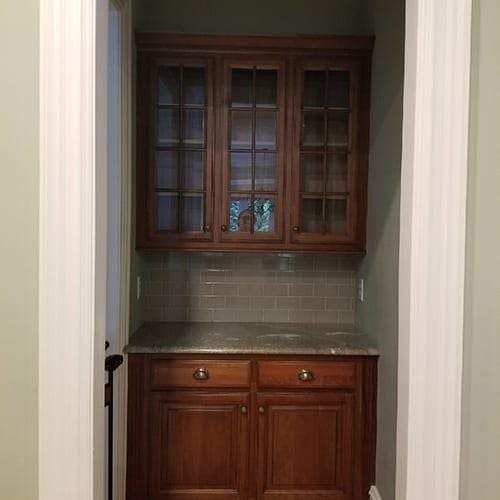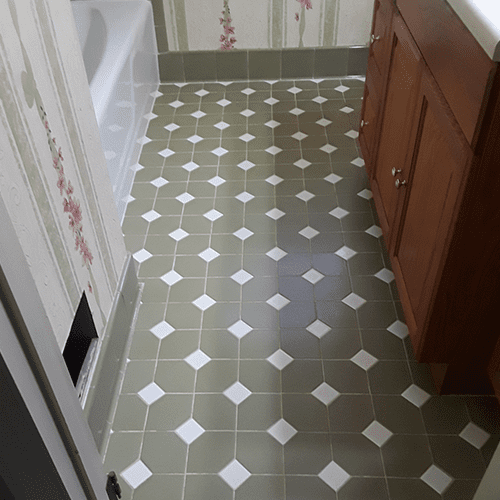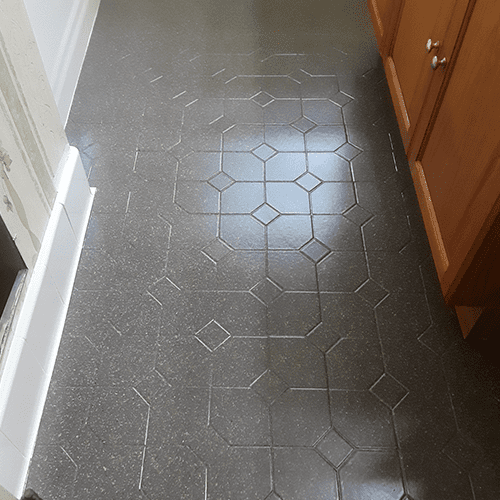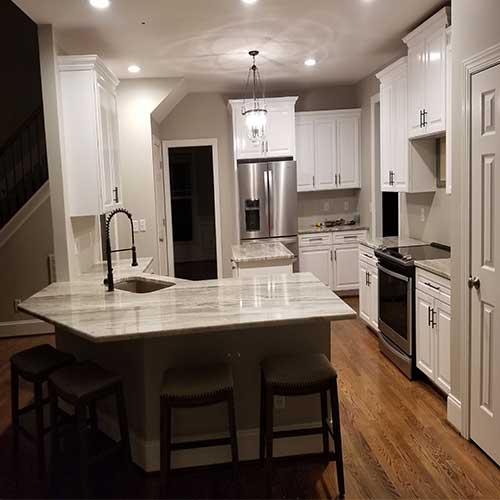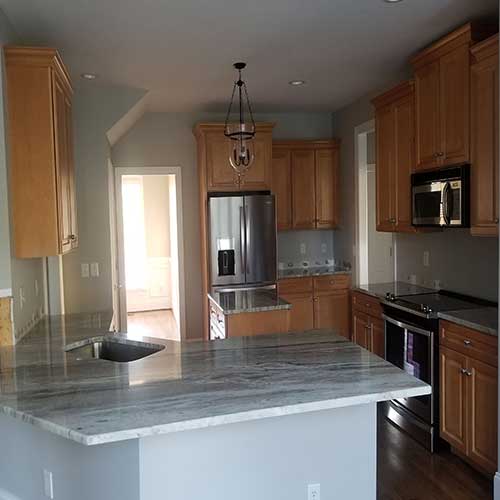 Real Testimonials From Real Customers
All of the reviews on our website for Renov8 Refinishing Fayetteville NC are from actual customers, you can see them on Google by clicking the link under their name. You can also see the other reviews these customers have done with other businesses. We want you to know that you can trust the reviews on our website, which is why we make it possible for you to verify them yourself.
Karen
★★★★★
Great job!!!! On time, very clean job! The before photo he had already applied the first step….the tub is the original tub (65 year old tub)
Response from the ownerThank you Karen !We appreciate your business.
Yur Mum
★★★★★
It was great he did it all fast and professionally.
Response from the ownerThank you Yur !
Billie Jackson
★★★★★
Did a great job. Cleaned up afterwards!Junior
Response from the ownerThank you !
NYC Harlem
★★★★★
Junior did swell job turns my bathroom into a new bathroom I recommended instead of buy new tub and shower
Response from the ownerThanks for the recommendations, we appreciate your feedback! let us know if you ever need any other surfaces refinished!
Jeymi Lara
★★★★★
They do great work.
Response from the ownerThank you Jeymi !
Choose Renov8 To Refinish Your Kitchen Or Bathroom in Fayetteville NC
Are your counters, cabinets, shower, or bathtub damaged, cracked, stained, or just outdated? If so, you don't need to completely renovate your home or replace these items! Renov8 can refinish the surfaces in your kitchen & bathroom at a fraction of the cost of replacement, while leaving you with an updated look and style. We work with both residential and commercial customers to provide them with any number of refinishing services. We provide Cabinet Refinishing, Vanity Top Refinishing, Counter Refinishing, Shower Refinishing, Crack & Chip Repairs, Bathtub Refinishing, Sink Refinishing, Tile Refinishing, and Grout Cleaning in Fayetteville. Contact us online or give us a call at 910-508-9520 for a free quote for all of your refinishing needs!
Renov8 Refinishing Fayetteville NC Provides Service In These Areas
Address:
3914 Glenridge Rd.
Fayetteville, NC 28304
✓

Spring Lake

✓

Pinehurst

✓

Fort Bragg

✓

Lumberton

✓

Laurinburg

✓

Rockingham