Cracked or Chipped Bathtub, Shower & Sink Repair
If your bathtub, shower or sink has chips, cracks, rust marks, scratches, or just looks out of date, Renov8 can help. You don't have to spend 1000's of dollars to replace your bathroom fixtures so long as they still function properly. Our shower, bathtub and sink refinishing service repairs chips, scratches & cracks and can even change their appearance to make your bathroom look brand new. Get a free estimate on shower, bathtub, or sink refinishing from Renov8 today.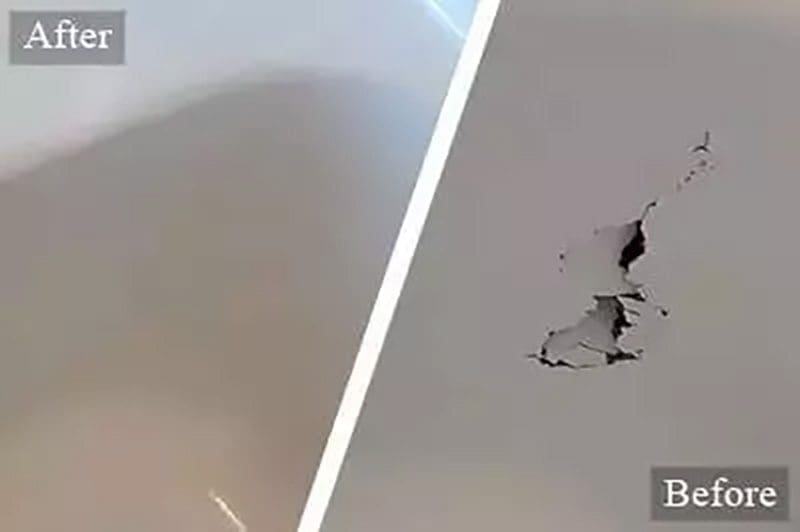 Bathroom Tub, Shower & Sink Crack & Chip Repairs in Raleigh, Fayetteville & Charlotte
Your bathroom is your private sanctuary, and one of the most used rooms in your home, so there's no wonder you want it to have the perfect look and feel. Raleigh & Charlotte are both historic cities with historic districts and homes, trends change. That pink bathroom might have been fun in the 50's, but it might not suit your wants. More importantly chips, cracks, rust stains, and scratches can all occur during normal use. Many of our customers think that replacing out of date or cracked bathroom fixtures is their only option, but most of the time Renov8 can refinish them at a fraction of the cost. Refinishing your sink in Raleigh or Charlotte will get rid of any blemishes and you have the option to change the look, feel and color as well.
Save Time & Money When We Repair & Restore Your Bathroom
At Renov8, we understand that when you have a cracked sink you're not exactly sure who you can get to provide those repairs. If you search for "sink repair near me" you'll probably find a list of plumbers, but they don't fix cracks and chips. We've even worked with clients who have tried to paint their bathtubs or showers (Pro-tip: Don't). Most of the time people aren't sure what to do and they just decide they will look into remodeling their entire bathroom, which isn't cheap. While the remodeling project is going on it can leave you without access to your bathroom as well. Renov8 can repair chips and cracks in your bathroom fixtures in as little as a day, while saving you money. We can repair any number of surface materials including:
Porcelain Sink & Tubs
Fiberglass Showers
Ceramic Sinks & Tubs
Formica
Formica Vanities
Tile Vanities
Cultured Marble
And more!
If you have a cracked or chipped fixture has a different surface, give us a call or contact us online and we will be glad to tell you if we can work on it.
Stretch Your Bathroom Remodeling Budget
If you want new functionality, like additional shower heads or more room in your shower or tub, we can still be a part of your solution. According to home advisor, The cost of materials always seems to be going up. Ceramic, Fiberglass, and Cultured Marble have shot up 5-10% in 2022 and the average cost of installing a shower in 2022 was $6450 ($8160 in Raleigh & $9640 in Charlotte). Instead of replacing everything in your bathroom, Renov8 can repair your cracked bathroom sink while refinishing it to match the new look and feel. By saving money on replacing everything, you'll have the budget to make sure your bathroom is perfect.
[fusion_widget_area name="avada-custom-sidebar-sidebarservicesmain" title_size="" title_color="" background_color="" hide_on_mobile="small-visibility,medium-visibility,large-visibility" class="" id="" /]
FAQ About Cracked Bathroom Sink & Tub Repairs
How Long Does The Bathtub or Sink Repair Take?
We can usually refinish a bathroom sink or bathtub in a few hours, leaving your bathroom fixtures chip, crack, and scratch free.
Should I Replace or Repair My Cracked Sink or Bathtub?
If you are happy with the functionality of your existing bathroom fixtures, but would like to remove any blemishes, refinishing will save you time and money.
Can I Use My Tub, Shower Or Sink Before You Arrive?
Absolutely, your fixtures don't need to be dry for us to repair them.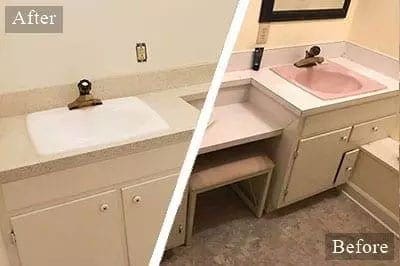 Get A Free Quote On Cracked Bathtub & Sink Repair in Raleigh & Charlotte
It's no secret that repairing your bathroom sink is cheaper than replacing it. You might have also learned that painting your sink or bathtub is a terrible idea (and doesn't work). You don't have to spend $1000's of dollars or try something you read on the internet to update your bathroom. Talk to Renov8 about repairing the cracks & chips in your sink, shower, or bathtub and find out what color options you have as well. We have locations in Raleigh, Charlotte, & Fayetteville and serve the entire state of North Carolina. Give us a call or contact us online for a free estimate.