Cabinet Refacing & Cabinet Refinishing Charlotte NC
Have you looked at your cabinets lately? Are they modern or are they a relic from a previous decade? Over time, your cabinets can start to fade, get scratched, or can just fall out of style. If your cabinets no longer fit your needs because you need more space, you might have to replace them, but if they still meet your needs, you may want to get your cabinets refinished. Cabinet refinishing or cabinet refacing Charlotte NC can save you 50% or more over the cost of replacement and can give you the perfect look and feel for your current taste. Contact Renov8 for a free estimate today and find out why you shouldn't replace it when you can reface!
Get Your Bathroom Or Kitchen Cabinets Refinishing Charlotte NC
If your kitchen cabinets or bathroom cabinets are starting to look a little run down, worn out, faded, or outdated, you don't have to spend a lot of money to have them replaced. If your cabinets are in otherwise good condition and still fit your needs, you can have your cabinets refinishing for much less than it costs to replace them. You can also get a new style, texture, or color for your cabinets, meaning that you don't have to sacrifice quality to save some money. We can work with you on a design that you have picked out, or we can help you figure out the perfect design to suit your taste. Contact Renov8 today and get a free estimate on cabinet refinishing Charlotte NC, find out how much you can save and how fast we can get you the cabinets you've always wanted!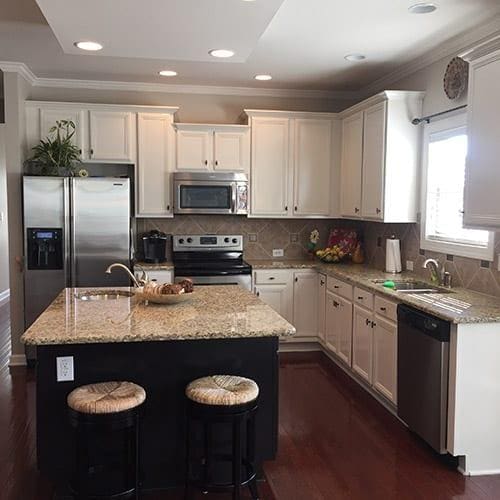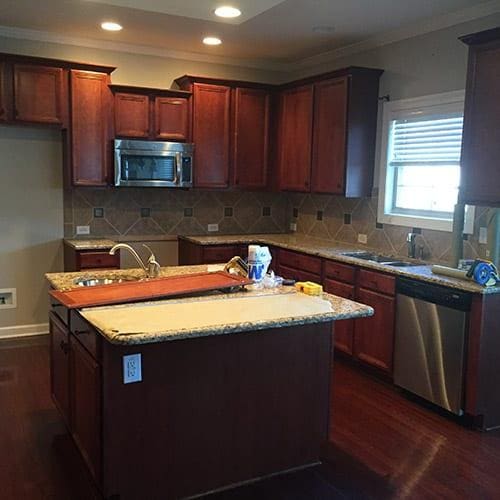 Don't Replace When You Can Reface Your Cabinets In Charlotte
It doesn't matter if you call it cabinet refinishing, cabinet refacing, or cabinet reglazing, the end result is beautiful cabinets at a much lower cost than replacing your cabinets. Of course, price matters, but there are a number of other benefits you can expect when you resurface your cabinets in Charlotte:
Faster Results: When you replace your cabinets, it takes time to remove the old ones and install the new ones. This process can take days or weeks. However, when you choose Renov8 for cabinet refinishing Charlotte NC, we can have the job done in 24-48 hours.
The Eco-Friendly Options: When you remove the old cabinets, they have to go somewhere, usually they end up in a landfill. Cabinet refinishing works on your existing cabinets, which mess no waste, making it a more environmentally friendly alternative.
Get The Perfect Design: There are a lot of options you have to choose from when having your cabinets refinished in Charlotte. If you aren't sure what kind of style you want, we can work with you to plan it out, or if you already have something in mind, we will turn it into a reality for you.
The Savings: We may have already mentioned this a few times, but replacing your cabinets is expensive. When we refinish your cabinets in Charlotte, we can save you 40-50% meaning you have more money for other home improvement projects.
Residential & Commercial Cabinet Resurfacing in Charlotte
Renov8 has been working with customers in Charlotte to deliver affordable, refinished cabinets for over a decade. Our team works on both residential projects and commercial projects, so we can handle any size cabinet refacing project you may have in Charlotte. It doesn't matter if you have a hotel that needs 100 rooms to have the cabinets updates, or if you are a homeowner who has kitchen cabinets that need an update, we can help. Contact Renov8 for a free estimate on cabinet refacing Charlotte NC.
Choose Renov8 For Cabinet Refinishing Charlotte NC
Renov8 can help you update the appearance of your bathroom or kitchen cabinets by refinishing them. If your cabinets still work and have the space that you need, but are outdated, scratched, or worn down, we can make them look new at a fraction of the cost of replacing them. We can also change the color, style, and texture of your cabinets to something that suits your current taste. We also provide a number of other refinishing services such as fiberglass shower resurfacing, sink repair & refinishing, floor tile & wall tile reglazing, shower tile refinishing, grout cleaning, cracked tile repair, countertop refinishing, vanity refinishing, & bathtub resurfacing in Charlotte.
Our cabinet resurfacing services are offered in both the Raleigh & Charlotte metropolitan areas. In Charlotte, that includes Concord, Gastonia, Matthews, Stallings, Waxhaw, Pine Hall, Kannapolis, Concord, Indian Trail, Harrisburg, Davidson, Mount Holly & the neighboring cities & towns. For Raleigh, our service area includes Apex, Durham, Clayton, Wendell, Morrisville, Fuquay Varina, Knightdale, Wake Forest, Holly Springs, Cary, Smithfield, Chapel Hill, and beyond. Get a free estimate or call us with any questions you have about Cabinet Refinishing and Cabinet Refacing Charlotte NC, by calling 704-807-9764 or contacting us online.