Vanity Resurfacing & Vanity Top Refinishing in Raleigh NC
Your vanity is one of the biggest structures in your bathroom, usually composed of a storage unit & sink. If you bought the house used, or have owned it for a while, you may notice that your vanity has developed chips, cracks, stains, or is simply a relic from a different time. If your vanity doesn't look nice, your whole bathroom won't look nice. Renov8 can update your vanity, repair the chips & cracks and refinish your vanity top so it has a new fresh look, at a cost much lower than replacing it. For a free estimate on vanity top resurfacing in Raleigh, contact Renov8.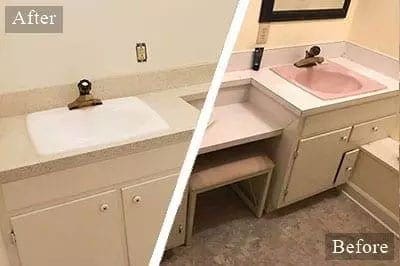 Vanity Counter Refinishing in Raleigh NC
Did you know that you can change the texture & color of your vanity without replacing it? Replacing your vanity can be a daunting task that requires time, money and can often restrict the use of your bathroom. Fortunately, there are ways to get a great looking vanity without the hassle of replacement. Renov8 provides residential & commercial vanity top refinishing in Raleigh at a fraction of the cost, and much less hassle, than replacement. We work on your existing vanity to upgrade the look and feel in hours or days, not weeks. When you choose Renov8 for vanity counter resurfacing in Raleigh, we don't just repair any cracks and chips, you have a wide variety of texture options to choose from as well. Get a free estimate on vanity top repair in Raleigh today.
Should You Replace Or Resurface Your Vanity In Raleigh?
There are a a lot of things you should consider when renovating your bathroom & vanity top. First, you should understand that if you replace your vanity, you will need to make sure that your new unit fits your current space and that your sinks will fit in the new unit. Often times this means hiring a plumber, electrician, and potentially even having to move your mirrors. You also have to consider the cost of the new unit, the cost of the contractors, and the time it will take to make sure the project is done to your standards. There are many reasons that vanity top refinishing in Raleigh is a better alternative to replacement, such as:
Quicker Completion: Because there are so many moving parts that need to be coordinated, replacing your vanity can take days or weeks. Vanity top refinishing in Raleigh involves less people, less work, and less cleanup time, meaning you will have a beautiful, functional bathroom, quicker.
Get The Perfect Look: When you replace your vanity, you can choose the perfect unit for your space. You also have a lot of the same options available to you when you choose to resurface your vanity top in Raleigh. You can choose the color, look & texture that you want. We can give you a marble, stone, or other style finish that will perfectly match your taste.
The ECO Friendly Option: If you choose to replace your vanity top in Raleigh, the old unit has to go somewhere (usually the landfill). When you choose Renov8 to refinish your vanity top, we work in place, which means no waste. You can have a fresh new look for your vanity without harming the environment.
Save Money:  When you have your vanity refinished, you can save 50-70% compared to replacing it. Not to mention the savings you get from not having to hire a plumber or electrician. Contact Renov8 and we will give you a quote on vanity top refinishing in Raleigh, so you can see how much you can save.
Our Process For Vanity Top Resurfacing in Raleigh
As a fully licensed and insured resurfacing company, we strive hard to make sure to give all of our customers high quality work at a price they can afford. When we come into your home or business to provide you with vanity top refinishing, the first thing we will do is repair any cracks or chips that may have formed over time. After we've repaired your vanity, we will seal any grout lines, which creates a seamless surface. Next, we will apply the finishing material of your choice to complete your new vanity counter top look. We have a number of options to choose from, but you can rest assured that when we are finished, your vanity & entire bathroom will look exactly as you had envisioned. Our vanity refinishing service usually takes a day or less, but on larger projects it can take a little longer. Before we start, we will let you know exactly what to expect.
Vanity Top Resurfacing Projects We've Done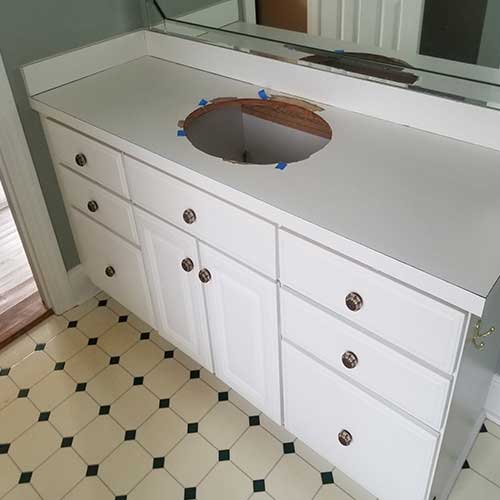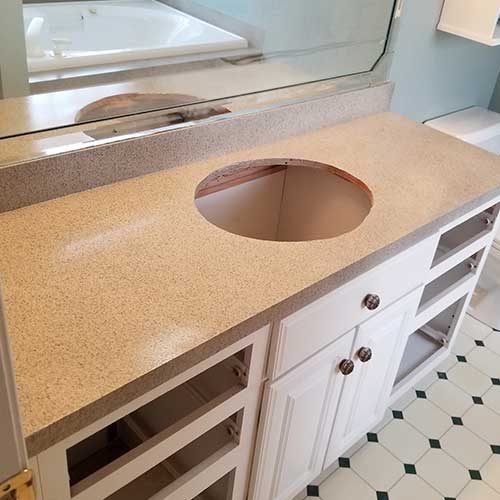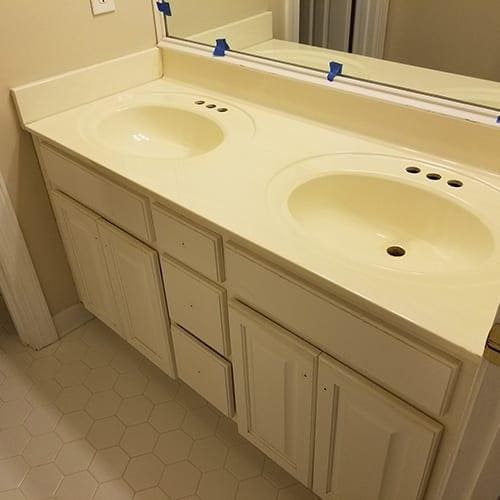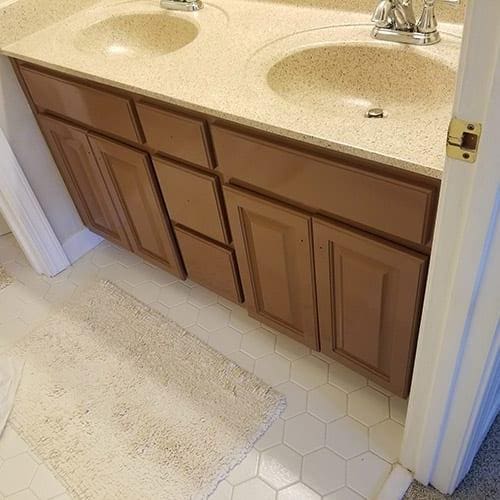 Contact Renov8 For Vanity Top Refinishing Raleigh NC
Don't replace your old vanity to give your bathroom a fresh new look! You can save time and money by letting Renov8 refinish your existing vanity, while still getting the style, texture, color & look that you want. Vanity resurfacing in Raleigh can save you 50-70% over replacing your vanity and can be done much more quickly. Renov8 works with residential & commercial customers in Raleigh & the Triangle to refinish a variety of surfaces in their kitchens & bathrooms. We offer refinishing services such as: Cabinet refinishing, bathtub resurfacing, shower tile reglazing, sink resurfacing, grout cleaning, shower resurfacing, countertop refinishing, crack & chip repair, and more. For a free estimate on vanity top resurfacing in Raleigh, give us a call at 919-780-7143 or contact us online.
Renov8 Raleigh Provides Service In These Cities & Towns
Fuquay Varina
Garner
Morrisville
Wendell
Zebulon
Carrboro
Pittsboro
Smithfield
And More!
Check out our other locations: