Shower Tile Refinishing Raleigh NC
If your shower tiles are dirty, grimy, cracked or chipped, they can ruin the look of your shower & the entire bathroom. You don't have to replace your shower tiles to get a like new look again. Renov8 can refinish your shower tiles at a fraction of the cost of replacing them. When we resurface the ceramic tile in your shower or bathroom, we don't just clean it, we repair any damage, can change the color or look of the tile, and then we seal it so that it will protect the tile and make it easier to clean and maintain. Call Renov8 and get a free quote for shower tile repair & shower tile reglazing in Raleigh NC.
Professional Shower Tile Resurfacing In Raleigh
If you have damaged, stained, or outdated bathroom or shower tiles, you may have thought your only option to repair them was to get them replaced. Replacing your shower tiles can be expensive and time consuming, but there are other options available that give you the same end result: Beautiful shower tiles that are updated to give you the look you want for your bathroom. When you choose Renov8 for your Raleigh shower tile re-glazing, refinishing or resurfacing project, we will repair the cracks & damage, apply a primer, followed by layers of coatings and a protective sealant (to protect your tile & grout), before buffing the tiles until they shine like new. You can often save 50% or more when you refinish your tiles, instead of replacing them. If you are looking for high quality shower tile refinishing in Raleigh, get a free estimate from Renov8 today.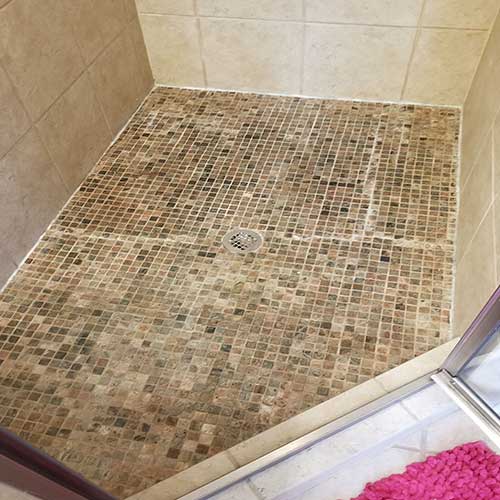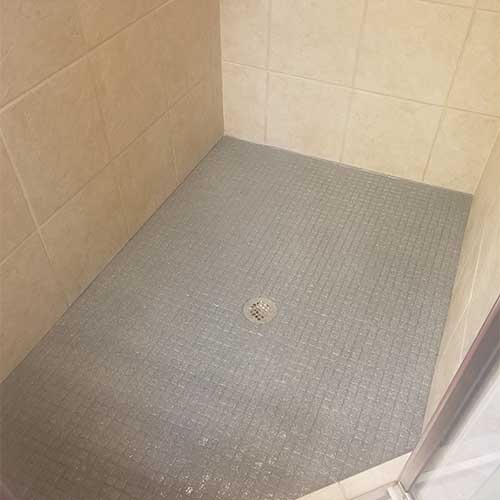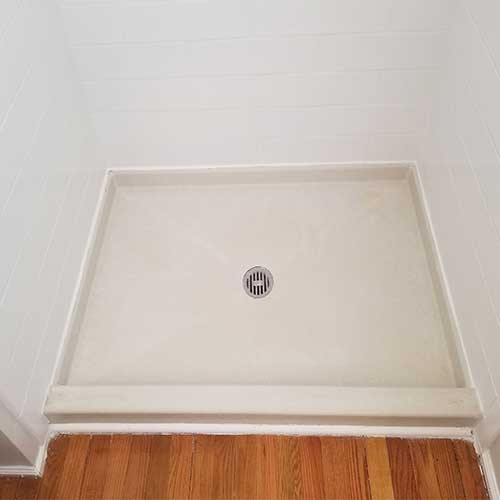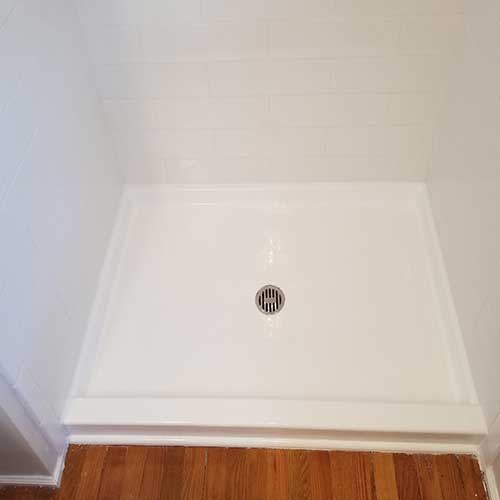 Shower Tile Replacement VS. Shower Tile Refinishing in Raleigh NC
Renovating your bathroom is an expensive process and if you are replacing the shower tiles, it can eat a large portion of your remodeling budget. When you refinish your shower tiles, you can stretch that budget further, without sacrificing quality or style. Below are a few of the benefits you can expect from shower tile resurfacing in Raleigh:
Better For The Environment: If you replace your shower tile, the old tile has to go somewhere, usually a landfill. Renov8 works with your existing tile, which means less waste.
Less Hassle & Faster Completion: When you have your shower tile refinished, you don't have to worry about removing the old tile, installing new tile and grout, and cleaning up the mess. Renov8 can usually finish reglazing your tiles in less than a day, meaning you will have use of your facilities again quickly.
Get The Style You Want:  If you want a new color or style for your shower, we can do that for you. We will work with you to figure out the design you want for your shower tiles. If you already have a style, we can make it a reality.
More Affordable: We may have mentioned that you can save when you choose resurfacing your shower tiles in Raleigh instead of replacing them. The average cost for shower tile replacement is between $300-$500, where replacing your tile can cost a lot more, depending on the size of your bathroom.
Residential & Commercial Shower Tile Reglazing in Raleigh
The most cost-effective way to get a new look for your shower tiles is to have them refinished. As long as the tiles are in decent condition, with minor chips or cracks, Renov8's shower tile refinishing service can repair them and give you the look & style that you want. It doesn't matter if you have one shower or multiple showers, like a hotel or apartment community, Renov8 can help. We work with both residential & commercial customers to provide high quality & affordable shower tile refinishing in Raleigh NC.
Choose Renov8 To Refinish Your Shower Tiles in Raleigh
If your shower tiles are dirty, damaged or dingy looking it can ruin the look of your shower & the entire bathroom. Having your shower & bathroom tiles replaced is expensive and can leave you without the use of your shower for days or weeks. If you want to get new looking shower tiles at a more cost-effective price than replacement, let Renov8 refinish your shower tiles. We provide our Raleigh shower tile refinishing services to residential and commercial customers all over Raleigh & the Triangle. We also provide a number of other surface refinishing services such as: Bathtub resurfacing, grout cleaning, fiberglass shower resurfacing, cabinet refacing, wall & floor tile refinishing, sink resurfacing, counter refinishing, vanity refinishing, chip & crack repairs, & more.
We don't just refinish tiles either, Renov8 can refinish most materials that you find in bathrooms or kitchens. We work on ceramic, acrylic, Formica, cultured marble, and more. We serve both the Charlotte metropolitan area & Raleigh & the triangle. So if you live in Raleigh, Garner, Fuquay Varina, Wendell, Wake Forest, Durham, Apex, Knightdale, Cary, Clayton, Carrboro, Morrisville, Chapel Hill, Holly Springs, or the surrounding areas, get a free estimate on shower tile refinishing by contacting us online or calling 919-780-7143.