Floor & Wall Tile Repair & Refinishing In Charlotte
The tiles in your bathroom and kitchen see a lot of use over time and that can mean they are susceptible to cracking, chipping, or fading over time. If your tiles make you cringe, or you are embarrassed to bring people to your home because of their condition, you don't have to replace them to bring the original beauty back. Renov8 can refinish your wall and floor tiles in Charlotte at a fraction of the price it costs to replace those same tiles. Contact our team of tile refinishing professionals for a free estimate today.
Floor Tile Resurfacing & Reglazing in Charlotte NC
You may know that it is possible to refinish hardwood floors, but many of our clients are surprised to find out they can also get other types of flooring refinished in their home. Renov8 can resurface a variety of different types of floor materials, such as stone, concrete, vinyl and tile. Because each surface is different' they may all require a slightly different procedure, though the process for floor & tile refinishing is largely the same. It starts with our team removing any dirt from your floors, before repairing and cracks or scratches. Next we apply a bonding agent to your floor before a final protective clear finish that will keep them looking nice for years to come. Once we've finished refinishing your floor in Charlotte, they are ready to be used within the next 24-48 hours.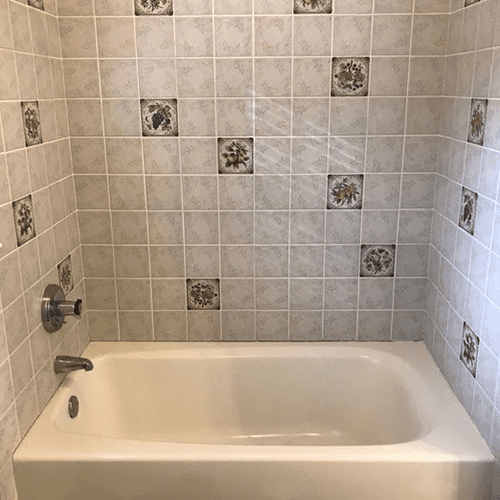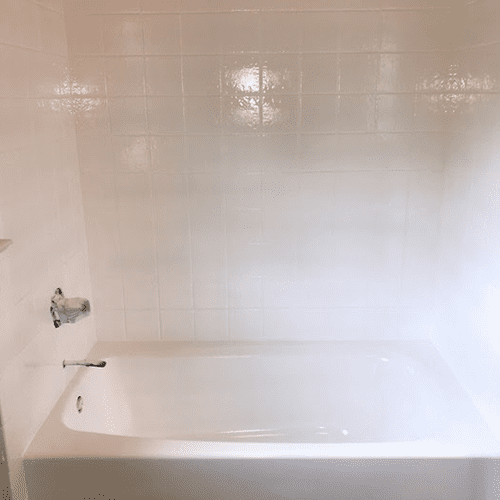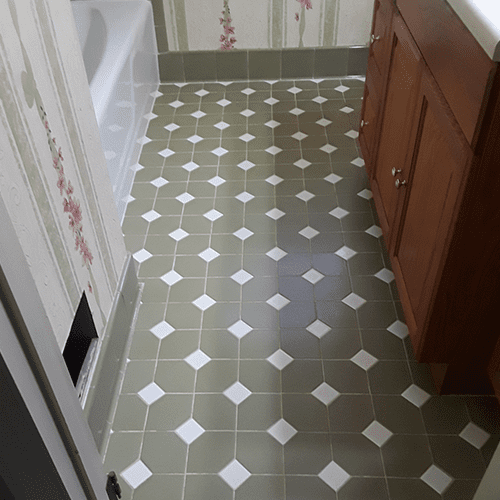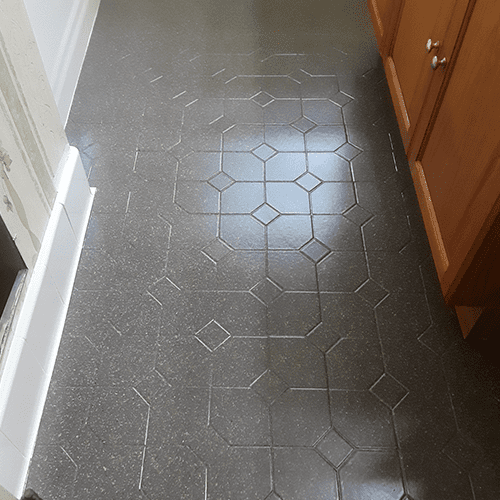 Wall Tile Resurfacing in Charlotte
When you are renovating or remodeling your kitchen or bathroom, it can be easy to overlook the fact that there are often wall tiles that need to be updated as well. Wall tiles can also because chipped and cracked, but because they are in your line of sight, they can be more noticeable, even if they don't wear down as quickly. Renov8 can refinish the tiles on your walls the same as on your floors, which means you can save money on wall tile refinishing in Charlotte as well. Give us a call or contact us online and get a quote for wall tile refinishing in Charlotte, today.
Should You Refinish Or Replace Your Tiles In Charlotte?
There are a number of benefits that refinishing your tile has over replacing it. Take a look at these benefits below and determine if you would rather replace or refinish your tiles in Charlotte NC:
Faster Completion Time – Refinishing your tiles can take a while, first you have to pick out the right ones, then you have to remove the old tiles, before finally installing the new tiles. Refinishing means we work on the tiles you already have and most tile resurfacing jobs can be done within 24 hours.
Get The Look That You Want – You get to choose from a variety of different styles, textures, and colors when we refinish your tiles, meaning you can have the look you want, without paying for replacing those tiles.
Affordable – Did we mention that replacing your tiles can cost thousands of dollars, but when you have them resurfaced instead, you can save over 50% of what you would pay for replacing them? We bring it up so much because you can pay less and have the same results, it's a no-brainer.
Eco-Friendly – Because we are refinishing or resurfacing your existing tiles or flooring, there isn't a lot of mess or waste that ends up in the trash. When you replace tile or flooring, that tile or floor usually winds up in landfills, which makes resurfacing your floors in Raleigh & Charlotte a better option for the environment.
Choose Renov8 For Wall & Floor Tile Resurfacing Charlotte
If your walls or floors have tile that is cracked or chipped, it can make your home look unsightly. You might think that replacing the broken tile is the only way to restore the original beauty of these rooms, but you have options. It doesn't matter if your wall or floor tiles are damaged or just outdated, Renov8 can refinish them letting you choose the color, style, and texture that you want at a fraction of the cost of tile replacement in Charlotte. We are experts at refinishing and also provide residential and commercial customers the following refinishing services: shower tile resurfacing, fiberglass shower refinishing, bathtub repair & resurfacing, grout cleaning, countertop resurfacing, sink resurfacing, crack & chip repairs, vanity top refinishing, cabinet refacing, and more.
We offer our floor resurfacing to residential and commercial customers throughout our service area in both the Charlotte & Raleigh markets. If you are in need of floor or tile repair or refinishing in Charlotte, Raleigh, Cary, Apex, Holly Springs, Clayton, Smithfield, Carrboro, Morrisville, Chapel Hill, Wake Forest, Knightdale, Garner or the rest of the Triangle or Charlotte Metro areas, choose Renov8. To get a free estimate on any of our refinishing services, including floor tile resurfacing in Charlotte, give us a call at 704-807-9764 or contact us online to schedule an appointment.