Wall Tile, Floor Tile & Floor Resurfacing in Cary NC
Are your floor or wall tiles cracked, dirty, stained or scratched? Does your flooring have discoloration that is ruining the look of your bathroom or kitchen? Replacing your damaged or stained tiles & flooring isn't the only option available to you. Renov8 can help you refinish your flooring & tiles at a fraction of the cost of replacement, while still giving your floors a new look and feel. 
Floor Resurfacing & Floor Refinishing Cary NC
Many of our clients know that hardwood floors can be refinished, but didn't know that it is possible to refinish floors that are made of other materials. Renov8 are surface refinishing specialists and we can work on flooring made of vinyl, marble, stone, granite, as well as tile (we do not work on laminate floors because of how it is constructed). Every type of floor is different, which means that they all have different processes, however, overall the refinishing process is very similar. It always starts with making sure that the dirt is cleaned, then we repair any cracks or scratches, next we apply a bonding agent, and finally we use a protective clear finish so your floors & tile are ready to be used in the next day or two. If you need floor tile or wall tile refinishing in Cary, contact Renov8 for a free estimate today.
Wall Tile Refinishing in Cary NC
When people think of the tile in their home or business, they usually think about the floors in the kitchen or bathroom. However, the walls in your property may be made of tile as well. Wall tiles can also become cracked or chipped and they can also begin to get stained or dirty looking. Because wall tiles are closer to eye level, they can have a bigger impact on the look of your kitchen or bathroom. If you have been thinking about getting your wall tiles replaced, give us a call first and let us give you an free quote for wall tile resurfacing in Cary, we often can save you 50% or more over the cost of replacement, while giving you the look you want.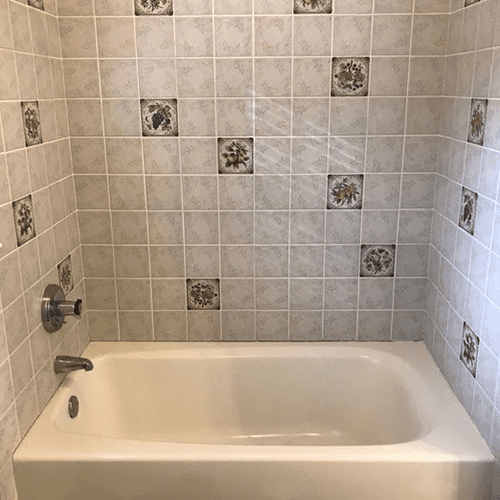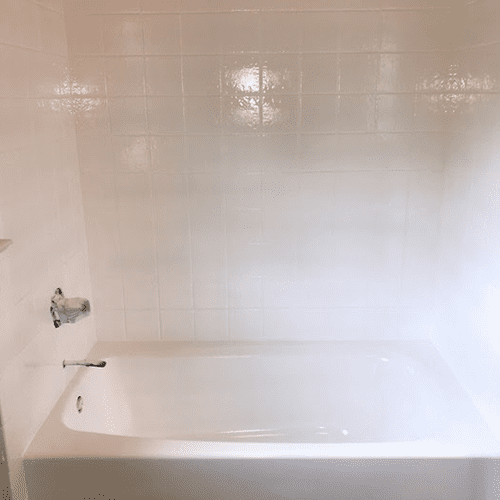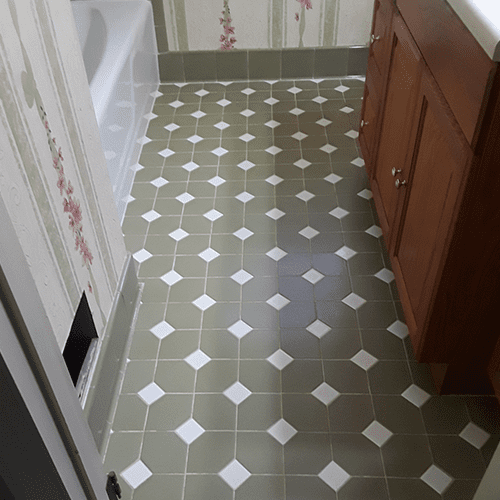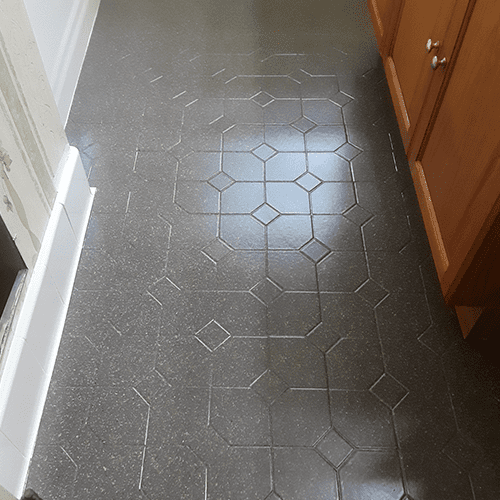 Should You Replace Your Flooring & Tile? Here Are Some Benefits To Floor Tile Resurfacing in Cary
If you have floor tile, wall tile or other flooring that is damaged or stained, you have options available to you that don't involve having them replaced. There are a number of reasons that choosing refinishing may be a better option than replacement, such as:
Eco Friendly Alternative – When you replace your floor tile or wall tile, the old tile has to go somewhere, usually it winds up in a landfill. Renov8 works with the materials you already have in place, which means there's no waste and less clean up.
Tile & Floor Refinishing Can Save Money – Replacing tile or flooring in your home or business isn't cheap, Renov8 can refinish your tile & resurface your floor at a fraction of the cost of replacing them.
Fresh New Look & Feel – We don't just resurface & refinish your floors & tile, we get rid of damage like chips or cracks. We can even change the color and give you a stone or marble look, without the costs associated with them. If you have a style in mind, let us know, otherwise we can work with you to create the look and feel you want.
We Get The Job Done Quickly – Replacing your flooring or tiles can leave you without the use of the space that is getting replaced for a week or more, which can be a big inconvenience if that room is your kitchen or bathroom. Renov8 can resurface your floors & tiles in as little as 24-48 hours, meaning more time for you to enjoy your newly renovated room.
Choose Renov8 For Floor Resurfacing & Tile Refinishing in Cary NC
Do have have tile floors, tile walls, or other floors that are starting to get discolored, chipped or cracked? Your flooring & tile can really tie together the look of a room, but if they are in disrepair, they can have the opposite effect. In the past, there weren't many options other than replacing your tile, but now there are alternatives. Renov8 provides wall & floor tile refinishing in Cary, to both residential and commercial customers. Our option is affordable, can be done quickly, and can give you a fresh look that matches your current style. Of course, our refinishing services don't just apply to wall tile & flooring, we also provide a number of other services like: vanity top refinishing, grout cleaning, chip & crack repairs, shower tile refinishing, bathtub resurfacing, cabinet refacing, sink refinishing, countertop resurfacing, fiberglass shower refinishing, and more.
Our refinishing services are available to both residential & commercial customers throughout our service areas in both the Charlotte & Raleigh metropolitan areas. If you are in need of tile resurfacing or floor refinishing in Clayton, Wake Forest, Knightdale, Carrboro, Garner, Morrisville, Apex, Cary, Chapel Hill, Holly Springs, or the surrounding areas, and we will give you a free estimate. Contact us online or give us a call at 919-780-7143 for a fast response.